Spider-Friend & Recluse Are New Heroes Swinging Into The Spider-Verse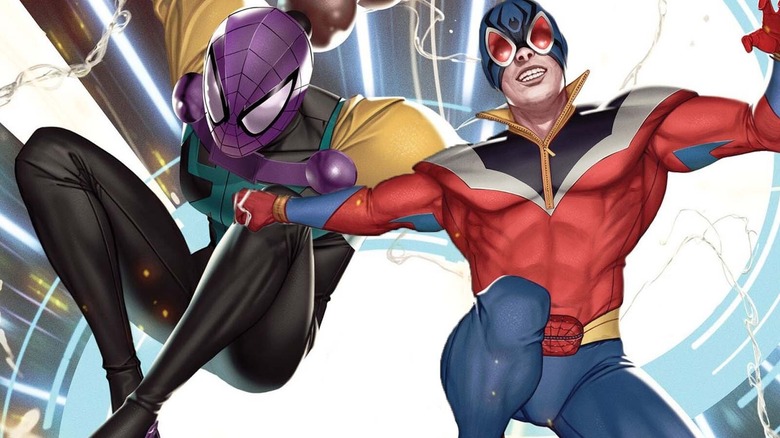 Marvel Comics
Marvel Comics is once again entering the Spider-Verse, as a new one-shot, "Marvel's Voices: Spider-Verse #1," brings several fan-favorite characters back in stories told by rising talents in the industry. While some of the most beloved spider heroes, such as Miles Morales and Silk, are set to appear in the anthology, it will also feature some recently introduced and new heroes entering the mix.
The anthology series will feature a bevy of chapters, including ones featuring current "Miles Morales: Spider-Man" writer Cody Ziglar working with artist Jahnoy Lindsay ("Superboy: Man of Tomorrow") for a new story featuring Miles Morales and Misty Knight. Web-Weaver returns to take on an all-new version of Kraven the Hunter in an adventure from writer Steve Foxe ("All Eight Eyes") and artist Luciano Vecchio ("Wiccan & Hulkling"). Spider-Punk will take on the Sinister Sextet in a romp from writer J. Holtham ("Bishop: War College") and artist Ken Lashley ("Carnage: Black, White, & Blood"). Marvel's Silk stars in her own story from writer Jeremy Holt ("Made in Korea") and artist Eric Koda ("Marvel Voices: Identity") which represents a personal journey for the young hero.
"Marvel Voices: Spider-Verse #1" features the two new Spider-People from the increasingly massive Spider-Verse who will make their debut in the upcoming anthology. And now, Marvel has revealed a first look at these heroes, Spider-Friend and Recluse.
Spider-Friend will debut in Marvel's Voices: Spider-Verse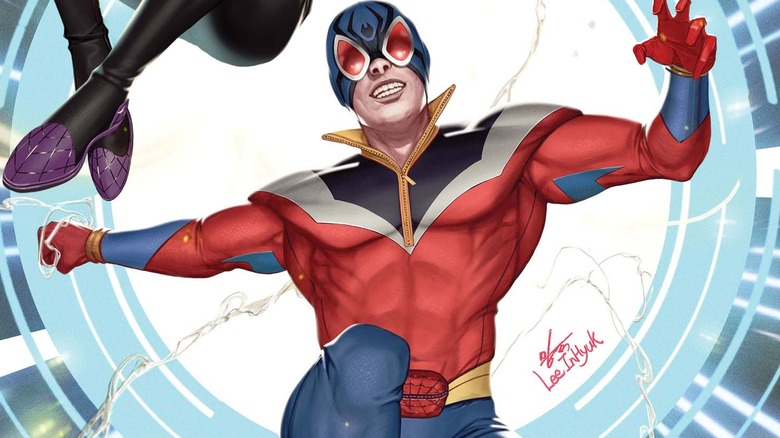 Spider-Friend
Writer and artist Jason Loo ("Pitiful Human Lizard") will be entering the Spider-Verse in "Marvel Voices: Spider-Verse" with an original spider hero, Spider-Friend. This wall-crawler, whose real name is Peter Park, comes from a Marvel Multiverse that is teased as being filmed in front of a live studio audience, as his world is filled with laugh tracks. Spider-Friend's stand-out costume can be seen in new art from artist Inhyuk Lee.
Check out Spider-Friend making his cover debut by @inhyuklee! It's so beautiful! pic.twitter.com/WFtv6058Ea

— Jason Loo (@Rebel_Loo) March 2, 2023
Spider-Friend's costume is pretty unique among Spider-Verse heroes. With his bold red eyes, a mask that covers the top of his face, and a colorful skin-tight suit with a spider-themed pouch belt, Peter Park seems to be a fun, new character who will fit in with the odder side of the Spider-Verses alongside the likes of Spider-Ham and Spider-Ramen. We can't wait to see the absurd hi-jinks Spider-Friend will get into.
Recluse will also join the Spider-Verse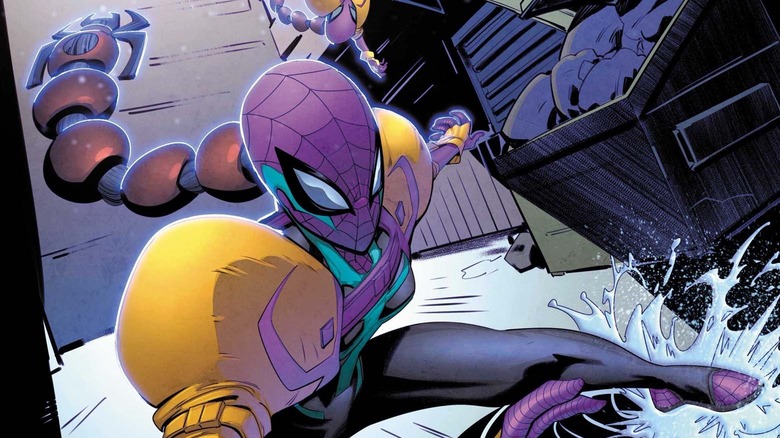 Marvel Comics
Cheryl Lynn Eaton ("Marvel Voices: Black Panther") and Julian Shaw ("Marvel's Voices: Legacy) are taking readers to a new side of the Spider-Verse, as their "Marvel Voices: Spider-Verse" story will spotlight a dystopian future where Electro has complete control of electricity and power. Never fear, though, because rising to confront the villain is the new hero, Recluse. She can be seen in a new preview page, which shows her quickly launching from the sky into an alley in style.
Witness Silk, Recluse, and Web-Weaver in new stories when 'Marvel's Voices: Spider-Verse' #1 hits shelves on April 12. Preview the anthology: https://t.co/SdjZqND4nR [3/3] pic.twitter.com/m8ZIovlRX6

— Spider-Man (@SpiderMan) March 2, 2023
Recluse has several costume details separating her from other Spider-Verse heroes. From her massive, puffed-up yellow shoulder pads to a ponytail with a robotic spider at the end, Recluse's bold design will be fun to see in action.
"Marvel Voices: Spider-Verse #1" by Marvel Comics will feature several stories alongside the debut of Spider-Friend and Recluse showcasing old and new heroes from across the Spider-Verse. The anthology, which features cover art from Leinil Francis Yu, John Giang, Phil Jimenez, and Inhyuk Lee, arrives in comic book stores on April 12, 2023.