The Last Movie Tom Sizemore Was In Before He Died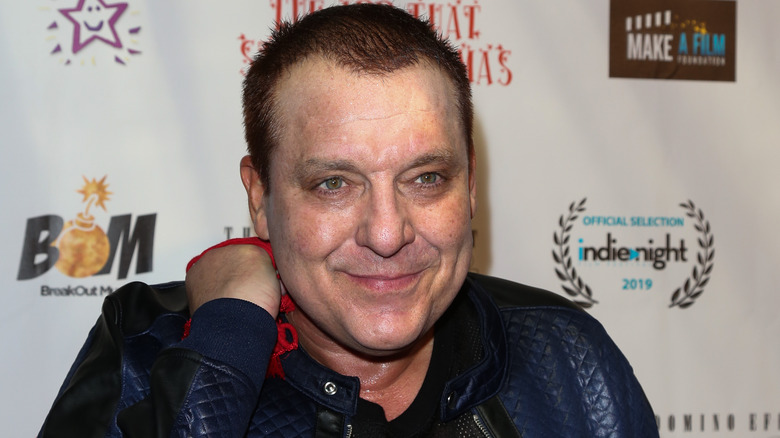 Paul Archuleta/Getty Images
Tom Sizemore was an actor best known for war films such as "Black Hawk Down" and "Saving Private Ryan," in which he starred as Lieutenant Colonel Danny McKnight and Sergeant Mike Horvath respectively, but his full catalog drastically extends beyond these two projects. Over the course of his career, he accrued approximately 263 roles across movies, TV shows, video games, and more.
On February 18, 2023, Sizemore suffered a brain aneurysm brought upon by a stroke. At the time, he was admitted to a hospital for treatment. A little over a week later, his manager, Charles Lago, told the Los Angeles Times that doctors recommended to his family that they consider an "end-of-life decision." 
On March 3, 2023, TMZ reported Sizemore was taken off life support and pronounced dead. "It is with great sadness and sorrow I have to announce that actor Thomas Edward Sizemore ("Tom Sizemore") aged 61 passed away peacefully in his sleep today at St Joseph's Hospital Burbank. His Brother Paul and twin boys Jayden and Jagger (17) were at his side," Lago told the outlet. Sizemore was still working in the industry but wasn't appearing in the same kinds of blockbusters as he did earlier in his career. Here's the last movie the late actor starred in.
Tom Sizemore's last film was Bermuda Island
In early 2023, Tom Sizemore starred in "Bermuda Island," an independent film helmed by Gravitas Ventures and funded through backing sites like IndieGoGo. The production received a limited theatrical release and then went directly to streaming, where it can still be found on sites like Prime Video and Apple TV+.
The story follows a group of passengers whose plane crashes on what seems to be an idyllic island. Their accidental paradise turns sour when night falls. Blood-sucking monstrosities swarm the passengers' campsite, sewing more than a little chaos. Those who survive both the crash and the creatures must band together to do battle against their new enemies, and only then can they hope to live long enough to be rescued.
Sizemore portrayed Jonas, an Air Marshall with little screen time, something that some reviewers noted as a cinematic crime. His starring status came primarily from being one of the most well-known names associated with the project. He and Noel Gugliemi, whose credits include "Training Day," were listed on the IndieGoGo backers page as a production highlight.
Sizemore also has a slew of films sitting in post-production at press time. It would not be unreasonable to say that these would perhaps become his final projects, similarly to how "The Imaginarium of Doctor Parnassus" posthumously became Heath Ledger's final film. As it stands, however, "Bermuda Island" is the last film that Sizemore would release during his lifetime. Sizemore also has a slew of films sitting in post-production at press time.