Jonathan Majors Trained So Hard For Creed III That It Started To Ruin His Physique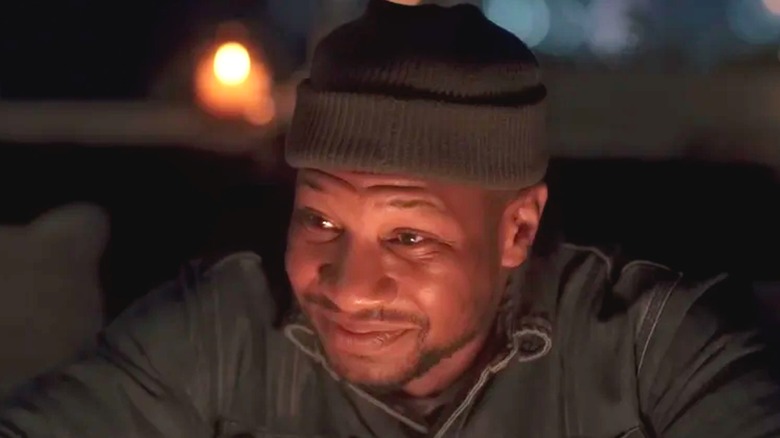 MGM
Whether it's a hero the size of an ant or the heavyweight champion of the world, they're in deep trouble if they're standing off against Jonathan Majors. His newest role sees Majors join "Creed III" to portray Damien "Dame" Anderson, a longtime friend of series protagonist Adonis Creed who was just released from nearly two decades of incarceration. 
Dame wants a shot at the heavyweight championship, and he'll do anything he has to in order to reach that goal. It's Adonis' greatest challenge yet for a number of reasons. First, Dame's entrance into Adonis' life brings up a painful, long-buried past. Second, Dame is a physically intimidating and powerful fighter, easily Adonis' equal, making for a brutal and dangerous challenge with high personal and professional stakes.
Boxers at the top of their game are known to be high on the list of fit athletes, necessitating a combination of strength, reflexes, and cardiovascular endurance that rivals any sport. To play believable professional fighters, both Michael B. Jordan and Jonathan Majors had to be in fighting shape. In an exclusive interview with Looper's sister site /Film, Jonathan Majors reveals that not only did he live like a boxer for a year and a half, but he trained so hard that it actually began to eat away at his physique.
A little too much eye of the tiger
Jonathan Majors is asked about the rigors of his training process for "Creed III." The seasoned actor first notes that training for a new role is something he appreciates. "I enjoy stuff like that, so whether it's riding horses or flying airplanes, I really lean into the challenge of it," he explains.
For "Creed," Majors discovered that he needed to up his already impressive level of fitness. "I had more wind than I thought I had, but then you realize you need more," he says. "Then there's the conditioning of it. Films are different than real life, obviously, because you got to do it, but you also have to look it. Whatever that aesthetic is, you have to capture that."
A champion boxer's training regimen will involve sparring, roadwork (think of Rocky or Creed running down the street, and related cardio), hitting a variety of bags, and strength training of some kind or another. Majors did the whole lot of it — "jump rope and bags and all that work," he says — for quite some time.
"It was probably a year and a half of just living like a boxer, eating like a boxer, running like a boxer, et cetera," he explains, until his commitment to roadwork became a little too much. "There's a point where I was running so much that I was actually too lean and couldn't keep my muscle mass because of the running," Majors explains, "and so we cut my cardio all the way down." At the end of it, Majors looks like he's ready to fight for a real-life championship, and Adonis very much has his work cut out for him.
"Creed III" hits theaters today.
Static Media owns and operates Looper and /Film.