Why Nina Chapman From Chicago PD Looks So Familiar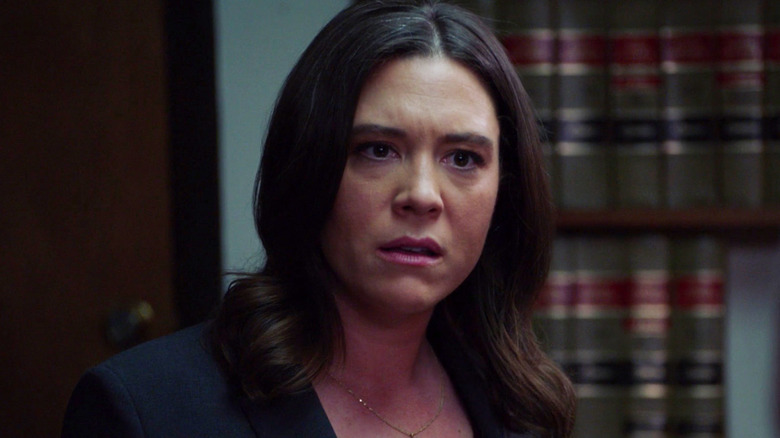 NBC
When you're watching a new movie or a new episode of your favorite TV show, nothing's more distracting than seeing an actor whose face you recognize but whom you can't quite place. Even worse, Googling them only turns up a list of acting credits without any additional information. That's where we come in.
"Chicago P.D." is currently in the middle of its tenth season, and one of the new faces is Assistant State's Attorney Nina Chapman. She's the head of complex prosecutions, and Voight (Jason Beghe) first contacts her during the investigation into local crime lord and philanthropist Javier Escano (José Zúñiga). Chapman makes her first appearance during the Season 9 finale, when she's reluctant to give Voight an arrest warrant for Escano. Voight threatens her career and she agrees to a documentary evidence search warrant instead.
Chapman has shown up three more times in Season 10 so far. The first two appearances are in the context of a sex trafficking investigation. In episode 7, "In the Deep," Chapman has parlayed the Escano investigation into a bigger office, but she's still reluctant to give Voight a search warrant for a burner phone because he refuses to name the suspect. In episode 9, "Proof of Burden," she refuses to arrest their main suspect Sean O'Neal (Jefferson White) because their witness seems unreliable, but Voight overrules her. Her most recent appearance came in episode 13, "The Ghost in You," in which Chapman convinces Voight to take on an investigation into a cocaine dealer who once killed one of her informants.
Chapman is played by actress Sara Bues. Here's where you might recognize her from.
Sara Bues played Bethany Fisher on Law & Order: Special Victims Unit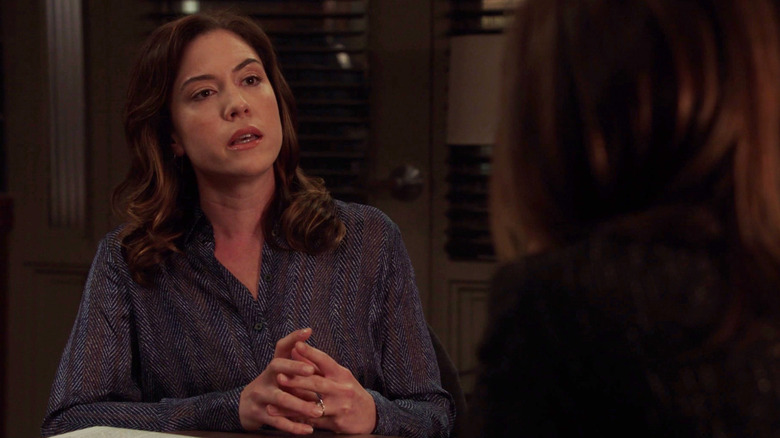 NBC
It's probably not a shock to hear that Sara Bues has already guest starred on another Dick Wolf-created series, "Law & Order: Special Victims Unit." Bues popped up during the Season 20 episode "Hell's Kitchen," which aired in 2018. 
The episode's primary victim is Kayla (Genevieve Angelson), a server at a Brooklyn wine bar who's sexually assaulted at an after-hours VIP party. Bues' character, Bethany Fisher, arrives at the SVU's offices about 30 minutes into the episode to report another sexual assault, having just seen a report on Kayla's investigation in the newspaper. Finn (Ice-T) assumes she's come to report that their suspect Andrew Liebowitz (Luke Kirby) assaulted her too, but in fact her assaulter is the prosecutor on the case, Christopher Hodges (Jacob Pitts). She then gives Benson (Mariska Hargitay) a harrowing account of the incident, which happened when she was 15. The SVU arrests both Liebowitz and Hodges. 
Sara Bues played Gayle Dixon on FBI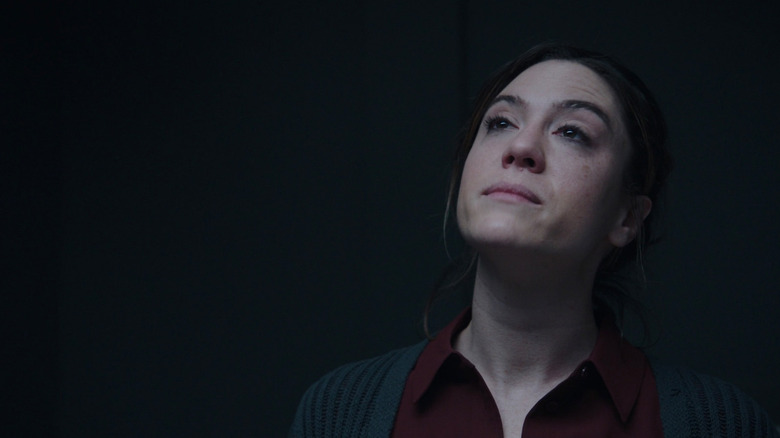 CBS
Two years after her "Law & Order: SVU" appearance, Sara Bues had another guest spot on a police procedural, this time on CBS' "FBI." She appears in the eleventh episode of Season 2, titled "Fallout." The episode has two main storylines. The first picks up just after the previous episode, which ended with Kristen Chazal (Ebonée Noel) getting stabbed by a suspect. Now, she finds herself in the hospital in critical condition. The episode's case of the week involves the murder of a former executive, Keith Gilroy (David Healy), who was accused of sexual assault.
Bues plays Gayle Dixon. During the episode, the FBI agents are investigating a suspect named Sarah Baines (Maureen Sebastian). At first, they believe Baines is one of Gilroy's victims until they realize she's a contract killer hired to eliminate him. After combing through police reports, they discover that a woman named Gayle Dixon recently told her therapist that she fantasized about having Gilroy killed–the therapist was legally obligated to report it, since it constituted a threat to others. OA (Zeeko Zaki) interviews Dixon and determines that she didn't actually hire Baines, as much as she might have wanted to. 
If you or anyone you know has been a victim of sexual assault, help is available. Visit the Rape, Abuse & Incest National Network website or contact RAINN's National Helpline at 1-800-656-HOPE (4673).