Game Of Thrones' Liam Cunningham Addresses Ser Davos' Sex Appeal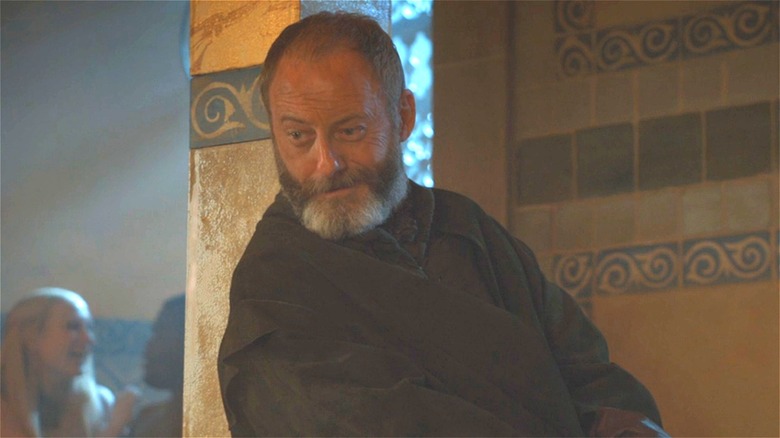 HBO
HBO's iconic "Game of Thrones" blended terrific storytelling, long-simmering plots, jaw-dropping surprises, family drama, romance, and violence into a coherent whole that captured the minds of many over the show's long run. Featuring a colorful cast of characters with varying personalities and motivations, "Game of Thrones" certainly has quite an array of fan-favorite characters. In the years following the initial success of "Game of Thrones," the name "Khaleesi" suddenly became quite popular for children, which shows what kind of impact the show had on real life.
Not only are people naming their children after characters from "Game of Thrones," but fans also heap plenty of adoration on all of the beautiful and talented people in the show — actors like Kit Harrington, Rose Leslie, Jason Momoa, Emilia Clarke, Lena Headey, Nikolaj Coster-Waldau, and Natalie Dormer certainly have their fair share of fans and aren't exactly hard on the eyes either. 
Needless to say, "Game of Thrones" certainly has a lot of characters with a certain degree of sex appeal. However, in a recent interview, "Game of Thrones" actor Liam Cunningham was asked what he thought of some fans being romantically attracted to his character of Ser Davos Seaworth, and he definitely had a strong and telling response.
Cunningham jokingly thinks people who find Davos sexy may need help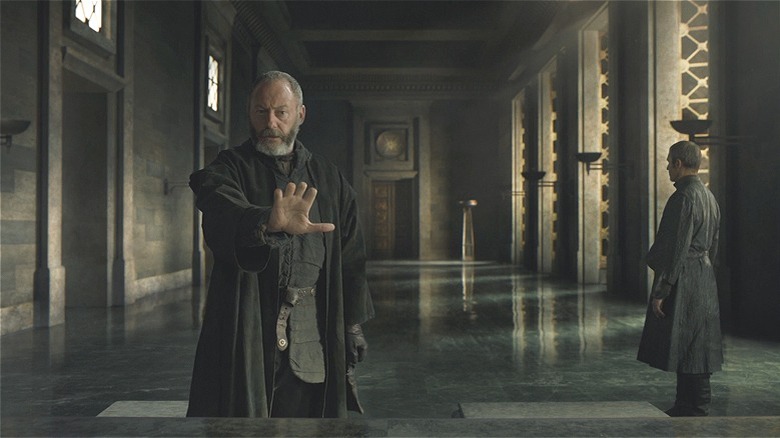 HBO
Within "Game of Thrones," Ser Davos is loyal, dedicated, and has an incredibly strong sense of justice which sometimes gets him into some trouble when he speaks his mind. Ser Davos' devotion should never be questioned — which the character likes to point out with his knuckle-less hand. 
Of course, this fact wasn't lost on an interviewer from Vulture, who brought up to Liam Cunningham that their friends really (really) like Cunningham and his character on the show; the interviewer asked Cunningham what he thought of that, and whether or not he has noticed that fans are attracted to the character of Davos.
Cunningham paused to first say that the true star of "Game of Thrones" is the show itself and its sprawling cast. He went on to say that Davos is relatively straightforward and easy to read in a world of morally ambiguous characters. He laughingly shared, "Listen, I'd love to be like Davos. I aspire to be that man. You know where you are with this guy. He has a sense of fun, and he's not fearful of life. As he said to Stannis, he's not fearful of his death, either. He's a guy you'd love in your corner. He's a quiet hero. He's kind of what we all aspire to be. But if it's anything other than that, you need to speak to your friends." Cunningham's statement shows just how humble the actor is when it comes to his character, but it seems as if he believes that if one is attracted to Ser Davos, they may want to seek help. Just not from the Lord of Light!