Who Plays Melanie In Netflix's We Have A Ghost?
Many viewers probably have questions after watching the eventful ending of "We Have a Ghost," with some likely curious to know who plays the role of Melanie Presley in the Netflix supernatural comedy film.
The story of a kid finding a ghost in their new house, only for the encounter to lead to some wild shenanigans, isn't new by any means, but "We Have A Ghost" does a solid job of changing the classic formula, offering viewers a refreshing take in the process. The story follows Kevin Presley's (Jahi Di'Allo Winston) discovery of a spirit he calls Ernest (David Harbour) and how his family becomes internet famous from posting videos of the poltergeist dwelling in their new residence. Things get interesting when the CIA gets involved, and emotions run high when the origins of Ernest are revealed. Overall, "We Have a Ghost" showcases an interesting story about how families cope with change and takes a fun look at how parents deal with the strange things their kids are into.
While it may not have great Rotten Tomatoes scores, the critique from The Boston Herald praised the movie, saying its "stellar cast gives 'We Have a Ghost' plenty of spirit." Many people will quickly recognize several of the talented players who earned the movie such praise, especially "Stranger Things" actor David Harbour, the MCU's Anthony Mackie, and "The White Lotus" star Jennifer Coolidge. But they aren't the only ones who made their presence known in the film, and some viewers may want to know who plays Melanie in the hilarious horror flick.
Erica Ash plays Melanie Presley in We Have a Ghost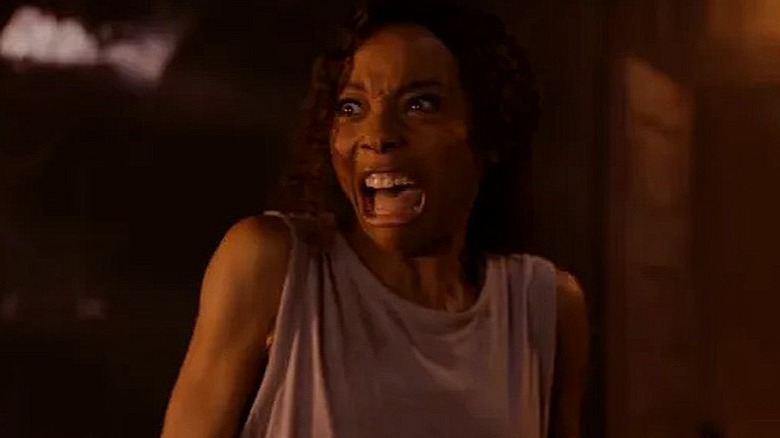 Netflix
The role of Melanie Presley in "We Have a Ghost" was played by Erica Ash, but portraying the mother of a boy who goes viral for ghost videos is far from her only career accomplishment. Ash made a name for herself early on, starring in sketch comedy programs like "MADtv" and "The Gay Sketch Comedy Show." Later, she appeared on shows like "Cold Case," "Legacies," and "Family Reunion." In addition, she provided voice work for animated shows like "Bless the Harts" and "Aquaman: King of Atlantis" as well as for the video games "Bloody Roar 4" and "Shenmue II." But her most prominent live-action credits are "Survivor's Remorse," "Real Husbands of Hollywood," and "In Contempt."
While she has pursued many projects as an actor, it seems pretty evident that Ash enjoyed her time working on "We Have a Ghost," posting on Instagram, "Oh, what fun it was to shoot!!! Great cast and crew!!" Ash was also very grateful for what was accomplished in making the film, according to the movie's director. "After [Erica Ash] saw the movie, she called me up, and she was like, 'I'm really proud that we made this movie,'" Christopher Landon told Inverse. "This feels special. There's not enough of these movies out there for us.'" There is no denying that Ash was very satisfied with how the movie turned out, and given her initial reaction, it seems safe to presume that the memory of her "We Have a Ghost" character will haunt her legacy. in the best way