Family Guy Producers Loved Working With Tony Sirico So Much They Brought Him Back To Play Himself
By 2013, "Family Guy" had long established its familiar rhythm of gross-out humor and pop culture-infused cutaway gags. The laughs were still happening, but having been on the air since 1999, many fans by then knew what to expect about a particular family in Quahog, Rhode Island. But then, in the Season 12 Episode "Life of Brian," creator Seth MacFarlane and his team of writers decided to throw in an unexpected curveball by killing a member of the Griffins. Brian, the family dog, died after being run over by a car. The shocking move led to the Griffins adopting a new dog named Vinny, voiced by late "The Sopranos" actor Tony Sirico.
Unlike Brian, Vinny was more of a street-smart dog, bringing a different comedic dynamic to the family, especially when paired up with Stewie. However, his time with the Griffins was brief, lasting only a few episodes. Longtime fans didn't exactly take the demise of Brian too well. Between all the numerous news headlines, social media reactions, and even an online petition, MacFarlane was taken aback by the massive fan reaction to Brian's death. He'd achieve his goal of showing people that anything could still happen on "Family Guy." So the series quickly brought Brian back to life, which ultimately spelled the end for Vinny. Yet, because producers loved working with Sirico so much, the actor later returned to the show to play himself.
Producers felt Tony Sirico was one of their go-to actors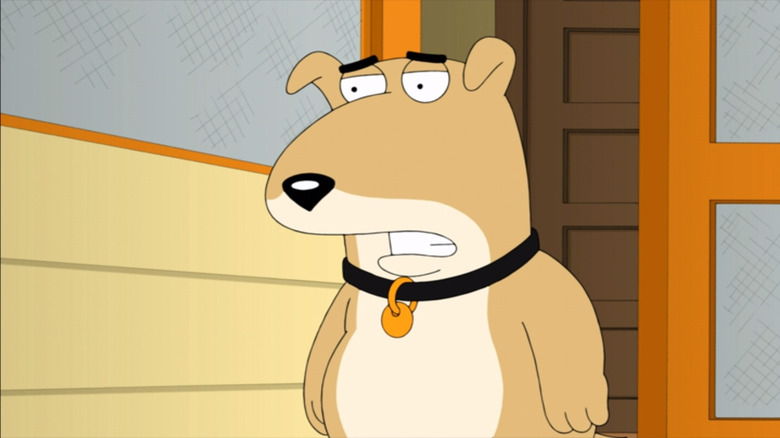 Fox
It's a shame that Vinny's time on "Family Guy" only lasted a few episodes and was overshadowed by a beloved character's tragic death. His short run feels like he never got the proper time to win over most of the audience. And for those that skipped out on "The Sopranos," fans also didn't get to witness Tony Sirico's surprisingly underrated comedic chops. Sirico's character on "The Sopranos," Paulie Walnuts, often found himself involved in some of the mob drama's most hilarious moments.
Behind the scenes, "Family Guy" producers were hip to Sirico's capabilities and eager to work with him again after voicing Vinny. During a 2014 interview with Entertainment Weekly,  producer Steve Callaghan explained that because of his impressive work as Vinny, they wanted to bring the actor back for Season 13's "Stewie, Chris & Brian's Excellent Adventure." In the time-traveling episode, Sirico appears as himself in a live-action bit where he reacts negatively to one of the show's edgier jokes about Italians. As Callaghan said in the interview, bringing back Sirico for the part seemed like a no-brainer because of his established history on the show. "Not only did we love working with him, and he was so funny as Vinny, but now he has a history with the show," Callaghan told EW. "He feels like one of our go-to people.... Now he's part of the 'Family Guy' family."
As for Vinny, Callaghan added in the EW interview that the show wanted to bring Sirico's character back, at least for a gag. And they eventually did in the Season 15 Episode, "The Boys In The Band."  The former family dog appears singing alongside famous toddler Olivia Fuller after she steals Brian and Stewie's musical group.