Jenny Slate Paid Tribute To Her Incredible Grandmas With Marcel The Shell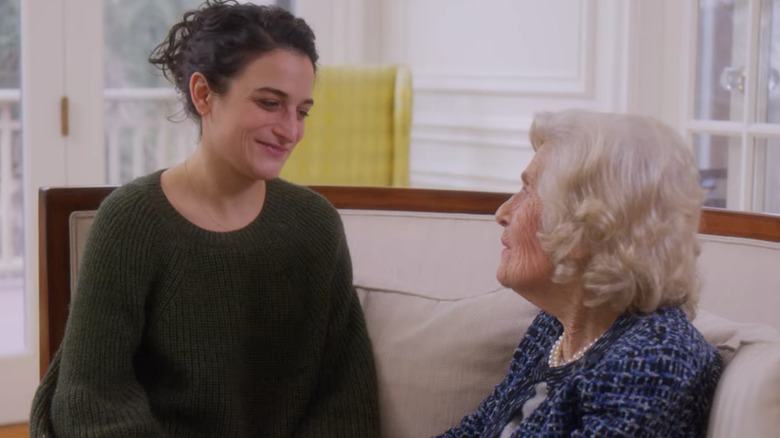 Netflix
It's hard to go online without seeing Jenny Slate. Slate's turn as the spoiled Mona-Lisa Saperstein in "Parks and Recreation" is a meme fixture, and her role as one half of PubLIZity in "Kroll Show" is similarly ubiquitous on social media. Slate may have an aptitude for playing cartoonish characters, but she's also known for her warm, personable performances in films like "Obvious Child" and "Landline."
Slate turned out her most endearing performance yet in 2021's "Marcel the Shell with Shoes On." Based on the series of online shorts of the same name, the film is a collaboration between Slate and her ex-husband Dean Fleischer Camp. Slate voices Marcel, an anthropomorphized shell whose day-to-day life, along with his grandmother Nana Connie (Isabella Rossellini), is captured via stop-motion animation.
For a story about a googly-eyed shell, "Marcel the Shell with Shoes On" is a surprisingly tender-hearted exploration of love, family, and grief. The film is also a tribute to Slate's grandmothers.
Slate's grandmothers inspired Nana Connie
In an appearance on "The Kelly Clarkson Show," Jenny Slate detailed how the character Nana Connie in "Marcel the Shell with Shoes On" was influenced by her grandmothers. "My grandmothers are some of the closest relationships I've ever experienced," she began. "The grandmother in the film is named Nana Connie, [and] that's my grandmother's name." For Connie's characterization, she looked to her other grandmother, Rochelle, who had a beautiful voice. "The grandmother in the film has a beautiful accent. She's played by Isabella Rossellini, who has a gorgeous accent."
Slate also imbued the character with her grandmother's resilient spirit. "Our family is Jewish, and they basically ran right into the Second World War," she said of her family's emigration from Cuba to Paris in the 1930s. "She became a Holocaust survivor. She had a gorgeous accent, and incredible outlook on life, and that all went into that character. I think my father might have described her as an artist without a genre. She was super dreamy."
"Marcel the Shell with Shoes On" isn't the first time she's sung her grandmothers' praises. Both women feature prominently in Slate's 2019 stand-up special, "Stage Fright," which alternates between stand-up material and Slate interviewing her own family members. "My other grandmother is named Nana Connie," she says in the special, "which is obviously the cutest name in the entire world." It's only fitting that Slate would eventually memorialize her name in "Marcel the Shell with Shoes On."