Why Young Rip From Yellowstone Looks So Familiar
"Yellowstone" was one of the biggest anomalies of the last few years. The series quickly went from a show that no one had ever heard of to one of the most-watched television programs during the turn of the decade. Paramount didn't take much to dive head-first into Taylor Sheridan's neo-western universe, giving the showrunner as many prequels as he could handle.
"Yellowstone," tells the story of the ever-expanding and confusing Dutton family tree as they fight to protect their Montana farmland. Because the series tells a story crossing generations, it has an absurdly long list of main and recurring characters that would even give "Game of Thrones" a run for its money. With such an extensive roster, "Yellowstone" brings many familiar faces to round out the Dutton family. Of course, Kevin Costner is front-and-center with his award-winning performance as John Dutton. Joining him are Luke Grimes, Kelly Reily, Wes Bently, and Cole Hauser, who are all big-enough names to leave fans wondering why the entire cast looks so familiar.
To make things even more confusing, the series heavily features flashbacks in its storytelling, bringing in different actors to play younger versions of the characters. Josh Lucas plays a younger John, while Kyle Red Silverstein brings Rip Wheeler to life in the '90s. If Silverstein looks familiar to any "Yellowstone" viewer, but can't pinpoint where they've seen him before, let's break down some of the actor's most notable works.
A young Kyle Red Silverstein appeared in a few episodes of Grey's Anatomy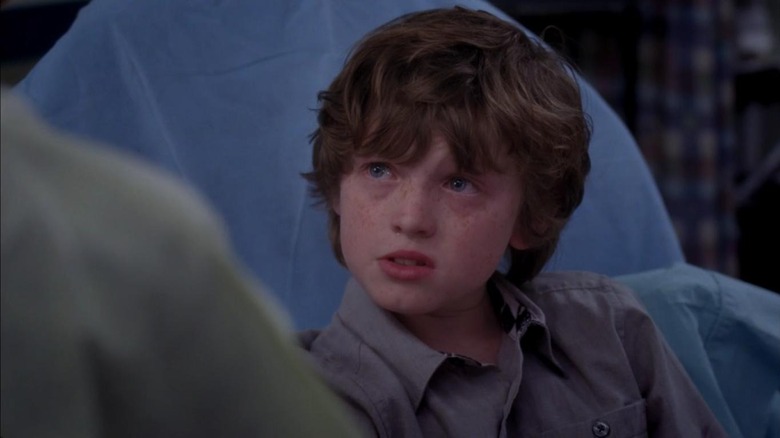 ABC
Viewers may recognize Kyle Red Silverstein from his early work on "Grey's Anatomy." He played Ethan Dawson, a 10-year-old boy whose parents were patients at Grey Sloan Memorial Hospital after a car crash. Silverstein first appeared in Season 9, Episode 19, "Can't Fight This Feeling," and stuck around for a few episodes. As he waited for his parents to recover, Ethan formed a bond with Owen (Kevin McKidd), who protected him from the social worker hired to watch over him.
Neither of Ethan's parents woke up after their surgeries, prompting Owen to extend his care of the kid. When his grandmother finally arrived in Seattle to care for Ethan, his mom had a seizure, resulting in her death. Owen continued to distract Ethan from worrying about his dad's coma, hanging out, and playing soccer with the kid. Owen nearly adopts Ethan, but his father finally wakes up, and they leave the hospital together.
Although it never happened, Ethan would have lived a happy life with Owen and Cristina (Sandra Oh), and Silverstein knows it. In 2019, the actor expressed his love for McKidd and Oh, saying, "Both @TheRealKMcKidd and @IamSandraOh were fantastic actors to work with. I learned so much ... mostly, how to be kind and humble."
He acted alongside Adam Sandler and Drew Barrymore in Blended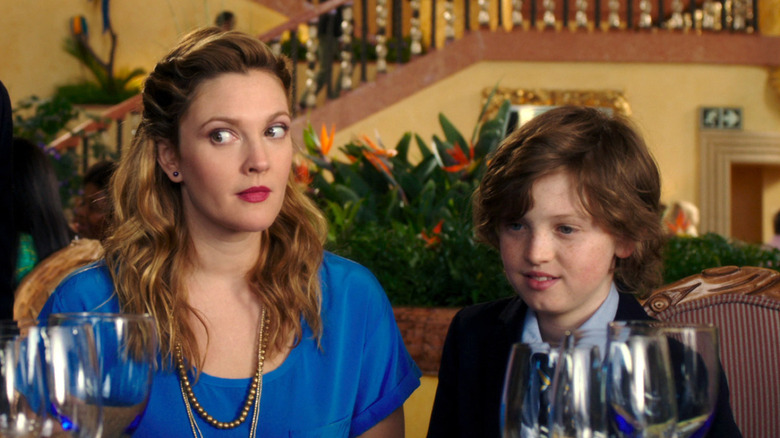 Warner Bros. Pictures
Kyle Red Silverstein continued his child-star career acting alongside two industry veterans in "Blended." The romantic comedy featured a "Wedding Singer" reunion, with Adam Sandler, Drew Barrymore, and director Frank Coraci, and Silverstein played Tyler.
Sandler and Barrymore play two single parents who meet on a horrific blind date, hoping never to see each other again. They both commit to going on an African safari vacation gifted to them without knowing that the other also plans to go. Jim (Sandler) brings his three daughters with him, while Lauren (Barrymore) brings her two sons, and the resort forces both families into spending their vacations together. Silverstein plays Lauren's younger son Tyler, who bonds with Jim over their love of sports. He plays baseball, and during their time in Africa, Jim taught him how to hit the ball.
Working with such high-profile actors early in his career left a lasting impression on Silverstein. The actor tweeted a picture of him and Barrymore, saying, "My best second mom." He and his fellow "Blended" child stars also teamed up to raise money to protect rhino poaching in Africa, playing in the "Bowling for Rhinos" charity game.