Kevin Costner Beat Out A Real-Life Baseball Player (And Actor) For Bull Durham
More than 30 years after its release, "Bull Durham" remains one of the most beloved sports movies in history. It centers on washed-up catcher Crash Davis (Kevin Costner) and his time as a player with the minor league Durham Bulls. Davis is demoted from the AAA level down to the AA-level Bulls to mentor hotheaded but talented young pitcher Ebby "Nuke" LaLoosh (Tim Robbins), and along the way, finds himself in a romance with local baseball groupie Annie Savoy (Susan Sarandon). 
In 2003, Sports Illustrated named "Bull Durham" the greatest sports movie of all time, and Bravo ranked it the 55th funniest film of all time regardless of genre. Writer/director Ron Shelton, who also directed other popular sports movies like "Tin Cup" and "White Men Can't Jump," based "Bull Durham" partly on his own experience as a minor leaguer in the Baltimore Orioles system in the late 60s and early 70s and named Costner's character after a utility infielder who played for the Philadelphia Athletics in the years preceding World War II. 
Those were not the only connections between the film and baseball history, as the role of Crash Davis was originally intended to go to another accomplished actor who has his own experience as a bona fide minor leaguer. But who was that former player who was bumped from the role, and did the lost part do any damage to his acting career?
Kurt Russell played for the legendary Portland Mavericks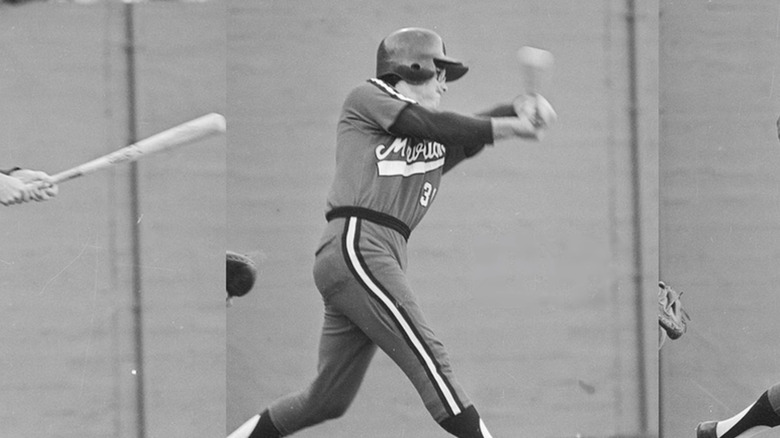 Netflix
Kurt Russell was initially slated to play Crash Davis, partly due to his friendship with Ron Shelton and partly because he was a talented enough player to last six seasons in the minor leagues, posting a .292 batting average for six teams, including the Portland Mavericks, who were owned by his father Bing and were the subject of the Netflix documentary "The Battered Bastards of Baseball." 
On an episode of the YouTube series "Take2MarkTV," Russell said, "There are specific histories of mine in 'Bull Durham.' It was written more than with me in mind, it was kind of a partnership for a minute." 
In an excerpt from his book "The Church of Baseball: The Making of Bull Durham" published by The Ringer, Shelton said that at first, he wanted Russell to play Davis, but "when I initially contacted his agent, I was told he was not available. I'm not sure that was true but it was clear that his reps didn't want him meeting with a first-time director with a minor league baseball tale." By that time, Russell had already starred in "Escape From New York," "Silkwood," and "Big Trouble in Little China," and within three years of the release of Bull Durham," he would add "Tequila Sunrise," "Tango and Cash," and "Backdraft" to his impressive filmography (via IMDb), so it's safe to say that missing out on the part of Crash Davis didn't do any harm to his acting career.