Who Did Anna Osceola Play In Mad Men?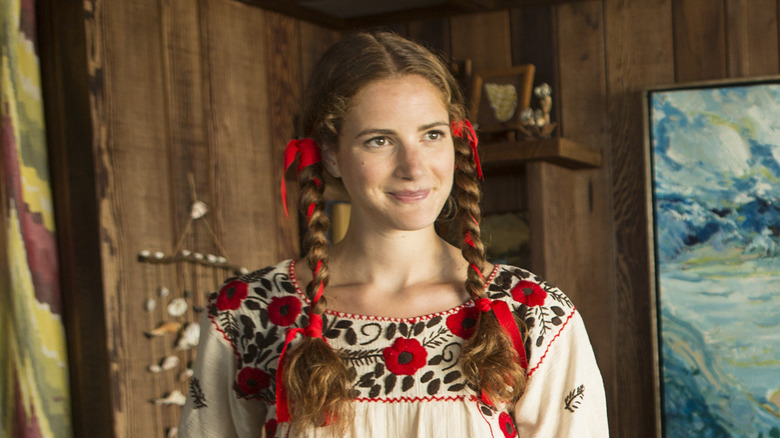 Justina Mintz/AMC
According to reports from People Magazine, actors Jon Hamm and Anna Osceola are engaged to be married as of early Monday morning. Hamm, who recently appeared in the Tom Cruise awards-contender "Top Gun: Maverick," has yet to officially confirm or deny these claims — though it hasn't stopped fans and media outlets alike from getting swept up in the story.
The two were first confirmed to be dating in 2020, five years after Hamm split up with longtime partner Jennifer Westfeldt ("Younger") in 2015. That same year, Hamm and Osceola allegedly first met on the set of the hit drama "Mad Men."
The two have appeared on screen together since then in the 2022 film "Confess, Fletch," the third installment of Chevy Chase's comedic crime series. Though Chase had no involvement in the threequel, it did serve to reunite Hamm with another former "Mad Men" co-star — Roger Sterling actor John Slattery. "Mad Men" ran for seven seasons on AMC, turning Hamm into a bonafide star as dashing advertising genius Don Draper and potentially even introducing him to his future wife.
Anna Osceola first appeared in the Mad Men series finale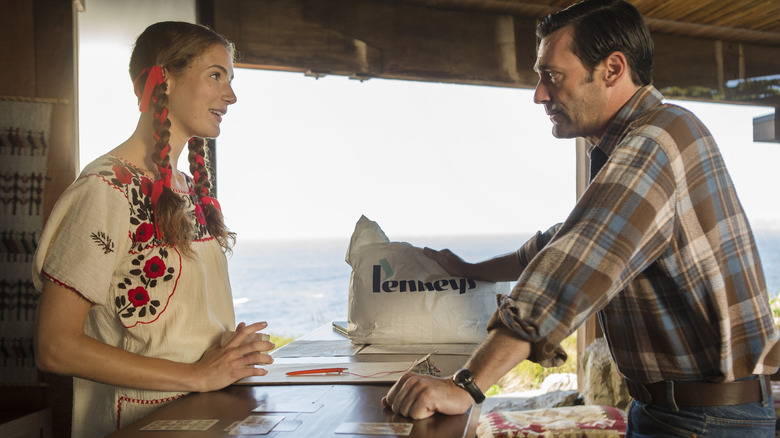 Justina Mintz/AMC
Coincidentally, Anna Osceola joined Jon Hamm when he took his final "Mad Men" bow in the series finale — Season 7, Episode 14, "Person to Person." After being brought on a journey to a remote wellness retreat, Don Draper hits rock bottom and admits many of his faults to Peggy Olson (Elisabeth Moss) before leaving his life behind for good. That is until a meditation session inspires him to create one of the greatest Coca-Cola ads — and one of the greatest ads, period — of all time.
Osceola plays Clementine, a young woman who works at the retreat. When his original companion, Stephanie (Stephanie Drake), leaves after having a breakthrough in a group therapy session, Don finds himself stranded with no way of getting home. Clementine encourages him to finish his stay, admitting that his chances of getting a car within the next few days are slim to none. Not only does their chat successfully convince him to stay a while longer — she seemingly inspires a red-clad, pigtailed woman that ultimately appears in the Coke ad. Since appearing on "Mad Men," Osceola has guest-starred in episodes of "Law and Order: SVU" and "Bull."