George Lucas Saw A Destroyed Set As A Good Omen For Star Wars: The Phantom Menace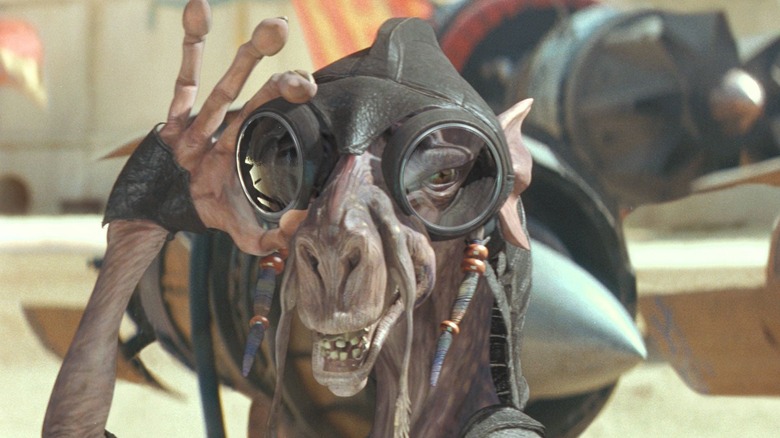 20th Century Fox
When "Star Wars: Episode I – The Phantom Menace" premiered during the summer of 1999, the first of the "prequel trilogy" of films divided audiences and perplexed its writer-director George Lucas. Still, audiences lined up in droves on its opening weekend to witness an origin story 16 years in the making to witness the childhood of Anakin Skywalker (Jake Lloyd) before he grew up to become Darth Vader. Despite the movie's mixed reception, the special effects and production design stood out thanks partly to its massive budget even though cost-saving measures were practiced where needed.
"Star Wars: Episode I – The Phantom Menace" started production in June 1997 on location in Tunisia, which was used to film exteriors for scenes depicting the desert planet Tatooine. Despite history being made as the start of principal photography on the first "Star Wars" feature in nearly 20 years, things got off to a rocky start. The set in Tunisia was completely destroyed by a storm with 100 mph winds. But George Lucas actually saw the disaster as a good omen for the first prequel. Here's why.
Lucas pointed out how the same situation happened during the filming of A New Hope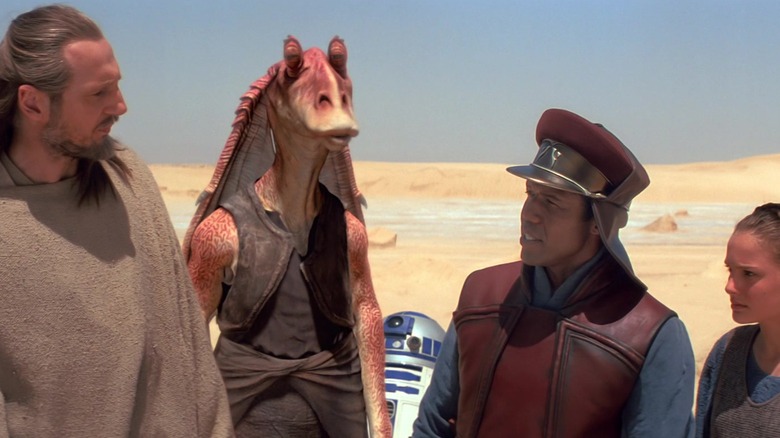 20th Century Fox
In a webisode titled "Star Wars Episode I: It's Like War Now Webisode" producer Rick McCallum spoke about some of the challenges of building the Tatooine set in the Tunisian desert. He shared how problems began to set in early due to the scorching heat during the day and very cold nights that put particular strain on the actors wearing the alien costumes to the native citizens of the desert world. But the catastrophe was to come on day three when bad weather settled in.
The storm was so powerful that it disconnected radio transmissions which prevented security guards from communicating with cast and crew. The weather became so intense that it defied McCallum's expectations. He commented, "It was devastating. I figured maybe the tents would be gone, but everything was gone." The damage was so severe that even the podracers that appear in the Tatooine sequence in the feature were damaged, including the hovercraft young Anakin uses in one of the film's most exciting scenes.
Surprisingly, George Lucas took the setback in stride and revealed how a similar event occurred before filming began on "Star Wars: Episode IV – A New Hope" in the mid-'70s. The director observed how it was a sign of luck and an ability to relive the first moment over 20 years later. Thankfully, one set survived the storm in Tunisia and "The Phantom Menace's" Tatooine shooting schedule remained on time.