Courteney Cox Was The Glue On The Friends Set According To Her Co-Stars
NBC's "Friends" gave audiences an entire decade of laughs and heartwarming reminders of the bonds of friendship thanks to the chemistry of its cast. For the six stars on the series, their camaraderie both in their roles and in reality has persisted nearly 30 years, especially now in the era of streaming, where the sitcom's story is still a popular favorite among fans. Each character had their own unique personality traits that endeared them to audiences throughout the varied situational comedy moments the program excelled at.
This could particularly be seen with the comedy's three free-spirited and independent female characters. Whether it was Phoebe's (Lisa Kudrow) aloofness, Rachel's (Jennifer Aniston) comical shallowness, or Monica's (Courtney Cox) hilarious compulsions, each of these actors went on to become just as influential as their characters. 
But when the first day of filming commenced for Season 1, it was the show's only famous performer who was responsible for setting the tone of their working relationships for the next decade. According to Aniston and Kudrow, it was Cox amongst the three of them who was the glue that held their dynamic together while on set. Here is what they had to say.
Aniston says Cox was inclusive, warm, and loving from the start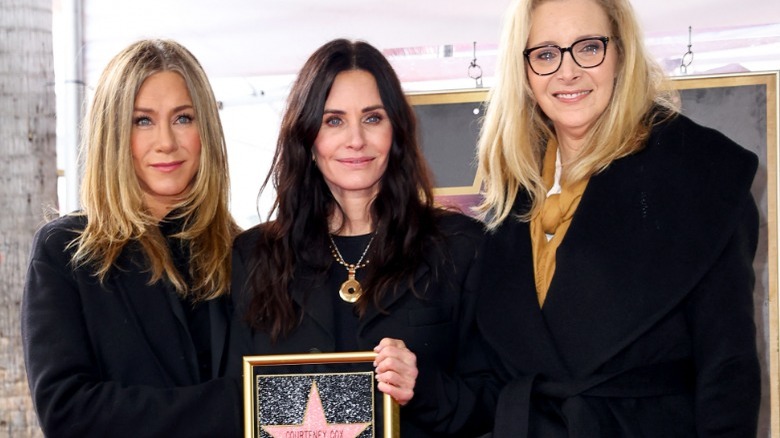 Leon Bennett/Getty Images
On February 27, 2023, Courtney Cox became the 2,750th star on the world-renowned Hollywood Walk of Fame in Hollywood, California. Variety recorded the ceremony, which included some touching dedications from both Jennifer Aniston and Lisa Kudrow, who were in attendance to help celebrate Cox's star on Hollywood and Vine. Aniston began her commemoration of the "Scream" performer by sharing how Cox was the one who was inclusive and warm to all the other actors at the start of the series.
Lisa Kudrow then added how Cox was the only one of the cast who was famous when they all met nearly 30 years ago. The actor had a memorable walk-on cameo in a Bruce Springsteen video in the 1980s and was featured in numerous films before being cast in "Friends." Kudrow added how she felt like both she and her fellow cast members were all taking their cues from the most experienced thespian on the set.
Jennifer Aniston warmly observed how "[Courtney] instilled into all of us, into our DNA, to support each other and to love one another and that actors need to support and love one another, not compete with one another." Lisa Kudrow followed this by stating how Courtney Cox's encouragement to her cast mates helped them all to become one of the most supportive casts in sitcom history.