Freddie Prinze Jr. Got His Guest Spot On Friends Because A Major Actor Dropped Out Last Minute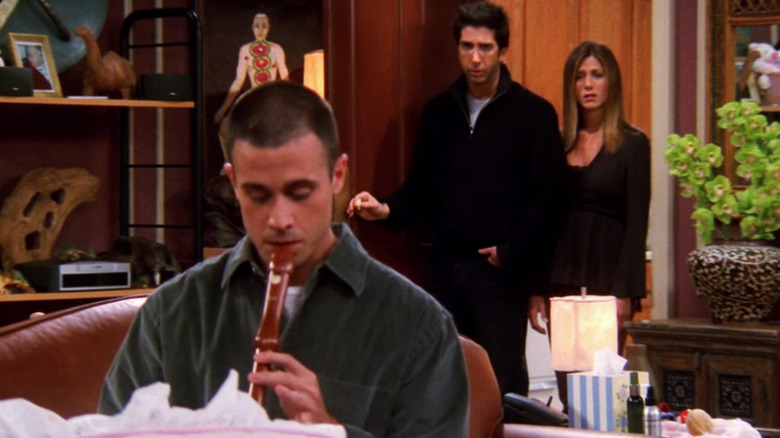 NBC
Throughout its ten years on television, "Friends" was crammed with a collection of high-level Hollywood stars from both the big and small screen. Central Perk's most popular patrons crossed paths with many famous faces, from Julia Roberts to the late Robin Williams, with Monica (Courtney Cox) having a relationship comprised of Jon Favreau and "Blue Bloods" Tom Selleck. One noticeable star was Ross (David Schwimmer), and Rachel's (Jennifer Aniston) briefly employed nanny, a master of making Madeleines, played by Freddie Prinze Jr.
In the somewhat dated episode "The One With the Male Nanny," Freddie Prinze Jr. appeared as Sandy, the ridiculously charming puppet master of a nanny that was hired by Rachel, much to Ross' frustration. As it turns out, though, the former "Scooby Doo" and "I Know What You Did Last Summer" star revealed that he wasn't the first pick for Sandy. Another big name was close to becoming "Friends" punchline fodder, but a flight delay stopped that from happening.
Tom Hanks was originally in line to play Sandy on Friends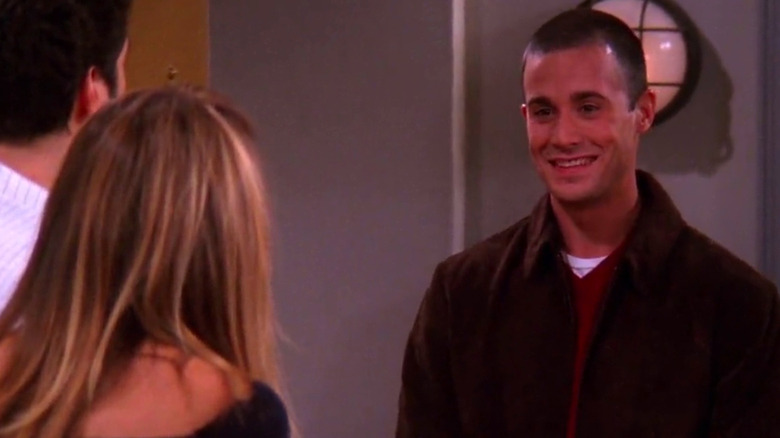 NBC
While hosting the "Lights, Camera, Barstool" podcast, Freddy Prinze Jr. revealed he nabbed the role of Sandy after the scheduled Tom Hanks encountered traveling issues. "I got a call, and they said, 'Hey "Friends" wants to offer you one of their celebrity guest cast roles, would you want to do it?' And I was like, 'Yeah, man, that would be really fun." The only issue about the appearance was that it was a very close call given that they wanted him to be on the set the following day, much to the Prinze Jr's surprise. It was only when he probed such a quick turnaround that he understood who he was standing in for.
"I was like, 'What?' And they go, 'Yeah, they offered it to Tom Hanks. He said yes but got stuck in an airport and can't make it. Do you want to do it?'" Making sure not to look a gift horse in the mouth and join the long list of guest stars, there was no need to reconsider. "I was like, 'Yeah, I'll take Tom Hanks' sloppy seconds! Hell yeah!'" Even now, the former male nanny ("You got a Manny?") expressed his thanks for the role that might not have happened had another star had a slightly smoother journey. "It's all because of Tom Hanks' bad luck at an airport."