Nick Offerman Tried (And Failed) To Score A Role In The Lord Of The Rings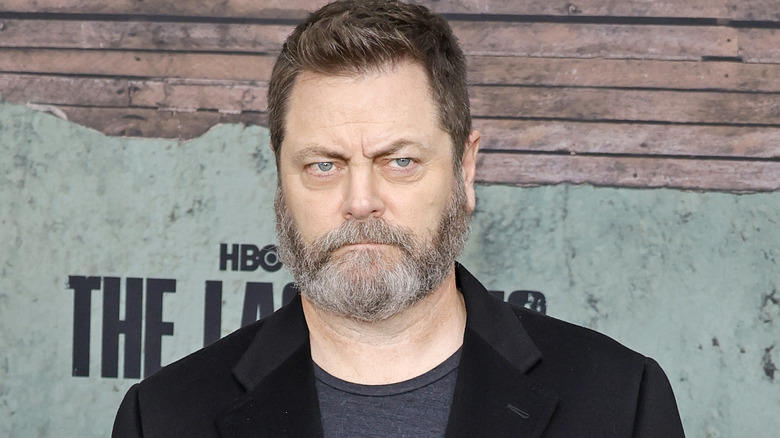 Frazer Harrison/Getty Images
Most people were probably first introduced to Nick Offerman for his role as Ron Swanson on "Parks and Recreation." He nailed the performance of a government worker who hates the government perfectly, instantly becoming one of the most iconic sitcom characters ever. But Offerman has a lengthy filmography that goes well beyond "Parks and Rec" to the point where viewers may go back to watch a classic movie or episode of a TV show and find Offerman there in all of his glory. 
He really started acting in earnest in the late 1990s through the 2000s, appearing in projects like "Miss Congeniality 2: Armed and Fabulous" and "Sin City." He even popped up on Nickelodeon's "KaBlam!" That's a statement that's bound to make the six people who remember "KaBlam!" extremely happy. However, his career could've gotten a major boost a lot earlier on had he landed the coveted role of Gimli in "The Lord of the Rings" movies, although he originally wanted a different part in those films. 
Nick Offerman missed out on both The Lord of the Rings and Baywatch early in his career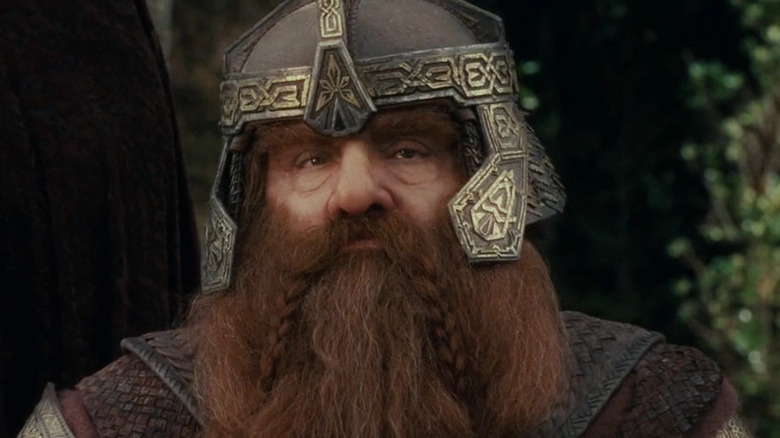 New Line Cinema
Nick Offerman had the chance to go over his illustrious career when appearing as a guest on "Hot Ones" several years ago. During the interview, he's actually asked what role he went for harder — "The Lord of the Rings" or "Baywatch." As should come as no surprise, Offerman really wanted a spot in Peter Jackson's "Lord of the Rings" movies, but it didn't go his way. He also auditioned for "Baywatch," but the role wouldn't have had him in a swimsuit. Apparently, there was a story idea involving some hillbillies the casting director wanted Offerman to go out for, but he didn't get it. 
Offerman didn't sound too beat up over it, but around that same time, he desperately pursued a role in "The Lord of the Rings." He even said how he wrote Jackson a letter expressing his interest in playing Samwise Gamgee, but he never heard back. After jokingly saying how he still holds a grudge, he goes on to explain how he got an audition through more conventional methods. He states, "I made it to where they called me in, in you know the huge group, to put me on tape reading for the role of Gimli the dwarf. Spoiler alert: didn't go my way."
Instead, the part of Gimli would go to John Rhys-Davies, while Sean Astin ended up playing Sam. Offerman's story is undoubtedly relatable to anyone who's tried to make it big in Hollywood, but fortunately, his career panned out just fine, continuing to earn acclaim playing Bill in "The Last of Us."