What Is The Song In Airbnb's 'Chef's Kitchen' Commercial?
When it comes to going on vacation, the last thing some people want to do is go all out with cooking. Then there are those who look for a real chef's kitchen experience when they get away from it all, and thanks to Airbnb, that dream is possible. In order to get the word out about these exquisite options for culinary enthusiasts, they put out a commercial with a catchy tune.
Airbnb has changed the game when it comes to offering customers a memorable vacation. Instead of being limited to hotels and motels, travelers now have the option to stay at some unique and luxurious dwellings. The company continues to grow, adding new locations and features for consumers. 
To keep everyone up to date on everything they've got going on, a slew of advertisements is always a safe bet. It's pretty common these days to see an Airbnb commercial every now and again, and throughout the years, the vacation rental powerhouse has done a pretty solid job when it comes to selecting the music to help their promos stand out. 
The use of Shaggy's "Boombastic" in their Skiing category ad was a fun choice, and "Mashed Potato Time" by Dee Dee Sharp for their "Mashed Potato Time" commercial was a perfect fit. As far as their chef's kitchen commercial is concerned, many would agree that the proper response to the music chosen would be a chef's kiss.
The song is 'Lazy Mary' by Lou Monte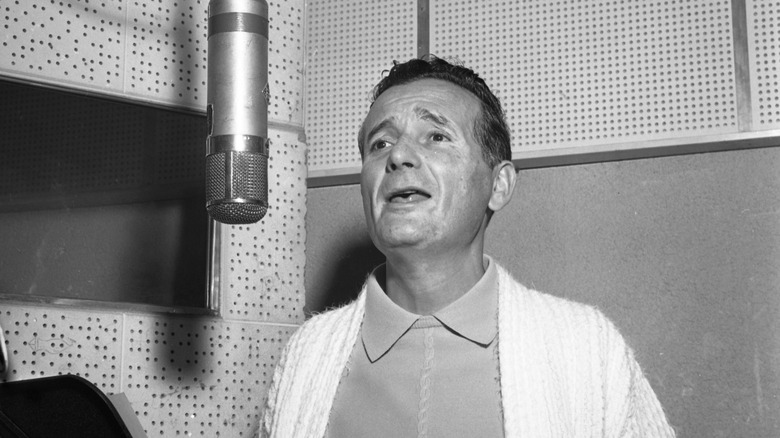 Donaldson Collection/Getty Images
The Airbnb promotional video for their chef's kitchen feature showcases a group of people staying at a beautiful residence complete with a dream kitchen that has all the necessary tools to make a magnificent feast. Outside the place, the lucky vacationers gather ingredients from the garden, acquiring eggs from chickens, and hang pasta to dry. In the end, their efforts are rewarded with a world-class meal at a stunning location, all thanks to Airbnb. Scrumptiously serenading the entire affair is what some will agree is a superior song choice.
The track featured in the ad is Lou Monte's "Lazy Mary." While the world-renowned Italian song "Luna Mezzo Mare" has been around for a long time, several individuals have put their own spin on the classic piece of music. Lou Monte is one of them. 
He recorded his version in 1958, and the song ranked high in the Billboard Magazine US weekly charts for several weeks, peaking at the number 12 position. "Lazy Mary" is also featured in the classic film "The Godfather" during the wedding sequence in the beginning. It is also the song the New York Mets traditionally play during the 7th-inning stretch.
The savory song is arguably a perfect addition to the recipe for Airbnb's chef's kitchen marketing initiative, resulting in a commercial that will leave many of its viewers satisfied yet wanting more.