1923 Fans Got Total Titanic Vibes From Season One's Finale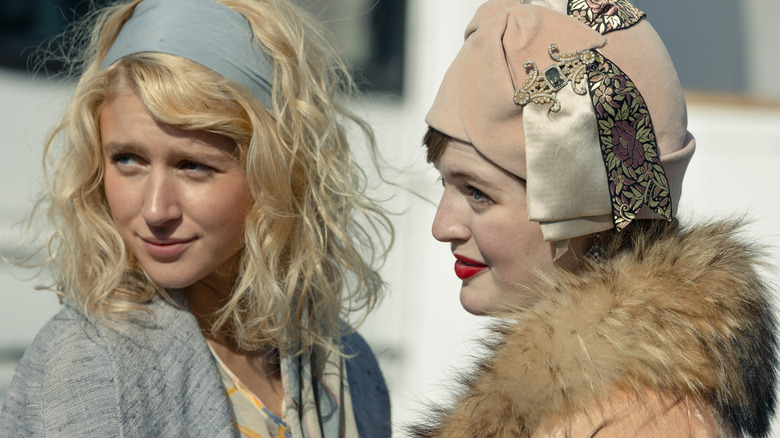 Emerson Miller/Paramount+
Contains spoilers for "1923" Season 1, Episode 8 — "Nothing Left to Lose"
Long before aeronautics took over long-distance travel, people had two main options when it came to crossing vast swaths of space: trains or boats. Both have their issues and limitations, but also plenty of strengths. Boats are particularly romantic, what with the sweeping ocean vistas they offer and the swanky accommodations of the era. Popular "Yellowstone" spin-off "1923" highlights this unique point in history in high style through the story of Alexandra (Julia Schlaepfer) and Spencer Dutton (Brandon Sklenar).
Amidst the multitude of storylines that make up "1923" — many of which are exciting, romantic, and complex — Alex and Spencer's story manages to stand out as an especially engaging tale of passionate love and the potent drive to return home. Audiences first meet the pair in Africa, but after hearing some bad news, Spencer decides to return to America with Alex in tow. Sadly, they soon encounter tragic misfortunes. This arc culminates in Season 1's dramatic finale — and its nautical setting is giving fans total "Titanic" vibes.
Spencer and Alex have a Jack and Rose moment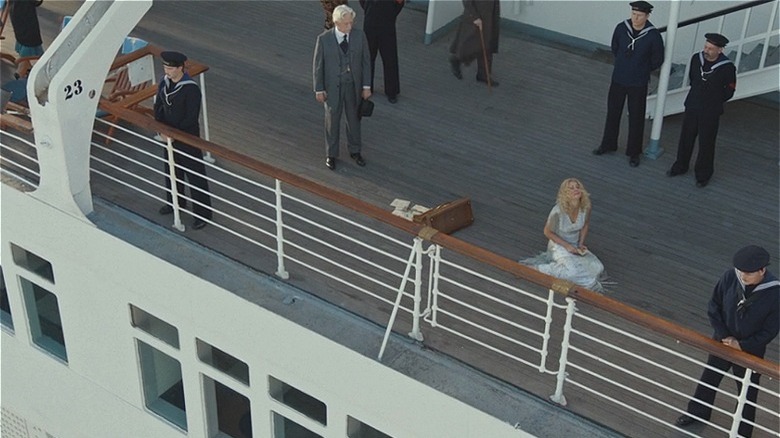 Paramount+
The Season 1 finale of "1923," "Nothing Left to Lose," sees Alex and Spencer board a boat that happens to have Alex's ex-fiancé Arthur (Rafe Soule) on board. Unfortunately, Arthur is a member of the British aristocracy, and he takes Alex and Spencer's presence as a slight against his honor. The nobleman challenges Spencer to a duel. Though Spencer initially resists, Arthur's rude comments regarding Alex goad him into agreeing. Spencer and Arthur engage in combat, and Spencer absolutely trounces Arthur. This results in Arthur being tossed overboard, which gets Spencer exiled from the ship.
This intense, tragic, and highly emotional drama reminds many "1923" fans of the 1997 tear-jerker "Titanic." As Twitter user rags751 wrote, "Today's episode of #1923TV @1923official was Titanic meets The Great Gatsby in some way with Spencer and Alex story arc." Reddit fans concurred, with user janna_ adding, "I was halfway expecting the camera to pan up on the ship name and say TITANIC lol. I know they are 11 years apart but still, knowing Spencer and Alex's luck, that's where they'd end up." In other words, fans have been conditioned to expect the worse for this love-struck couple. But as James Cameron's classic tale of doomed lovers aboard one of history's most famous ships proves, this makes for good drama. Here's hoping Alex and Spencer end up luckier than Jack and Rose.