1923's Aminah Nieves Feels It's Her Duty To Deliver Realistic Native Storylines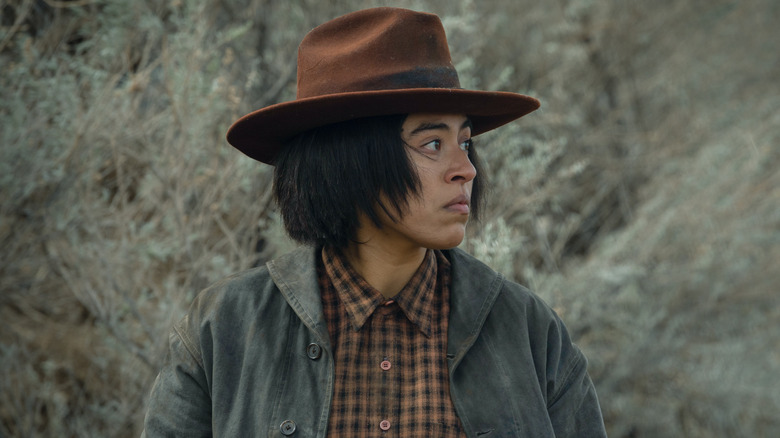 Emerson Miller/Paramount+
Beginning with "Yellowstone" in 2018, Taylor Sheridan's suite of series has cast a spotlight on the powerful Dutton family. While the single season of "1883" tracked the wayfaring family's path to Montana, "1923," whose first season concluded in a dramatic finale, follows the Dutton's 20th-century tribulations, with Cara Dutton (Helen Mirren) and Jacob Dutton (Harrison Ford) at the forefront.
The Dutton's orbit is large, and new characters like Donald Whitfield (Timothy Dalton) and Banner Creighton (Jerome Flynn) have emerged as primary antagonists. One of the series' most compelling storylines, however, has been the harrowing journey of Teonna Rainwater (Aminah Nieves), a presumed ancestor of Chief Thomas Rainwater (Gil Birmingham).
As Mo Brings Plenty — who stars in "Yellowstone" and serves as American Indian Coordinator Consultant for "1923" — succinctly explained to The Hollywood Reporter, "You can't have a backstory of the Dutton families without having it include members from the Broken Rock reservation." However, telling Native American stories isn't just a narrative device for Aminah Nieves – it's a cultural responsibility.
Telling Rainwater's story is a matter of cultural preservation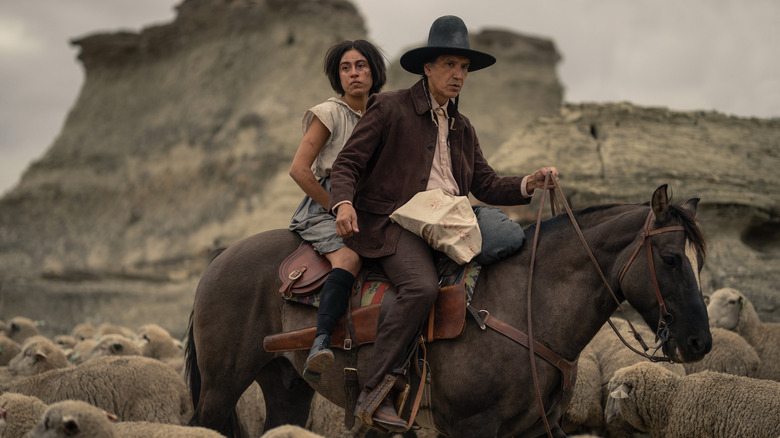 Christopher Saunders/Paramount+
"1923" offers an unflinching portrayal of early-20th-century American Indian boarding schools, which were sites of horrific abuse and forced assimilation for Indigenous youths. Aminah Nieves' role as Teonna Rainwater — who endures violence at the hands of the school's Catholic leaders — carries the specter of generational trauma.
For Nieves, performing in those scenes, harrowing as they were, felt like a personal responsibility. "It is a lot to carry, and also I think it's our duty to carry it," the actress told The Hollywood Reporter. "It's our duty to tell these stories and to share these stories. Because I think to a mass amount of people, we still don't exist. And people like to ignore the fact that we do exist. So I think I have a duty to share our stories, and to be a voice."
The boarding school scenes and beyond are stories of community and shared identity, and for Nieves, it helps having the support of a cast of Native talent and consultants that include Mo Brings Plenty, Birdie Real Bird, Leenah Robinson, Michael Spears, Michael Greyeyes, and Cole Brings Plenty. Nieves continued, "I take great pride and honor in knowing that our faces are being seen and that our voices are being heard during '1923' and beyond."