TLOU Creators Explain The Motive Behind Using Mortal Kombat 2 In Episode 7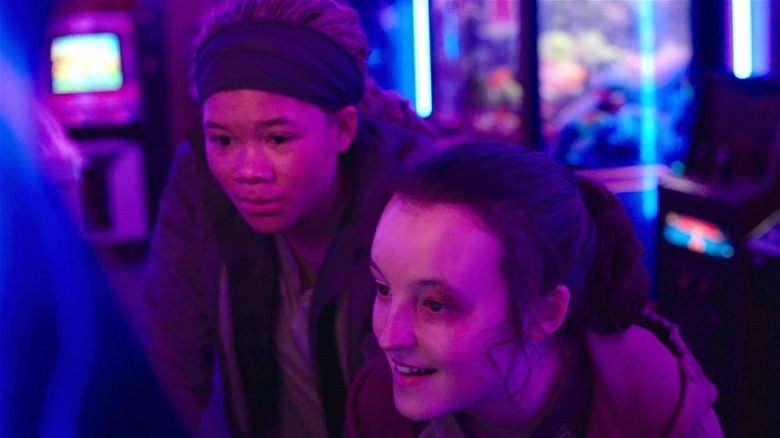 HBO
Contains spoilers for "The Last of Us" Season 1, Episode 7 – "Left Behind"
Gamers and non-gamers alike have become increasingly enthralled by HBO's authentic adaptation of "The Last of Us." The original PlayStation game, produced by Naughty Dog Studios, is best known for its unflinching violence, terrifying sequences, and multifaceted characters. Episode 7, titled "Left Behind," delivered the most faithful episode yet, with one notable change pertaining to the retro arcade game.  
In the game version of "The Last of Us," the additional, downloadable content available after the initial story (also titled "Left Behind") uncovers Ellie's (Bella Ramsey) backstory about how she discovered her immunity from the cordyceps fungus. "Left Behind" also introduces Ellie's first love interest Riley (Storm Reid), who takes her on a unique adventure through an abandoned mall. They happen upon a broken fighting game called "Triple Phoenix," which bears a striking resemblance to "Mortal Kombat." 
This is wholly intentional, as the creators recently indicated on their after-show "The Last of Us" podcast. The inclusion of the graphic, beat-down competition actually has a deeper meaning, particularly behind the controversial release of the violent game. Showrunners Craig Mazin and Neil Druckmann revealed how they came to include the depiction and why it changed to "Mortal Kombat 2."
The Last of Us builds off Mortal Kombat's video game violence
In "The Last of Us" Episode 7's companion podcast, Neil Druckmann provided plenty of illuminating insights about the inclusion of the gruesome fighting game. He joked that "Triple Phoenix" is a very obvious rip-off of "Mortal Kombat," which helps contextualize the history of violence in video games over time. 
Druckmann also explained why he wanted to feature "Mortal Kombat 2" specifically: "How violence is used in games. And Mortal Kombat II, there was this whole conversation around it with violence in the media, and Senator Lieberman wanting to censor video games. That's where, like, the rating system all came out. So it's a lot of, like, really interesting political things that happened with video games with that specific game." He then broke down how they were able to secure the rights to the original point of reference, which shares Warner Brothers with HBO, the producers of "The Last of Us" TV series. 
The creator even highlighted Ellie's "Mortal Kombat 2" poster in her bedroom, which serves as one of the many Easter eggs in the series. Druckmann concluded by underlining the core theme of the series and why the two young survivors are so drawn to it: "And these girls would have had an obsession with this particular thing because Ellie just has this, not dissimilar to me, an obsession with violent media." This is even present and reflected in Joel (Pedro Pascal), in who Ellie finds an irreplaceable comfort, further cementing the overarching element.