Pokemon Concierge Is Getting The Stop-Motion Treatment At Netflix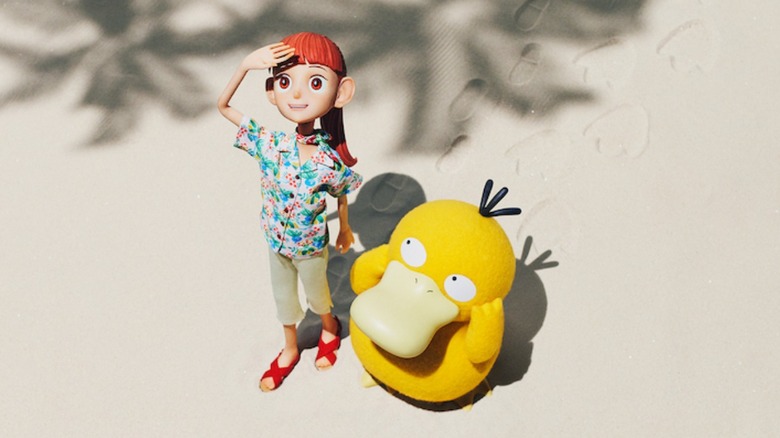 Netflix
The "Pokémon" franchise has been a staple of pop culture across the globe for nearly 30 years, beginning in 1996 with the release of "Pokémon Red" and "Pokémon Blue" for Nintendo's Game Boy and exploding in popularity throughout the late 1990s. The series' incredible success spawned the iconic "Pokémon" anime series just a year later, which follows a young trainer named Ash Ketchum (voiced by Veronica Taylor) as he embarks on a quest to catch every single Pokémon and become the Pokémon champion of the world.
Ash's incredible journey has taken him all across the world of "Pokémon," exploring a vast array of different regions and meeting countless different species of Pokémon as he battles his way towards becoming a Pokémon master — a goal he would eventually achieve during the "Pokémon Ultimate Journeys" arc in 2022. Ash's story has played out over an astounding 25 years of television, and at this point, there's no question that the "Pokémon" anime is one of the most popular and beloved animated series of all time.
While the vast majority of "Pokémon" television shows have focused on Ash's adventure and are presented in the action-packed style of traditional anime, a new project from Netflix titled "Pokémon Concierge" is set to explore a much more relaxed corner of the "Pokemon" universe — presented in gorgeous stop-motion animation.
Pokémon Concierge will follow the employees and guests of the sunny Pokémon Resort
In a surprise announcement that coincided with the 2023 "Pokémon Day" celebration on February 27th, Netflix revealed the upcoming stop-motion anime "Pokémon Concierge" — a collaborative project between Netflix, The Pokemon Company, and Dwarf Studio. According to a press release from Netflix, this latest expansion to the "Pokémon" universe will follow a concierge named Haru who works at the "Pokémon Resort" and deals with the wide variety of guests and Pokémon who visit said resort.
"Netflix is looking forward to delighting fans in Japan and around the world with 'Pokémon Concierge,' an entirely new visual and storytelling experience featuring ground-breaking stop-motion animation," said Minyoung Kim, Vice President of Netflix Content in Asia. The streaming giant also posted a teaser for "Pokémon Concierge" on their official YouTube account, giving us our first glimpse of the series' gorgeous animation as a lone Psyduck wanders across the beach.
Indeed, this beautiful animation style should look very familiar to fans of Dwarf Studio's "Rilakkuma and Kaoru" — a calming slice-of-life series that focuses on a woman living with a large teddy bear and his similarly toy-like friends. Although there has been no confirmed release date thus far for "Pokémon Concierge," fans still ought to be very excited for this fresh, relaxing departure from the traditional "Pokémon" anime.