Black Panther Debuts A Stunning New Costume Redesign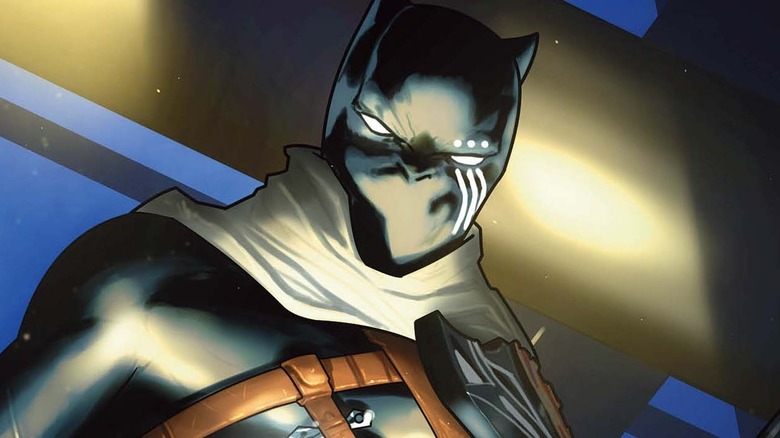 Marvel
Black Panther's new era at Marvel Comics is about to begin, and with it, the hero is getting a sharp costume redesign that updates his most iconic look. 
Black Panther's costume is easily one of the most recognizable in comics, but this Avenger's look is undergoing a major shift. In this newest run, Black Panther finds himself with a different costume as he takes on a new, unwanted role in the Marvel Universe, since he's not welcomed as he once was in Wakanda. 
As revealed by Marvel, T'Challa's new costume will premiere in the upcoming arc of "Black Panther," which will send the fan-favorite character in an all-new direction. This new storyline will be spearheaded by writer Eve L. Ewing ("Ironheart") and Chris Allen ("Stormbreaker"), and it will focus on one of the most challenging times in the former king of Wakanda's life, as he adapts to being banished from his homeland and tries to find a new purpose while keeping Wakanda safe — from a distance.
Black Panther's new costume comes at a difficult time for the hero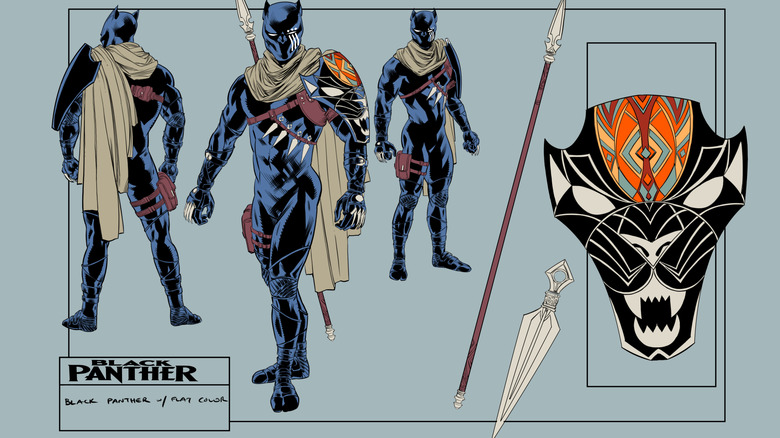 Marvel Comics
In John Ridley and German Peralta's soon-to-be concluded "Black Panther" run, the titular hero was exiled from the nation he ruled after it was revealed he planted sleeper agents worldwide. Black Panther even lost the trust of the Avengers with the move — however, he has tried to make things right by teaming up with Captain America and Namor to stop the terrorist organization run by his childhood best friend, the villainous Jhai.
With Black Panther banished from the throne, artist Chris Allen redesigned T'Challa's costume for the upcoming run of "Black Panther." While T'Challa's main suit is somewhat similar to the black outfit he's always worn, the accessories in the redesign make it stand out like never before. The former king carries a long spear as his weapon of choice. Meanwhile, he has a white claw mark across his eye, sharp tooth-like daggers strapped to his chest, and his own small claws on his hands. Perhaps the most impressive new feature is T'Challa's shoulder piece, featuring a ferocious panther's face ready to bite. The look is tied together with a sash acting as a cape. 
Black Panther's new creative team is a huge win for Marvel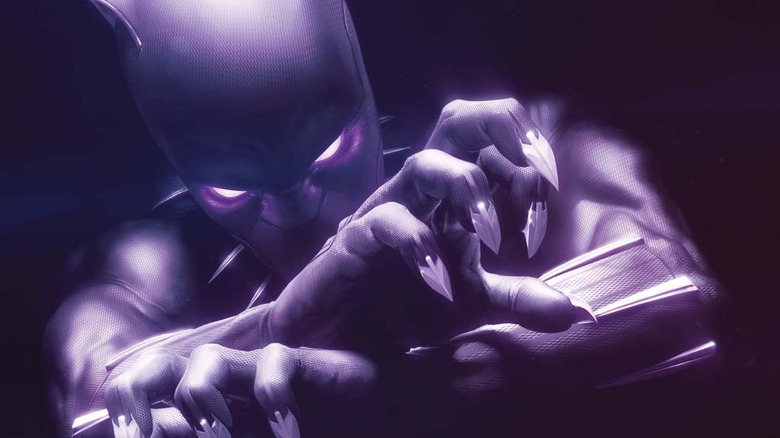 Marvel Comics
Eve L. Ewing and Chris Allen make an exciting new creative team to take the longtime Avenger in a new direction following Ridley's run, which made T'Challa an unlikely enemy of Wakanda and Earth's Mightiest Heroes. Ewing, who is best-known for her work on "Champions," "Ironheart," and the current ongoing miniseries, "Monica Rambeau: Photon," said she's looking forward to exploring parts of Wakanda that haven't been seen before.
As Ewing added in a Marvel press release, "I am so excited for people to see this character design! T'Challa is going to be looking really different. It's much more edgy and kind of homespun. It's not so sleek and slick. Not giving too much away from the story, he's trying not to be seen. He's kind of working incognito."
Additionally, the solicit hints at the adventures ahead for T'Challa:

"Banished from the throne and a fugitive in his own homelands, T'Challa still can't leave Wakanda without its sworn protector. A king without a crown, he finds a new purpose lurking the streets and shadows of the Wakandan city that bears his father's name, BIRNIN T'CHAKA. New direction, new villains, new creative team – get in on the ground floor of Marvel's next smash hit!"
With the new costume redesign, a new role operating hidden in plain sight in Wakanda, and a new creative team prepared to take T'Challa in a bold new direction, there's plenty to be excited about for the upcoming Marvel Comics series. "Black Panther #1" from Eve. L. Ewing and Chris Allen arrives in comic book stores and online retailers in June 2023.