Ted Lasso Season 3's Full Trailer Highlights Nate The Not-So-Great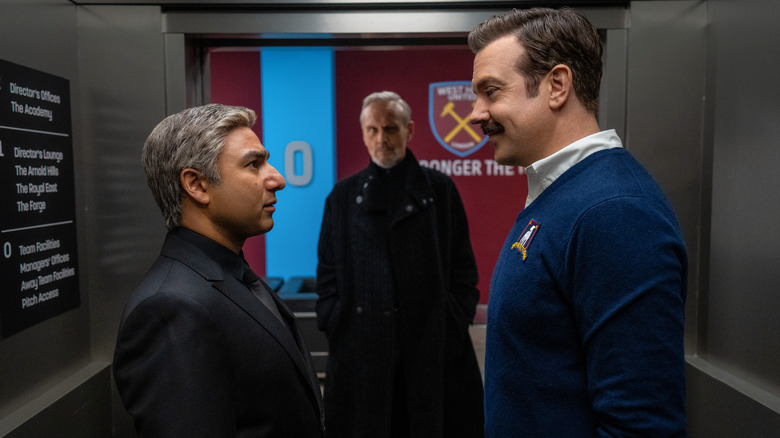 Apple TV+
You can write it on a piece of card and stick it on any door you like, but we still can't quite BELIEVE that this year marks the end of "Ted Lasso." The final season of the Emmy-winning series is set to arrive next month, and while we're prepping for an emotional goodbye, fans of AFC Richmond will no doubt savor every bit they can, including a brand-new trailer that reunites us with old friends and new silver-haired foes.
Let's be real for a second. Seeing Nate (Nick Mohammed) tear through Ted (Jason Sudeikis) and that much-loved mantra before switching sides in last season's finale filled us with levels of anger not seen since Joffrey asked for Ned Stark's head. Is that a dramatic comparison? Not one bit. Football is life, after all. But just how is that huge split going to impact this year? Can bridges be rebuilt? Is Ted going to find a new fondness for English tea? Whatever happens, there's still plenty to be happy about with what else is on show, including Roy Kent (Brett Goldstein) going to places we never could've imagined, like applying positive feedback in the workplace. Unbelievable, right?
Nate and Ted's friendship is still in the grey in new Ted Lasso trailer
Regarding match highlights, there's a lot to take away from the new trailer. However, the biggest draw is seeing the new lone wolf and former Diamond Dog, Nate, getting everything he wanted — but at what cost? West Ham and a window seat are all well and good, but Ted's former right-hand man isn't cracking many smiles in his new role, especially with the appearance of an old friend (and son) on his new home turf. Is there any chance to make amends before the final whistle blows? We sure hope so.
As well as that, there are also some other important threads that are hopefully tied up nicely this season. The love triangle between Keeley (Juno Temple), Roy Kent, and Phil Dunster's Jamie Tartt (doo-doo-da-doo-da-doo) is still clearly present; there's also the will-they-won't-they relationship between Rebecca (Hannah Waddingham) and just all-round great guy, Sam (Toheeb Jimoh) that still might happen. All that, and there's still an appearance from wavy-haired writer Trent Crimm (James Lance), now totally independent. Could his next big project be a book on Ted's time at Richmond? Or could he be stewing on a scandal waiting to explode regarding Rebecca's ex-husband Rupert (Anthony Head)? Well, as Doctor Sharon Fieldstone (Sarah Niles) once said, the truth will set us free on March 15.