Sophia Bush Says The Law & Order: SVU Cast Tells Really Dirty Jokes
NBC
Sophia Bush has starred in so many shows that it can be difficult to keep track of them all. As Erin Lindsay alone, she's appeared in every single show in the "One Chicago" franchise — but she's also been a mainstay in "Chicago P.D.'s" periodical crossovers with "Law & Order: Special Victims Unit," appearing in a total of four "SVU" episodes between 2014 and 2016. 
As any viewer of "Law & Order: SVU" knows all too well, the show doesn't exactly shy away from grim subjects, and it turns out that the cast has figured out a way to deal with this. Since she plays a recurring role in the show, and her main gig as Erin was on the slightly mellower "Chicago P.D." during her "One Chicago" tenure, Bush is in a perfect position to compare the "SVU" set experience to the other shows she's been a part of. As she recently shared, there's one marked difference between "SVU" and other shows: The "SVU" cast has a far more wicked sense of humor. 
The cast offsets the dark subject matter with wild jokes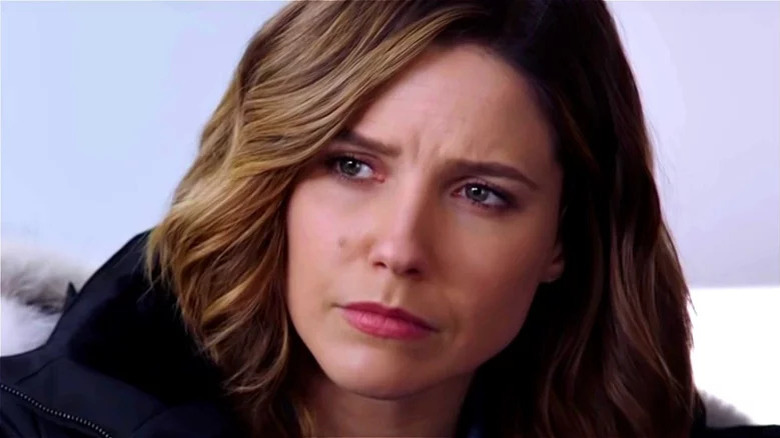 NBC
In a new episode of the "Drama Queens" podcast, Sophia Bush revealed that the cast of "Law & Order: SVU" uses filthy humor as an essential component of dealing with ... well, the kind of stuff "SVU" habitually deals in.
"You have to find a way out. I've never been on a set where dirtier jokes are told than 'SVU' because you need a break," she explained. "Everybody there has slapstick comedy down like nowhere I've ever been. It's so fun to work there, and it has to be because the subject matter is so dark that if you only focus on the subject matter you'll die."
It makes sense that actors like to lighten up the mood whenever the cameras aren't rolling when working in a show as dark as "SVU" — especially since the show's cast has included noted comedian Richard Belzer, as well as Christopher Meloni, who's flexed his significant slapstick muscles in Syfy's black comedy fantasy "Happy!"