Will Steven Spielberg Ever Make Another Horror Movie?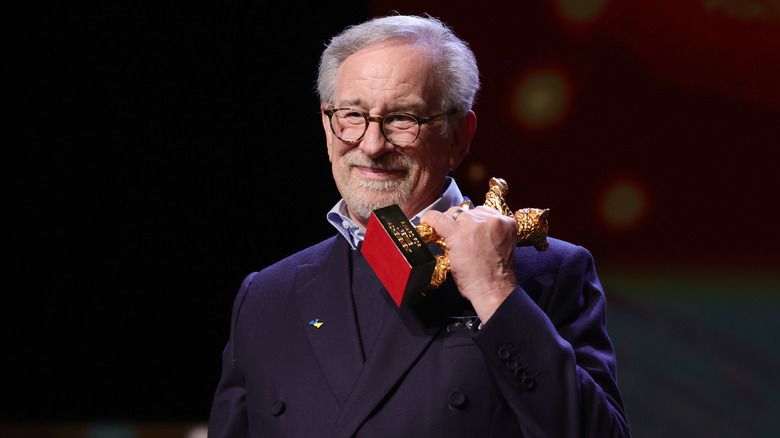 Andreas Rentz/Getty Images
Steven Spielberg is enjoying a well-earned victory lap following his heartwarming 2023 Golden Globes acceptance speech for "The Fabelmans." Recently, the acclaimed director also received the "Honorary Golden Bear" award at the Berlin International Film Festival, where he made some thrilling comments about his future work. Spielberg referenced his earlier hits in the horror genre and even touched on possibly returning to his scary origins.
Spielberg's name has essentially become synonymous with his breakout 1975 blockbuster "Jaws," starring Roy Scheider as Sheriff Brody. After a series of gruesome attacks, the daring officer teams up with some unlikely allies to take on a deadly and ferocious great white shark. Because of Spielberg's unmatched directing, viewers were terrified of even stepping into the water in fear of the colossal man-eater. He continued producing nail-biting flicks like "Poltergeist" (with horror visionary Tobe Hooper), and the chilling Christmas comedy "Gremlins," but notably took a break from making frightening films. Spielberg then briefly returned to terrify audiences with 2005's "War of the Worlds," before veering away again.
After telling such a personal story in "The Fabelmans," Spielberg suggested in his speech that he may dive back into the bloody genre, offering a glimmer of hope for his return to horror. 
Spielberg may be returning to his horror roots
Amidst the euphoria of being bestowed with such a distinguished honor, the beloved filmmaker acknowledged his extraordinary legacy before sharing his future plans. In his inspiring speech from Berlinale, he squashed any notions of retiring. "I feel a little alarmed to be told I've lived a lifetime because I'm not finished," Spielberg said. "I want to keep working," He continued, "I want to keep learning and discovering and scaring the s**t out of myself and sometimes the s**t out of you." Anyone who's seen "Jaws" and Spielberg's other blood-curdling films can certainly attest to that statement.
Spielberg fondly reflected on his previous scary adventures before suggesting he may do more someday. "I gotta get back to some of those earlier scarier movies but that's another story for later on," Spielberg said. "As long as there's joy in it for me and as long as my audience can find joy and other human values in my films, I'm reluctant to ever say that's a wrap." Fans of his scarier stories definitely find joy in his wild techniques and unpredictable twists, which he often weaves throughout his work to keep audiences' on their toes. 
This makes him an ideal candidate for the horror genre as his films frequently contain intense sequences like the alien reveal in "E.T. the Extra-Terrestrial," and devouring dinosaurs in "Jurassic Park." Hopefully, after his 2023 Oscar nomination, the esteemed director will craft another gory tale for audiences to enjoy.