Why Tommy Welch From Chicago Fire Looks So Familiar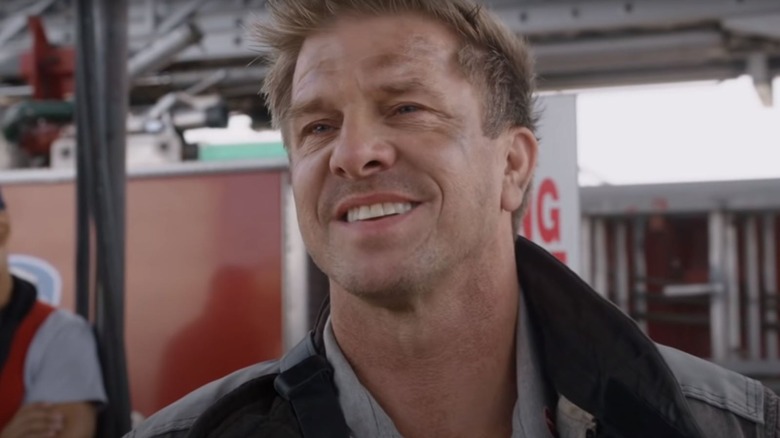 NBC/YouTube
"Chicago Fire" is full of brave and talented firefighters, but it doesn't mean that said firefighters all get along with each other. Few characters demonstrate this more efficiently than Tommy Welch, the competitive Firehouse 105 Fire Lieutenant who acts as something of a nemesis to Firehouse 51's Matthew Casey (Jesse Spencer) for much of his tenure in the show. Like many others, though, Welch goes through significant character development over the course of his seven appearances in the show's second and third seasons – and the actor playing him does an excellent job at portraying the bull-headed firefighter's nuances.
During and after his time in "Chicago Fire," you may have seen Kenny Johnson as Caleb Calhoun in "Bates Motel" and Dominique Luca in "S.W.A.T.," among other roles. However, the busy actor was quite an established name even before he took command of Truck 66. Here are some of the roles he cut his teeth on before joining "Chicago Fire."
Kenny Johnson took law in his own hands as The Shield's Lem Lemansky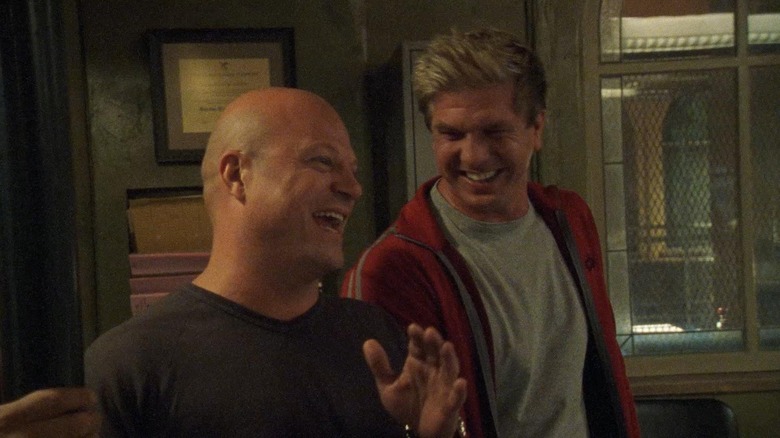 After over a decade of comparatively minor roles, Kenny Johnson got his big break as Curtis "Lemonhead" Lemansky in Kurt Sutter's groundbreaking FX cop drama "The Shield." Lem appears in the show's first five seasons as one of the main characters, and a key member of Vic Mackey's (Michael Chiklis) strike team.
Before his exit from the show in 2006, Johnson appeared in no less than 65 episodes of "The Shield," acting opposite heavyweights like Chiklis, CCH Pounder, and Walton Goggins. In an interview with Entertainment Weekly, the actor revealed that he didn't really expect to get the role because he felt that he couldn't really deliver during his audition. After he found out that he did get the part, however, he decided to dive really deep in Lem's character.
"I started living the character 24/7," Johnson said. "I'd get home and write 20, 30 pages of a diary as Lem. Whatever I felt as Lem, I would get out."
Embodying the character so thoroughly ended up causing actual, physical problems for Johnson when the show's characters got deeper and deeper in their increasingly bloody troubles. "Sometimes I had dreams at night where I murdered someone and hid the body on the property, and I've got this guilty feeling that they're going to find out," he said. "It felt horrible; I started getting a lot of stomach ulcers."
He played Ham Dewey in Saving Grace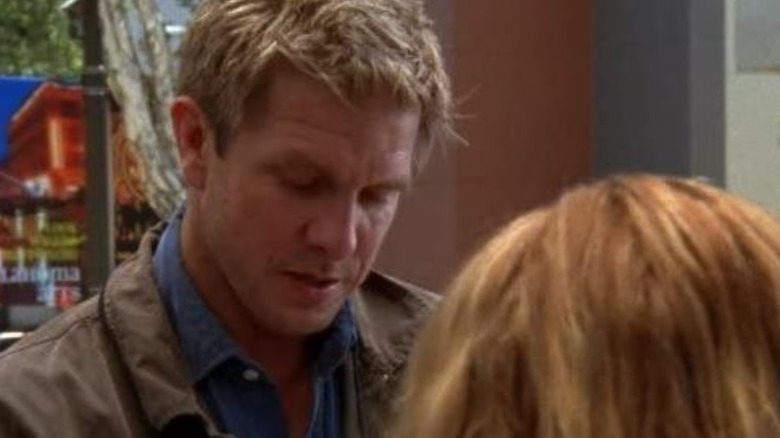 TNT
TNT's "Saving Grace" has a pretty wild twist for what might otherwise be a fairly by-the-numbers police procedural: A disheveled angel called Earl (Leon Rippy) keeps appearing to Detective Grace Hanadarko (Holly Hunter), whose vice-filled lifestyle is destined to doom her eternal soul unless she changes her ways. As Grace attempts to figure out the angel situation and the strange connection she seems to share with death row inmate Leon (Bokeem Woodbine), she also does her best to perform at her job. The end result is a fascinating combination of classic cop show and supernatural drama.
Kenny Johnson's role in the show is Hamilton "Ham" Dewey, Grace's cop partner who's also having an affair with her. Though comparatively disconnected from the show's supernatural elements, Ham is still an instrumental character in the show. As a member of the main cast of "Saving Grace," Johnson appears in all of its 46 episodes.
He was a well-liked SAMCRO member in Sons of Anarchy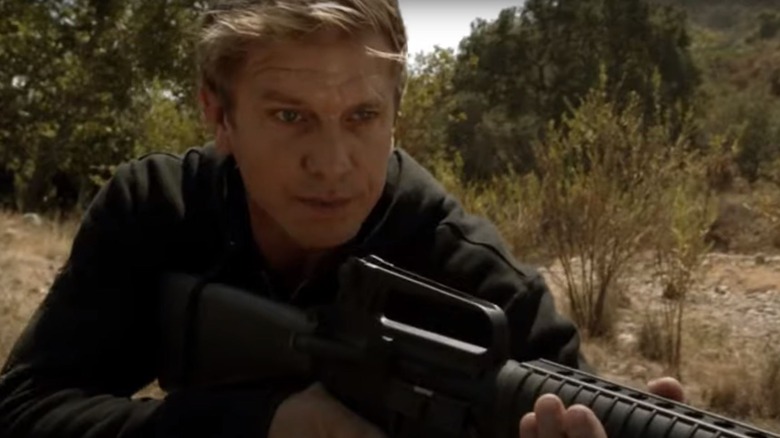 FX
Continuing his trend of playing friendly Kurt Sutter-created characters who nevertheless operate on the shadier side of the law, Kenny Johnson joined the cast of "Sons of Anarchy" in 2009. He plays Herman Kozik, a cool and popular SAMCRO operator who appears in the show's second, third, and fourth season.
Johnson's role in "Sons of Anarchy" is a decidedly supporting one, as he appears in 12 episodes over the course of his tenure in the show. Kozik still a very recognizable character with a significant presence, and as the actor stated in an interview with CHUD, he had plenty of opportunities to interact with the other people behind the show. "I have to say the 'SOA' family is so tight and so fun and yet so crazy," he said. " Like you say, all these actors are pretty amazing character actors and they have crazy personalities, a lot of them."
He played Marshal Max Clayton in Dexter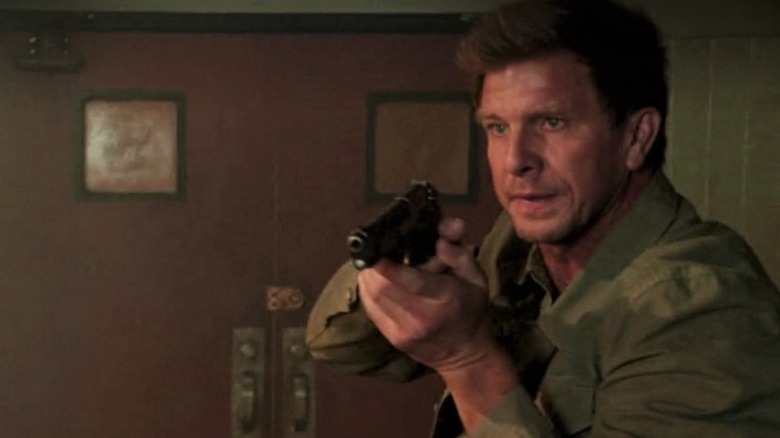 Showtime
Shortly before he joined the One Chicago universe, Kenny Johnson took a trip to Florida in Season 8 of Showtime's serial killer drama "Dexter." Johnson's U.S. Marshal Max Clayton is in Miami to investigate Jacob Elway's (Sean Patrick Flanery) claim that serial killer Hannah McKay (Yvonne Strahovski) is in town, which soon brings him in contact with Angel Batista (David Zayas) and Hannah's ex, Dexter Morgan (Michael C. Hall), among other series regulars ... as well as the season's main antagonist, Oliver "The Brain Surgeon" Saxon (Darri Ingolfsson).
Notable as the series is, "Dexter" is just one of Johnson's appearances in prominent shows, and in an interview with The Huffington Post, he made clear he knows just how lucky he's been to score so many prominent gigs ... including similar short guest stints in shows like "Burn Notice" and "Covert Affairs." 
"I know this isn't the experience most actors have in Hollywood," he said, discussing his career. "I've gone from one great show with really great writing and cool characters to another ... then another. I've really been blessed."