Yellowstone's Jefferson White Calls Cole Hauser The 'Scariest Guy On Set'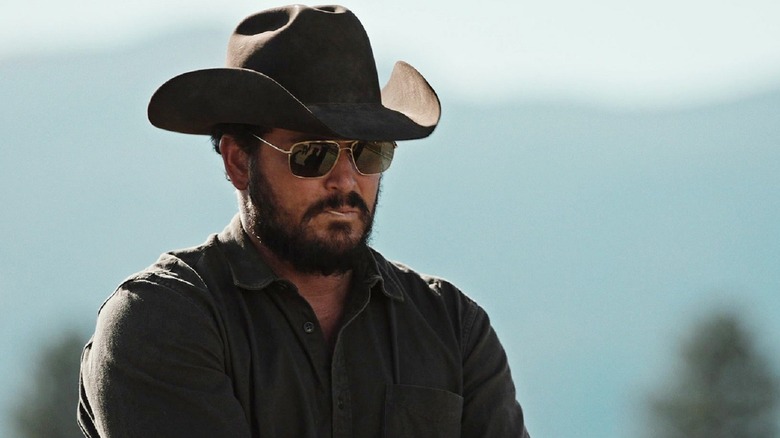 Paramount Network
If there's one person on "Yellowstone" that scares the living heck out of audiences more than Beth Dutton (Kelly Reilly), it's her darling husband and avid train station visitor, Rip Wheeler (Cole Hauser). The ranch hand and fixer for John Dutton (Kevin Costner) is as heavy-handed as they come and can scrap longer than most. It's something that's expected for a man whose most memorable line is "I'll fight you all g****** day." Saving the day and caving in faces on a regular basis, he's certainly a force to be reckoned with but is still an alright guy to be around. 
Despite his reputation for violence, he's still managed to become a firm fan favorite on the show, making an art form out of tidying up other people's messes. However, fans might be wondering where the line is for actor Cole Hauser between real life and the angry, drama-magnetizing character he has played on the show since 2018. Well, according to his former co-star, Jefferson White — who plays former Dutton Ranch employee and current 6666 Ranch helper Jimmy — there might not actually be much of a line between the two.
Jefferson White sees Rip's scary leadership in Cole Hauser
Speaking to US Weekly (via YouTube) about his co-stars on "Yellowstone," Jefferson White had nothing but good things to say about Cole Hauser — whose character traits align with his character in the best way — and he admits that Hauser absolutely terrifies him. Without hesitation, White described Hauser as, "Probably the scariest guy on set for me." Even so, Hauser's strong presence also exists off-camera. White praised his co-star, saying, "For Cole, he's such a leader. Rip is such a leader, but Cole is also such a leader."
Of course, as with all great leaders, they're worth following. It seems that just like the character he played on the show, White sees Hauser in the same light as Jimmy does with Rip. "I'm always trying to learn from Cole. I really look up to him in the same way that, like, Jimmy looks up to Rip. I really look up to Cole." Thankfully, with no mention of branding in real life, White added one surprising thing about Hauser: he has a knack for humor on the rare occasion it's written for Rip.
Cole Hauser has no trouble flexing his funny bone when the opportunity arises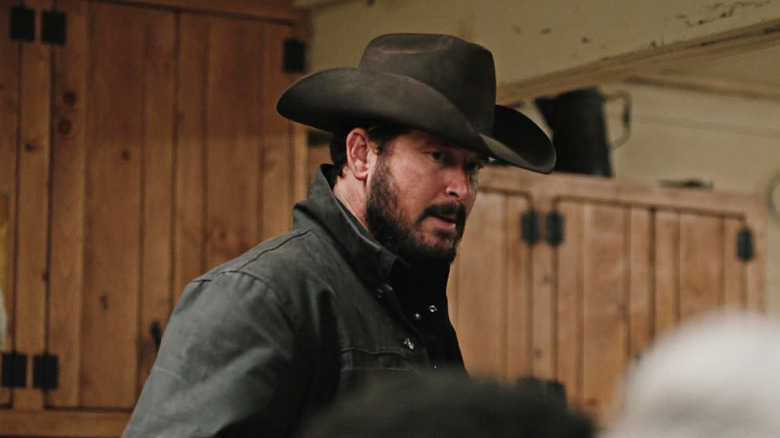 Paramount Network
He might be the character with the roughest, toughest past on the show, but as "Yellowstone" has progressed, fans have gotten to see the funny side of Rip Wheeler as well. It's something that even Jefferson White was surprised by, as "Yellowstone's" unofficial MVP rarely flexes the muscles that require him to bring the funny.
"He also has like more range than you can imagine on set," White explained. "Like in the scenes that Rip gets to do where he's a little funny, like the scene in the truck in Season 3 with Mia." The scene in question saw Rip and Jimmy driving with the latter's ex-girlfriend, who we quickly realize doesn't have an off switch. For a cold-blooded killer with a very short temper, watching him struggle with self-restraint was a highlight that never gets old. White remarks that "Cole Hauser's comedic timing is incredible." 
It's great then that as the show has progressed and Rip's world has brightened up after marrying Beth, we've actually seen more of this side of him. Here's hoping Hauser's anti-hero isn't out of laughs just yet as "Yellowstone" kicks off the back half of Season 5 this summer.