Fantastic Beasts 3's Eddie Redmayne Compares The Film's Heist To Ocean's Eleven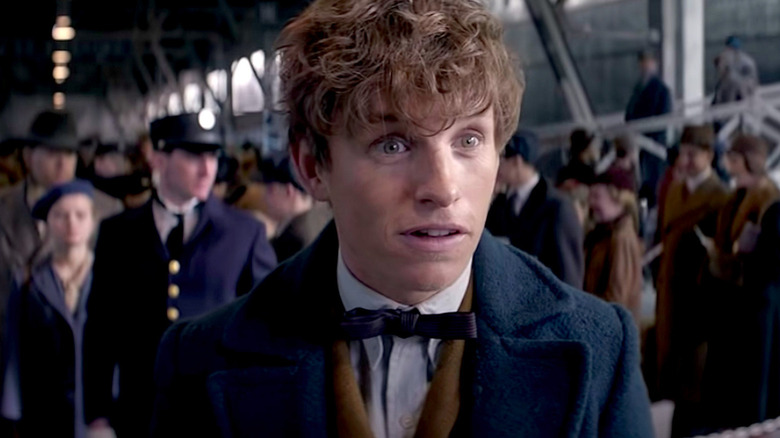 Warner Bros. Pictures
Much like the "Harry Potter" films, the "Fantastic Beasts" movies, which serve as a prequel to the popular movies that focus on the eponymous teenage wizard, are set in a world of magic and wonder. The main overarching plot of the three films concerns protagonist Newt Scamander (Eddie Redmayne) assisting Albus Dumbledore (Jude Law) in taking down the dark wizard Gellert Grindelwald (Mads Mikkelsen) while befriending and attempting to save various magical creatures.
The "Fantastic Beasts" movies are sometimes something of a jumble of tones and genres, shifting from light-hearted moments involving cute fictional creatures to a darker, more mature tale of stopping a murderous Grindelwald as he attempts to take over the Wizarding World at large. This has led to some criticism directed at the films, and the third and latest film in the series, "Fantastic Beasts: The Secrets of Dumbledore," received mixed reviews from critics, garnering a 46% on Rotten Tomatoes.
Still, it's a genre mash-up that has existed since the first film, and it would likely be a trend that would continue if the last two films are ever made, which isn't exactly a guarantee (per Variety). But according to Redmayne, the third film expanded on this even more with its heist sequence, and he compared it to films like "Ocean's Eleven."
Redmayne says that he's basically Brad Pitt's character in Ocean's Eleven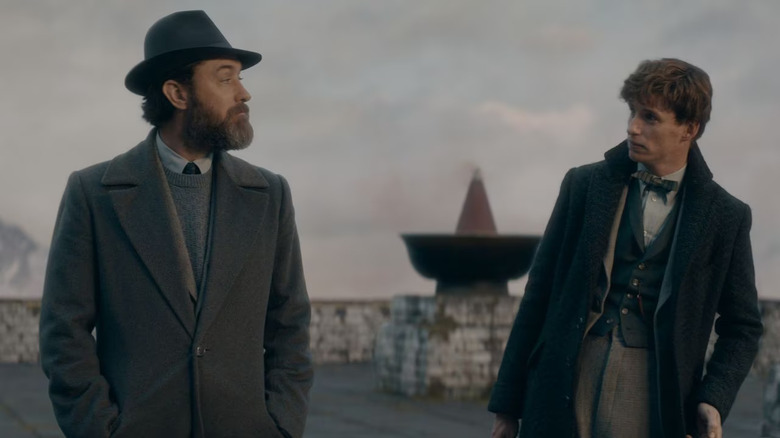 Warner Bros. Pictures
During an interview with "The Tonight Show Starring Jimmy Fallon" in May of 2022, Eddie Redmayne made some interesting comparisons between "Fantastic Beasts: The Secrets of Dumbledore" and "Ocean's Eleven." Namely, he called the former something akin to a heist movie featuring wizards, while also saying that Jude Law's Dumbledore was George Clooney's Danny Ocean character from "Ocean's Eleven" and he was Brad Pitt's character, Rusty Ryan. Obviously, this heist is planned in order to stop Grindelwald from becoming the Supreme Leader of the International Confederation of Wizards.
Redmayne isn't far off here, as the third "Fantastic Beasts" movie definitely plays more like a heist film than anything else. However, it's not the first time that fans of the Wizarding World have seen heist sequences in the series as a whole. In the seventh and final book "Harry Potter and the Deathly Hallows," as well as the two movies that adapt it, Harry (Daniel Radcliffe) and his friends are involved in two large-scale heists involving the Ministry of Magic and Gringotts. That said, it seems as if author and "Fantastic Beasts" writer J.K. Rowling is a big fan of the genre in general.