Why Malyen From Shadow And Bone Looks So Familiar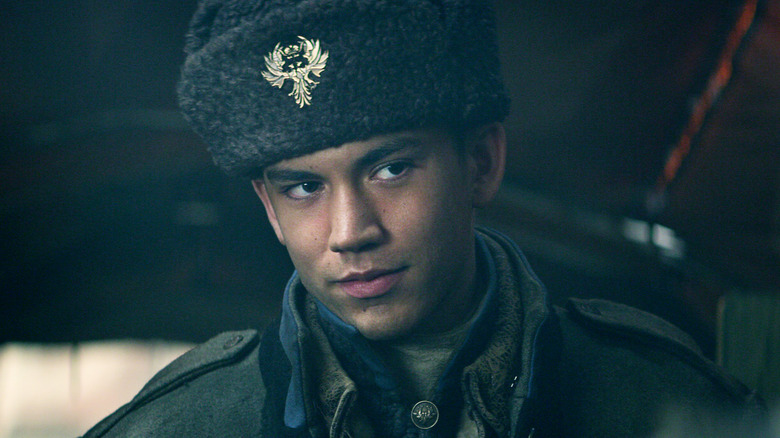 Netflix
When you're watching a movie or TV show, nothing's quite so distracting as when you sort of recognize one of the actors but can't quite place where you've seen them before. It's even more annoying when a quick Google search turns up almost nothing beyond a list of roles, without any details. We're here to help.
"Shadow and Bone" is the Netflix TV adaptation of Leigh Bardugo's fantasy series of the same name. It follows a girl named Alina Starkov, who discovers that she's a Grisha, or magic user, with the rare and widely coveted ability to summon sunlight. This could save humanity from the threat posed by the Shadow Fold, a region of perpetual darkness. Naturally, various factions want to control this ability for their own purposes, which means Alina will be hunted for the rest of her life. In other words, all she has to do is save the world while a host of bounty hunters, mercenaries, and fanatics all want to kidnap her. No pressure.
One of the show's most pivotal characters is Malyen "Mal" Oretsev. He's Alina's childhood best friend, but unlike Alina has no Grisha powers. Instead, he's a simple soldier tasked with traversing the Shadow Fold. In the books, he's presented as more of a controlling love interest for Alina, but the TV series reimagined him to be "the perfect boyfriend that a lot of us would love to have" (via Esquire).
Mal is played by 25-year-old (at the time of this writing) English actor and model Archie Renaux. He's been appearing in TV and films since 2017, so there's a good chance you recognize him from one of these roles.
Archie Renaux played Alex in Voyagers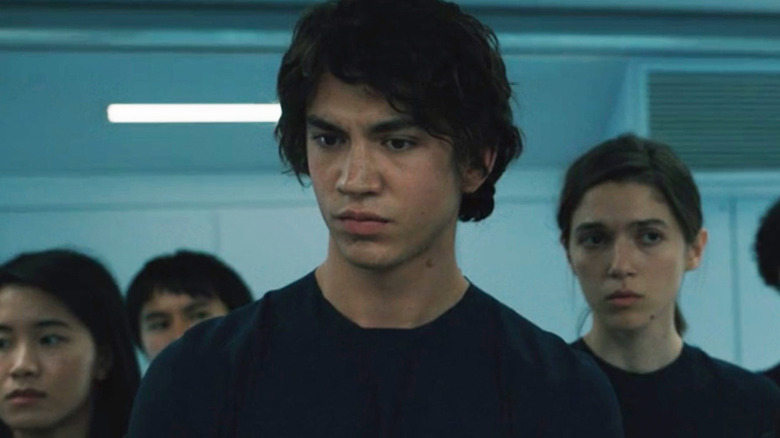 Lionsgate/Hulu
"Voyagers" is a 2021 science fiction thriller that stars Colin Farrell, Lily-Rose Depp, and "Game of Thrones'" Isaac Hempstead Wright as members of a crew of interstellar space explorers who are tasked with finding a new habitable planet to save humanity, but with a twist: they'll be breeding and raising children along the way to continue supplying their mission with fresh crew members. Problem is, the children are being drugged into compliance. When they realize what's happening, they rise up in revolt. It's been described as "Lord of the Flies," but in space.
In the film, Archie Renaux plays Alex, one of the many twentysomethings who undergoes an awakening that causes him to question everything he knows. It's an extremely minor character who has almost no lines and who doesn't heavily factor into the plot (plus his hair is different), so if you actually recognized Renaux from this film, congratulations.
Archie Renaux played Bobby in Morbius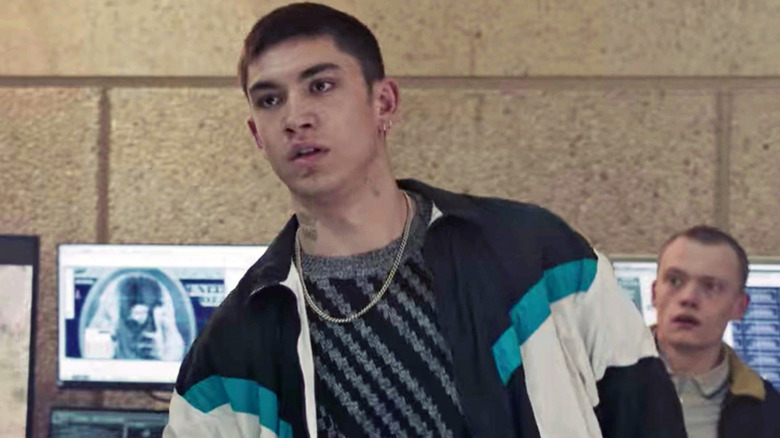 Sony Pictures Releasing/Netflix
"Morbius" is the 2022 Marvel thriller that stars Jared Leto as Michael Morbius, a scientist with a rare blood disorder. So does his younger brother Milo, who's played by Matt Smith. When Morbius develops a cure for his condition that involves using the blood of vampire bats, it gives him dangerous vampiric powers. After Morbius refuses to give the cure to Milo, Milo takes it anyway, then allows Morbius to be set up for a horrifying murder he committed.
About an hour into the movie, Morbius is sent to prison for the murder, which means he no longer has access to his laboratory. Then, when Morbius overhears some criminals trying to pass counterfeit bills to a waitress, he follows them to their lab. Needing a new one, he proceeds to break several bones in the lead counterfeiter's hand. His two accomplices run away in terror. Archie Renaux plays one of those accomplices, a criminal named "Bobby." Once again, he doesn't have any lines, so kudos to you if you recognized him from this role.
Archie Renaux played Edward the Monk in Catherine Called Birdy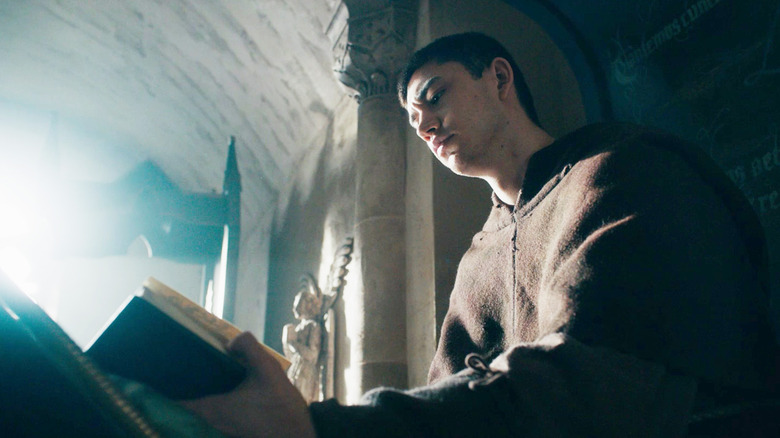 Amazon Studios
"Catherine Called Birdy" is Lena Dunham's 2022 adaptation of Karen Cushman's 1994 children's novel of the same name. Set in medieval England, it follows a free-spirited 14-year-old named Catherine, called "Birdy" (Bella Ramsey), who comes of age just when her father, Lord Rollo (Andrew Scott), finds himself in a dire financial situation that forces him to marry his daughter off to a wealthy suitor. Birdy's antics repel every potential suitor until she meets Sir John Henry Murgaw VIII, aka "Shaggy Beard," a lecherous nobel who finds her quirks appealing. Without spoiling the rest, let's just say that Birdy isn't happy with the arrangement.
Archie Renaux has a small but important role as Edward the Monk, Birdy's older brother who's been sent to a monastery. He's much more sympathetic and fun-loving than most of the people in Birdy's life, and he serves as her confidante throughout her trials.
Archie Renaux played Tom Collins in The Greatest Beer Run Ever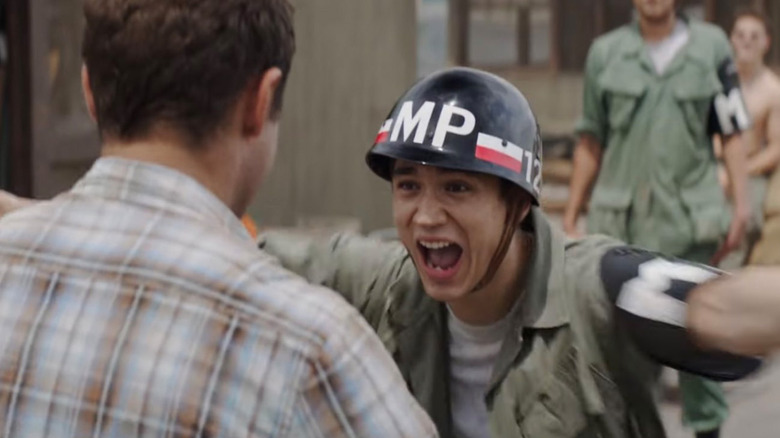 Apple TV+
Based on a true story, "The Greatest Beer Run Ever" stars Zac Efron as John "Chickie" Donohue, an aimless merchant marine living in New York state during the Vietnam War. While not a soldier himself, Chickie has many friends serving in the conflict. When one of them dies, Chickie and a friend decide to embark on a mission to cheer up their remaining friends up by delivering them Pabst Blue Ribbon in a war zone.
Archie Renaux plays one of those friends, a military policeman who's aptly named "Tom Collins." He's the first friend whom Chickie locates in-country, and he helps Chickie come up with a game plan to deliver the rest of the beers to their pals–even though his commanding officer doesn't approve of the mission at all. With Tom's help, Chickie tracks down the rest of their crew, but returns home with a much different perspective on the war.