How Oliver Platt Behaves On Set Of Chicago Med, According To On-Screen Daughter Mekia Cox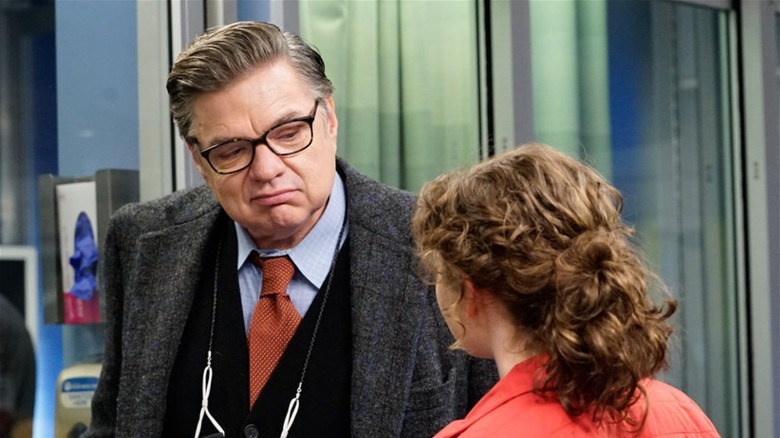 Elizabeth Sisson/NBC
Oliver Platt has been active in the Hollywood scene since the late '80s, attaining over 90 screen credits in the process. Within that extensive list of gigs lies over 150 episodes of the NBC series where he has played Dr. Daniel Charles since 2015, "Chicago Med." As the head of psychiatry at Gaffney Chicago Medical Center, he sees a robust amount of medical action with the patients he treats. Luckily, he does not have to take on the arduous task of healing the Windy City on his own, as Dr. Charles has several talented people working alongside him each day on any sort of wild case that comes through the hospital's doors. One of the people who helps the good doctor on occasion is his daughter, Robin Charles, played by Mekia Cox.
The actress began her run on the series in Season 2, where gradually she began to reconcile with her father after years of not maintaining a relationship with him. However, their new dynamic would not last. After just a few seasons, Cox would eventually exit the medical drama with a final appearance in Season 5, appearing in a total of 25 episodes. 
That many entries of "Chicago Med" is quite a lot, meaning the actors playing the father-daughter pair worked together quite a bit. Since then, Cox has not been fearful of telling people the truth about how Oliver Platt handles himself in a professional TV environment.
Mekiah Cox enjoyed working with Oliver Platt right from the start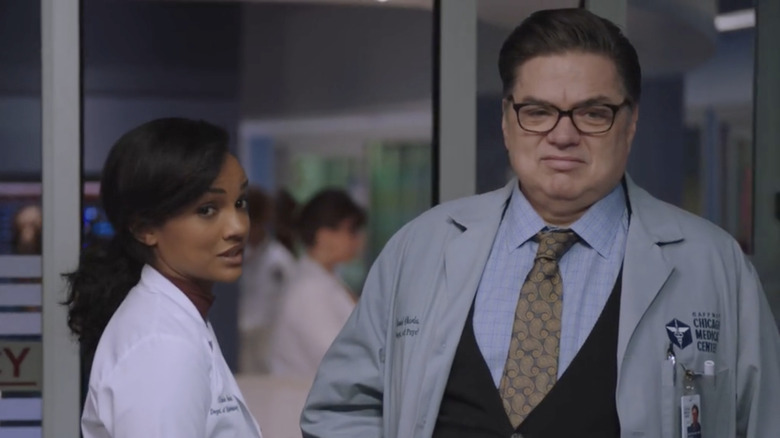 NBC
Happily, Mekiah Cox confirms that Oliver Platt is an absolute delight to work with. "So, the first day when I met him was really the first day we were on set and shooting our first scene together," Cox said in an interview with Pump It Up. "But, he is so great and he's very easy to work with. He's sort of an actor's actor. We met and connected very easily and went from there." The actress also revealed that she enjoyed watching him perform and learned some things from Platt along the way. Their time together was a positive experience for both parties involved, and Cox isn't the only person on the NBC series who relishes working with an actor of Platt's caliber.
Steven Weber's character Dr. Dean Archer may work in a different department of the hospital, but fortunately for him, he still sometimes gets to cross paths with Dr. Charles. "I love working with Oliver Platt, and I think it's fun to get these two opposites together. They're like the sunshine boys, they're kinda two sides of the same coin. They both want to help people," Weber said to NBC Insider. "It's great for me to work with him even if I have little to say because he is so much fun to watch." 
It seems that working with Oliver Platt in many of the show's best-ranked episodes isn't just good for your professional health — it may also be the kind of thing doctors recommend.