Game Of Thrones' Liam Cunningham Nixed A Romantic Subplot Between Davos And Missandei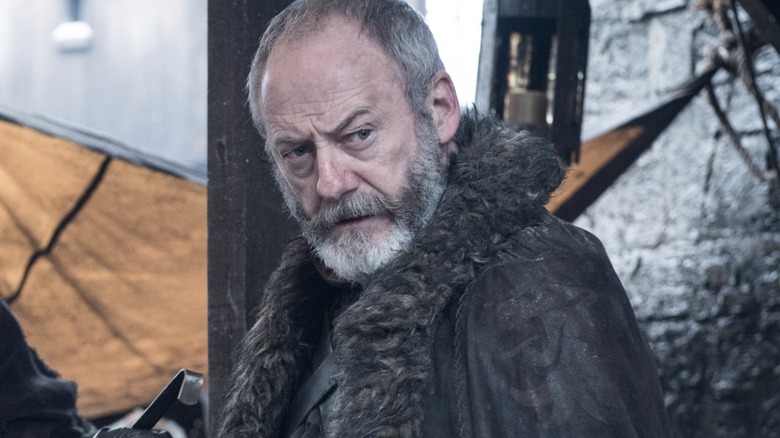 Helen Sloane/HBO
HBO's "Game of Thrones" became a sensation for many reasons. The non-stop power struggles, complex characters, and supernatural tensions keep viewers on the edge of their seats, even upon rewatching. But amidst the brutality and political intrigue, the series also explores some hugely memorable romantic partnerships across its eight seasons. Some of these relationships are toxic: Consider the explosive bond between Jaime (Nikolaj Coster-Waldau) and Cersei (Lena Headey) Lannister, or the tragic end of Ygritte (Rose Leslie) and Jon Snow's (Kit Harington) love affair. Other romances are healthy and supportive, like the partnership Gilly (Hannah Murray) and Samwell Tarly (John Bradley West) find in each other. 
Though everyone loves a happy ending, you could argue that the toxic pairings of "Game of Thrones" are the ones that still resonate, long after the program's end. Surprisingly, showrunners David Benioff and D.B. Weiss briefly looked into creating one such partnership between Ser Davos Seaworth (Liam Cunningham) and Missandei (Nathalie Emmanuel). Cunningham was having none of it, however — and we have the details.
Cunningham was not comfortable with his character falling for a much-younger woman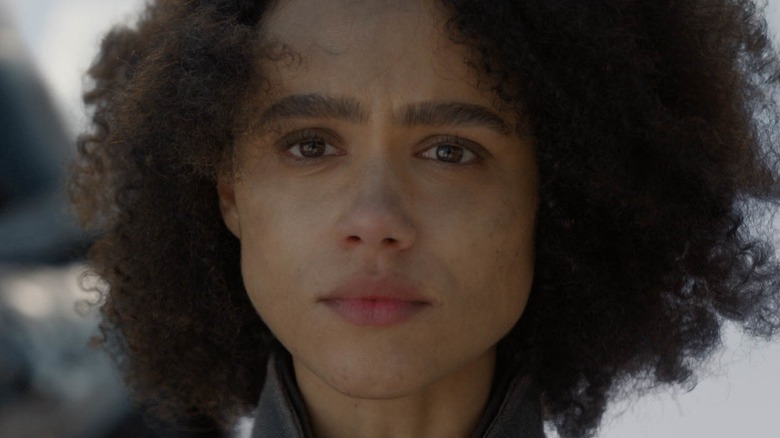 Helen Sloane/HBO
James Hibberd's "Fire Cannot Kill a Dragon," an oral history exploring "Game of Thrones," reveals some surprising insights regarding a scrapped subplot involving Ser Davos and Missandei, Daenerys Targaryen's trusted confidante. According to Liam Cunningham, series co-creator David Benioff proposed Davos develop romantic feelings for Missandei. But Cunningham wasn't keen to explore this jarring potential plot thread. Missandei is much younger than Davos, for one thing. Cunningham pointed out that Davos' fatherly past with Lyanna Mormont (Bella Ramsey) and Shireen Baratheon (Kerry Ingram) — both young girls — would make a crush on the 20-something Missandei seem peculiar. "You're not undoing my hard work engendering the sympathy of the audience to have him be a perv," Cunningham recalled telling the head honchos (via Insider).
Cunningham further commented on Benioff's approach to creating controversial plot threads, and discussed how he fought the producer on this particular point. According to the actor, this was the only time he ever stood his ground against the executives. This pushback seems to have worked: There is not so much as a hint of any passionate interest between Davos and Missandei in "Game of Thrones."