Past Lives' Official Trailer Is Tugging At Viewers' Heartstrings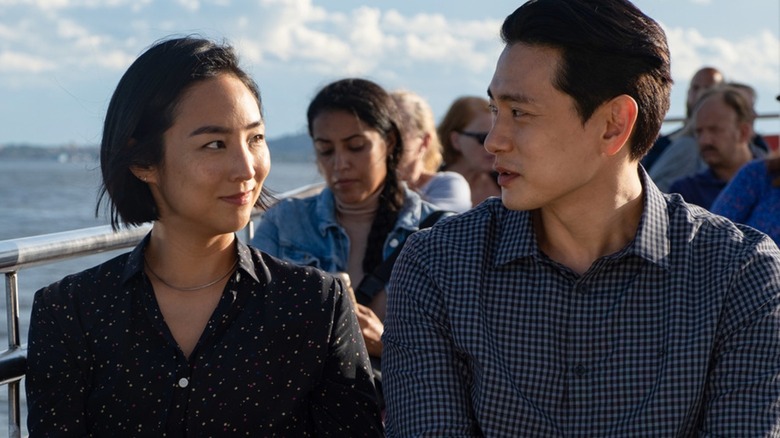 A24
Greta Lee has been an unsung scene stealer from the moment she made her Broadway debut in 2007. Since then, Lee has emerged as an eccentric character actress with an airy yet cutting delivery, as exemplified in her role as Homeless Heidi on "High Maintenance" and as Soojin, the surprisingly savvy gallerist on Lena Dunham's "Girls." Lee showed off her comedic chops in series like "Inside Amy Schumer" and "New Girl," but the actress is perhaps best known for her role as Stella Bak on "The Morning Show" or as Maxine on "Russian Doll," whose repeated coos of "sweet birthday baby" became the series' unofficial slogan.
Now, Lee is starring in her biggest, most personal project to date with Celine Song's forthcoming film "Past Lives" for A24. "I'm not hiding," Lee told The New York Times about her involvement with the film. "And that is really scary for me, because maybe I've been hiding a part of myself behind these characters. And I don't know if people are going to be receptive to this version of me." With initial reactions to the "Past Lives" trailer rolling in, fans are proving to be extremely receptive.
Fans can't wait to cry their eyes out to Past Lives
"Past Lives" tells the story of Nora (Greta Lee) and Hae Sung (Teo Yoo), two childhood best friends who are torn apart when Nora's family emigrates from Seoul to Canada. More than 20 years later, the pair reunites in New York to wonder what could have been. When "Past Lives" premiered earlier this year at the Sundance Film Festival, it was received with overwhelming acclaim. The new trailer from A24 confirms that viewers can't wait to see the directorial debut from Celine Song.
Some Sundance and Berlin Film Festival attendees flooded the trailer's comment section to heap more praise on the film. "Was lucky enough to see this at Sundance," wrote Will Tempfer. "You guys aren't ready. It's simply beautiful." Nicholas Lydon added, "Cannot wait for this to be released so I can make my friends cry their eyes out too."
Indeed, the consensus among commenters is that "Past Lives" will be a heartbreaker, and they're here for it. "This is going to wreck me and heal me at the same time," wrote Jessica Ruiz. "So many buried emotions just resurfaced from the trailer alone. I'm so excited about this movie and Celine Song's future!" Another user got straight to the point: "This is gonna hit straight in the feels I know it lol."
"Past Lives" looks to be A24's most affecting romance since "If Beale Street Could Talk." "Past Lives" is set for a Summer 2023 release, if you're ready to be hurt again.