Whatever Happened To Gianna Mackey From Chicago Fire?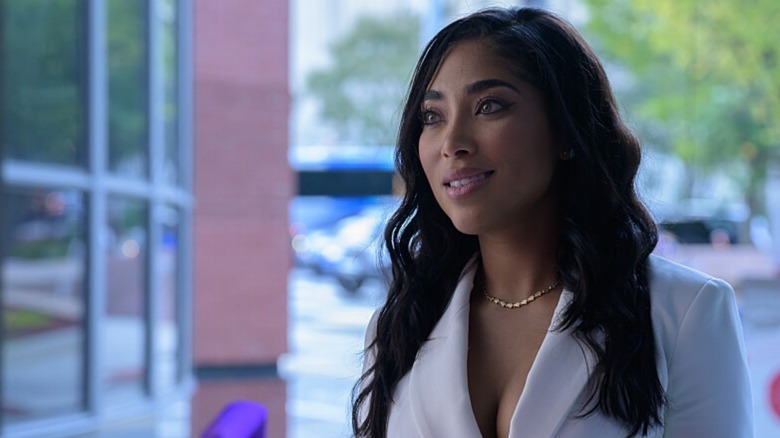 Boris Martin/Paramount+
"Chicago Fire" is a workplace drama series that focuses on the harrowing lives of paramedics and firefighters who work out of Firehouse 51 of the Chicago Fire Department. Aside from navigating their own personal lives, as first responders, the characters must also be the first on the scene of any emergency to help save lives.
As the first installment of "One Chicago," a shared universe of shows that take place in Chicago and filmed on-location in the Windy City, "Chicago Fire" is the longest-running series in the hugely popular franchise. And as with any long-running show, during its 11 years on the air, new faces tend to appear and slowly disappear over time, with actors leaving for various reasons, personal or professional.
One particular character who came and went pretty quickly was Gianna Mackey (Adriyan Rae). Appearing in the season premiere of Season 9, Gianna started work at Firehouse 51 as a paramedic. During her short nine-episode stint on the show, viewers learn that she and Joe Cruz (Joe Minoso) are childhood friends, she forms a friendship with Sylvie Brett (Kara Killmer), and against Joe's wishes, briefly hooks up with Blake Gallo (Alberto Rosende).
In episode nine of Season 9, alongside other members of the firehouse, Gianna goes in for training and in a sudden turn of events, she is offered the opportunity to become Paramedic in Charge at another firehouse. After discussing it, she accepts the position, leaving Firehouse 51 and the series altogether. With a short stay and an abrupt departure, some fans may wonder what happened to the actor who played Gianna.
Adriyan Rae plays Brittany Pitts in The Game
After a brief stint on "Chicago Fire," Adriyan Rae, who played Gianna Mackey, had to leave because of unknown personal reasons, but apparently left amicably. Speaking to Entertainment Weekly, show creator Derek Haas explained: "Adriyan let us know she had some private reasons to leave Chicago," Haas explained. "To hear that as a showrunner, you absolutely respect what an actor needs. All I can say is we love her and I know she's going to be great on some other series. And she left 51 on great terms, so there's a chance we could check in on her."
In 2021, several of Rae's projects started coming to light. Following her departure from "Chicago Fire," Rae appeared in an independent film titled "Welcome Matt," starring Tahj Mowry, playing an agoraphobic aspiring filmmaker who decides to make a film in his apartment.
Rae's largest role following "Chicago Fire" is in the revival of the dramedy "The Game" for Paramount+. Originally premiering on The CW as a sitcom in 2006, "The Game" lasted five seasons in this format before being picked up by BET as a dramedy that examines bigotry and sexism through American football. The series ended its run in 2015, later revived by Paramount+ in 2021.
Rae plays an older version of Brittany Pitts, a legacy character from the original show. This incarnation of Brittany picks up six years following the events from the previous season, with Brittany having graduated from college and living an established life in Miami. However, it's soon discovered that she is in great debt and unfortunately, must relinquish her life and begin anew in Las Vegas, working for Tasha Mack (Wendy Raquel Robinson) and her sports agency.
"The Game" premiered its second season in December 2022.