The One Joke That Was Too Much For Deadpool 2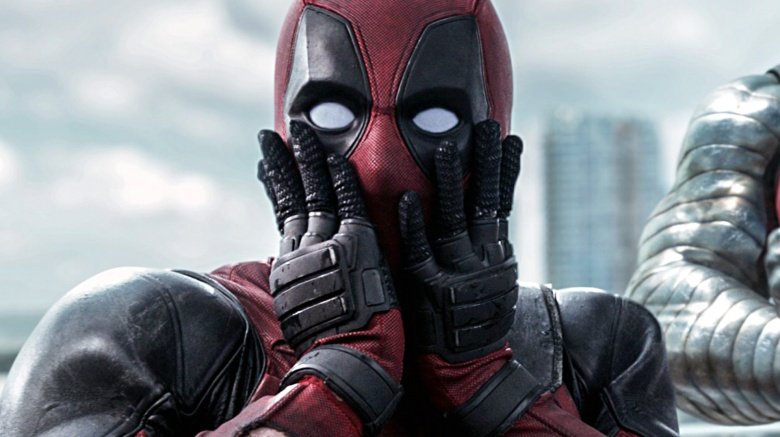 Deadpool 2 is set to contain quite a lot of crude and controversial humor, but there was one joke that was too wild even for the merc with a mouth. The movie's star and co-writer Ryan Reynolds told Entertainment Weekly that 20th Century Fox made him cut a joke about Disney due to the company's planned merger.
"This is a sore spot for me because there's a joke in the movie that is not in the movie now because — I'm probably not even allowed to say this — Fox made me take it out," Reynolds, who co-wrote the film with Rhett Reese and Paul Wernick, said. "It had more to do with Disney, and they made me take it out. As I look back at it, I think maybe that was a wise decision." Reynolds did say, though, that the film will still include a recurring joke about Disney's Frozen.
Reynolds has remained tight-lipped on whether the Disney-Fox merger will impact Deadpool's future. "I really genuinely don't know a thing about it," he said. "I read that [chairman and CEO] Bob Iger felt that there's plenty of room in that universe to have a rated-R character like Deadpool. This is completely conjecture on my part, but I wouldn't imagine that Disney bought Fox to dismantle it or something like that. I think that Disney bought Fox so it could have that in its arsenal."
Deadpool 2 will feature Reynolds' Wade Wilson facing off against Josh Brolin's Cable as they decide what to do about a young mutant (Julian Dennison). Morena Baccarin, T.J. Miller, Brianna Hildebrand, Jack Kesy, Stefan Kapicic, Rob Delaney, Zazie Beetz, Terry Crews, Lewis Tan, Bill Skarsgard, Leslie Uggams, Karan Soni, Shioli Kutsuna, and Eddie Marsan also star in the film, which is directed by David Leitch.
Deadpool 2 hits theaters on May 18.