John Hurt Thought That Harry Potter Created A Problem For British Cinema
The "Harry Potter" series of books inspired a generation to read. This story of young wizards growing up, learning about their powers, and fighting against dark forces achieved a level of success that encouraged an entire genre of copycats. And the wizarding world seemed all the more awe-inspiring when presented on the big screen — something that undoubtedly contributed to its record-breaking totals. 2011's "Harry Potter and the Deathly Hallows – Part 2," the series finale, grossed over a billion dollars.
Since then, the Wizarding World franchise has seen its popularity fall thanks to scandal. Author J.K. Rowling's comments about the trans community have alienated many fans. The "Fantastic Beasts" series — which was designed to be another successful venture — encountered negative publicity thanks to Johnny Depp and Ezra Miller. Reviews, particularly for the third entry in the series, were also less than stellar, with many unfavorably comparing them to the "Harry Potter" films.
While criticism and negative headlines have become a part of the franchise's legacy, others saw problems much earlier. British acting icon John Hurt has spoken about his issues with all things "Potter," and his thoughts shine a light on how the film series changed everything.
John Hurt's concerns centered around the British film industry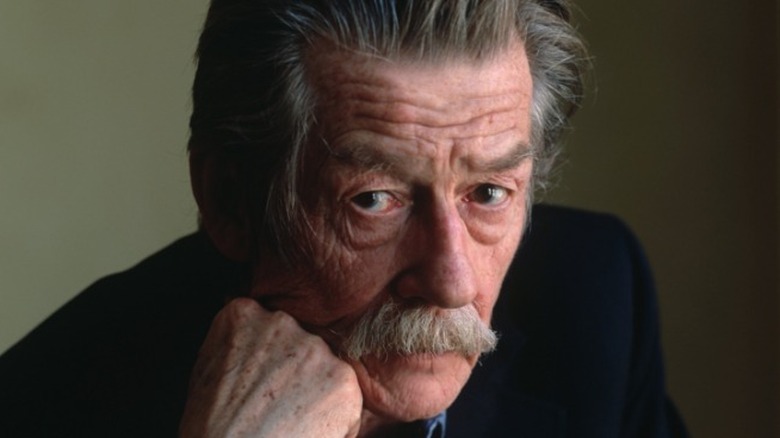 David Corio/Getty Images
Legendary actor John Hurt conquered a myriad of roles over his decades-long career — the two-time Oscar nominee starred in everything from blockbusters like "Alien" to critically acclaimed dramatic fare such as David Lynch's "The Elephant Man." Hurt's prestigious work onstage and on-screen even earned him a knighthood in 2015. He also appeared in several of the "Harry Potter" films as Garrick Ollivander, the owner of the renowned wand shop.
Hurt may have passed in 2017, but a 2009 interview with Rotten Tomatoes is shedding light on what he saw as a problem: the impact the massive cinematic outings had on the overall British filmmaking culture. According to the actor, the country's major film studios being bases for Hollywood blockbusters came at the cost of independent films, which he saw as essential to the health of the industry. "You can't have an audience engage with culture if it's not educated in it. It's important that we educate people," he said.
At the same time, Hurt acknowledged his own presence in the "Harry Potter" film series, arguing that it gave him the means to keep acting for a living and admitting that he found them enjoyable. There's one aspect of big-budget movies that he didn't find so amusing, however: waste. "I look around and you've got three costumes there, none of which are likely to be worn, and they're all replicas of each other. It's a vacuous waste of money and it drives me insane," he concluded.