Dean Norris Asked Breaking Bad's Creator To Kill Off Hank Earlier In Season 5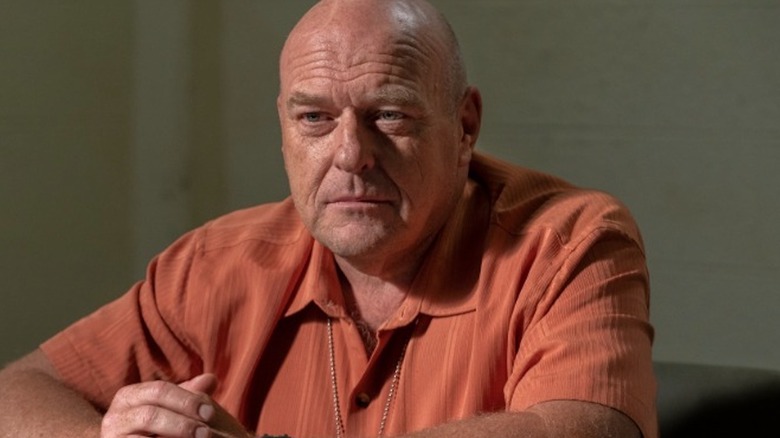 Greg Lewis/AMC/Sony Pictures Television
One of the most tragic, and meme-able, moments of "Breaking Bad" comes in Season 5, Episode 14, titled "Ozymandias," where despite Walter White's (Bryan Cranston) protests, a gang of neo-Nazis kills his brother-in-law, DEA officer Hank Schrader (Dean Norris), leaving him stranded with a barrel of money. After a series of events showing Walter's fall from success, we arguably see him here at his lowest, having indirectly killed a family member and stripped from most of the money he sacrificed so much to gain.
As it turns out, however, Norris originally wanted this moment, or at least a similar moment in which Hank meets his demise, to happen earlier in the season. Because the actor wanted to be able to act in another show, "Under the Dome," he wanted to be done with "Breaking Bad" before the newer series started, and his character's death would obviously accomplish that. Fortunately, that's not what happened.
Dean Norris was able to shoot both Breaking Bad and Under the Dome in time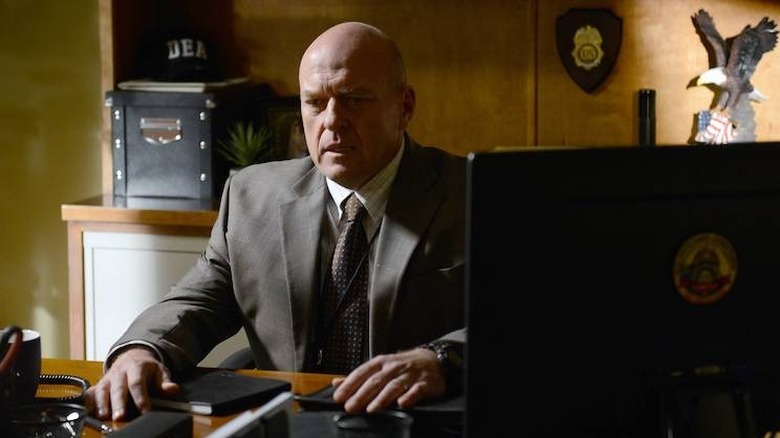 Cathy Kanavy/AMC
As Dean Norris shared with Esquire back in 2013, he had asked "Breaking Bad" showrunner Vince Gilligan to kill his character early, to which Gilligan refused. Even so, Norris said he's ultimately glad about how things turned out.
"As it turns out, we got ['Breaking Bad'] shot in enough time that I was able to do this new show, Under the Dome," Norris said. "All I wanted to do was make sure that I was free to do another show. I was like, 'Man, I gotta get another job here,' and [Gilligan] was great about it. And I'm glad he made me stay because it's really spectacular to be a part of that show and what I think is going to be a great final season."
As the second half of the final season hadn't yet aired at the time of the interview, Norris couldn't tell the interviewer that eventually, his character would die, but just not when he was originally hoping for. He didn't go into details as to when exactly Hank would have died, but it seems that the events of the season would need to have been seriously changed around for it to work. During the first half of Season 5, Hank is still unaware that Walter is Heisenberg, but he still creates trouble for him by investigating Mike Ehrmantraut (Jonathan Banks) and eventually catching his lawyer. It's only at the end of the first half when Hank uses Walter's bathroom and finds a book addressed to "W.W." that he finally realizes his secret identity.
Norris would go on to reprise his role as Hank for two episodes of "Better Call Saul," which takes place before the events of "Breaking Bad."