Yellowstone's Wendy Moniz Compares John And Lynelle's Love Affair To A Chess Game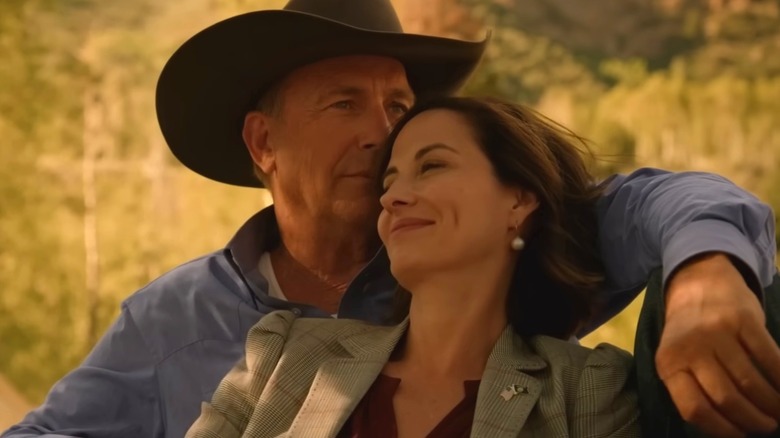 Paramount Network
Like any television show, Taylor Sheridan's "Yellowstone" is made up of several moving parts that all come together to make a fascinating watch. It focuses on the Yellowstone Ranch itself — a point of interest for various groups on the show — and devotes some time to social and political issues as well. It also shines a spotlight on family, specifically the Dutton clan, which has owned the Yellowstone Ranch for generations and is determined to hold onto it by any means necessary. Leading the charge is the gruff patriarch, John Dutton (Kevin Costner, who has gotten into some unsurprising "Yellowstone" drama).
John has his hands full thanks to his family, parties interested in his ranch, and the ranch itself, but at the end of the day, he's still a person. That means that he's not opposed to also finding love in the wake of his wife Evelyn's (Gretchen Mol) death. For a time, he and Montana Governor Lynelle Perry (Wendy Moniz) struck up a romance and grew quite close. However, as fate would have it, their love wasn't meant to be, leaving John a single man with the weight of the world on his shoulders once again.
According to Lynelle Perry actress Wendy Moniz, the governor and John Dutton's love affair resembled something of a chess game. Here's where she's coming from with this claim.
Moniz finds John and Lynelle's love complicated, to say the least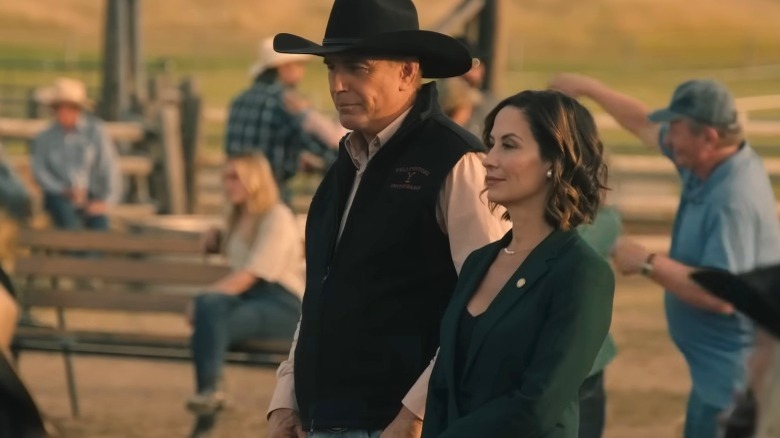 Paramount Network
In August 2020, Wendy Moniz sat down with Monsters and Critics to chat about "Yellowstone," making some interesting points about the romance between John Dutton and Lynelle Perry. She explains that each of them losing a partner, coupled with the political and familial drama they're both locked in, makes their relationship quite complicated. "It's a bit of a chess game, but I think that when the love and the romantic connection that they have is really genuine and that everything sort of goes out the window when they're having those moments," Moniz adds, citing their bond as something that can momentarily nullify all of their struggles.
As "Yellowstone" continues on, it seems that many fans hope John and Lynelle will end up together for the long haul. In a Reddit thread by u/Cjkgh, the show's community discusses this exact idea, with the majority claiming it's the best way to go. "I think they're pretty well suited, and she kinda brings out the best in John," wrote u/purpleheadedwombrat, with u/DenaNena positing that perhaps John and Lynelle seem like a great pair because the show gives us so little of them. u/TooMama even feels Lynelle is such a strong character because she hasn't become more like a cartoon than a real person.
Time will tell if John and Lynelle will find their way back to their chess-like romance or if they'll find love elsewhere. By the sound of it, the "Yellowstone" fandom knows where it stands on the matter.