Zach Woods Said Will Ferrell Was 'Almost Predatorially Funny' On The Set Of The Office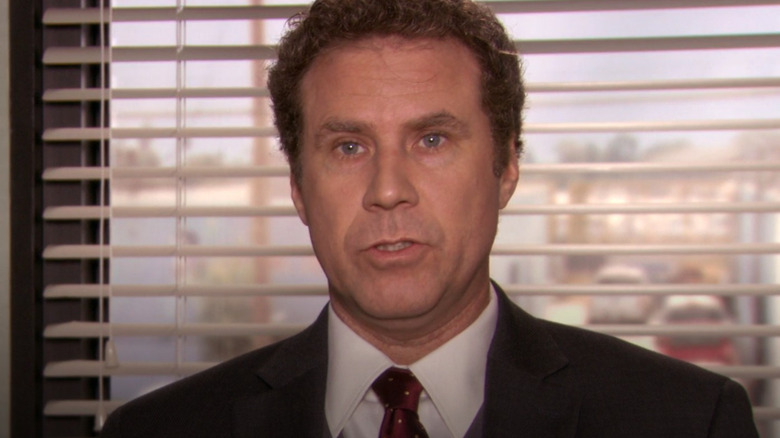 NBC/Peacock
Comedian Zach Woods is a familiar face to fans of film and television, having been a staple on shows such as "The Office," "Silicon Valley," "Avenue 5," and he is also set to appear in Season 2 of the Apple+ series, "The Afterparty" in 2023. Woods has co-starred with comedy icon Will Ferrell on two projects; the 2010 Adam McKay comedy, "The Other Guys," and "The Office." Woods joined the NBC series in its sixth season as Gabe Lewis, a Sabre employee, before overseeing the Dunder Mifflin Scranton branch following its acquisition.
Ferrell, on the other hand, joined the series in Season 7, shortly before the departure of Michael Scott (Steve Carell). Ferrell plays Deangelo Vickers, who takes over as the regional manager from Michael, but his tenure is short-lived as he makes an ill-advised dunk attempt that causes a basketball hoop to fall on his head, sending him to the hospital and out of the show. Speaking about Ferrell, Woods said that the veteran actor was "almost predatorially funny" on the set of "The Office."
Woods said Ferrell was able to target people until they broke into laughter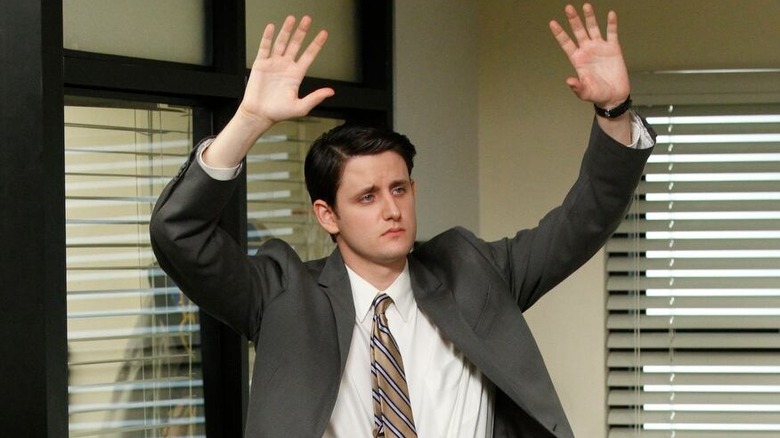 NBC
In an interview with Entertainment Weekly, Woods was asked about which co-star he found the funniest to work with, to which he confirmed was Ferrell. Woods spoke about watching Ferrell during the latter's time on the sketch comedy show, "Saturday Night Live," and feeling annoyed when his scene partners would laugh, as he felt it detracted from the hilarity of the sketch itself. When he began working with Ferrell himself on "The Office," however, Woods understood what Ferrell's co-stars go through.
Woods likened Ferrell to a comedy shark, saying that he can determine when someone is holding back laughter, like sensing "blood in the water." "He would start to improvise and be so goddamn funny, I'd feel myself start to lose it," Woods recalled. "He has the most finely tuned antenna: He zeroes in on you and just puts more and more weight on you until you can't handle it and fall to pieces. I remember shooting that show and being like, "Oh, I see. It's not a choice." And I just f***ed up so many takes."
Woods added that this made him feel more empathy for Ferrell's other co-stars because he now understood the pressure they were under. "It's not a choice," Woods said, in relation to whether you'd laugh or not if you were the person Ferrell was looking to make laugh.