Sadie Sink Fibbed About Her Roller-Blading Experience While Auditioning For Stranger Things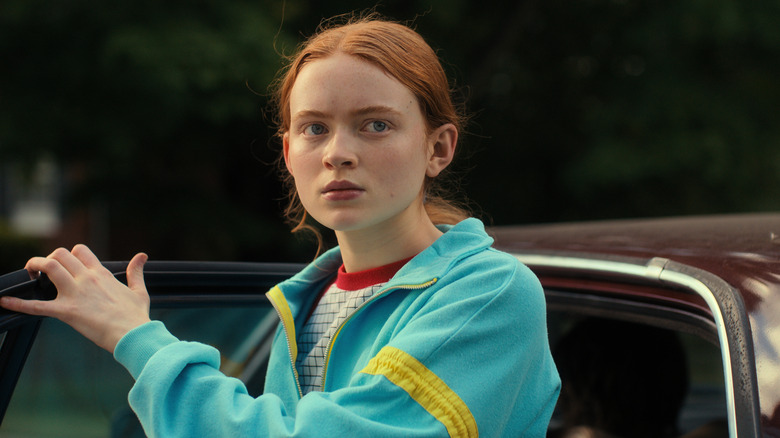 Netflix
"Stranger Things" is the hit Netflix show that follows a group of young heroes working to save the world from the Upside Down. And while saving the world is a top priority, so is being a kid. And this group knows how to have fun. They've spent countless episodes playing Dungeons & Dragons, visiting arcades, and biking around town. While Mike Wheeler (Finn Wolfhard), Lucas Sinclair (Caleb McLaughlin), Will Byers (Noah Schnapp), and Dustin Henderson (Gaten Matarazzo) are known for their biking skills, it's Max Mayfield (Sadie Sink) who introduce a new set of wheels to the show in Season 2.
In Season 2, Episode 1, "Chapter One: MADMAX," Max moves to Hawkins, Indiana, with a skateboard. Besides Billy's (Dacre Montgomery) car, the skateboard is Max's main form of transportation. She's a serious skater who started skateboarding at a young age. It's a journey that is depicted on screen in Season 4, Episode 9, "Chapter Nine: The Piggyback," in which a young Max (Belle Henry) is seen falling off her skateboard, standing up to a bully, and getting right back up to start skating once again.
Skateboarding was a new adventure for Sink. And while the "Stranger Things" crew did everything they could to help her, it was a fib that had them believing she had experience with another set of wheels.
How a cast member helped Sink become a skatingboard pro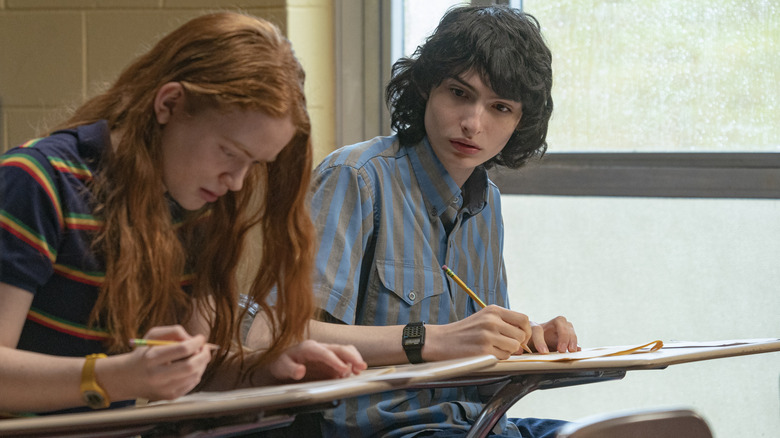 Tina Rowden/Netflix
In an interview on "Jimmy Kimmel Live!," Sadie Sink said she fibbed about her rollerblading skills while auditioning to play Max Mayfield. "I said I had rollerblading experience, which is just a lie. And the two [skateboarding and rollerblading] don't go hand-in-hand. So, I don't why I thought that" she said.
As for skateboarding, it was an adventure that had a rocky start. While on "Jimmy Kimmel Live!," Sink explained that a skateboard was sent to her house shortly after she got the part of Max. "I had no idea how to do it. And I really didn't like it because the first day I took a pretty hard fall, and I just like set a bad tone for the entire journey," she said, adding that the show sent over pads and a helmet along with the board.
Sink told Vanity Fair that hopping onto a skateboard was scary initially, adding that the safety gear made her feel like a marshmallow. And while getting the wheels under her feet, she received support from her cast member Finn Wolfhard, who already had skateboard experience and would skate with her during some of her skateboarding lessons.