Venom 3 Is In Pre-Production According To Tom Hardy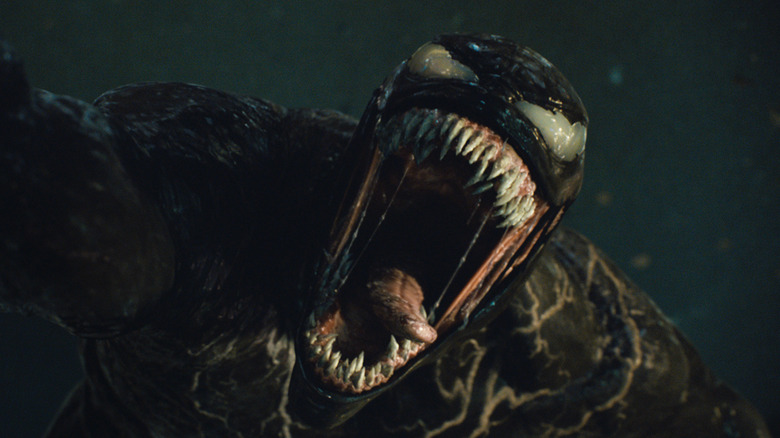 Sony Pictures Releasing
If you've been dying for more symbiote-centered action, we have great news for you. After 2021's sequel flick "Venom: Let There Be Carnage" resulted in some mixed reviews, and Venom and Eddie Brock (Tom Hardy) made their rib-tickling and surprising MCU debut in a post-credit scene for "Spider-Man: No Way Home," Venom and Eddie are set to return to the big screen sometime in the near future in a threequel to their 2018 blockbuster. 
"Venom 3" was officially announced during Sony Pictures' CinemaCon panel in April of 2022. This is, perhaps, an unsurprising gesture as Tom Hardy had signed up to do three "Venom" films in 2018, leaving one big screen feature yet to come. Since then, there haven't been a ton of details released to the public regarding the film. There are plenty of hints in that "Spider-Man: No Way Home" cameo, which features Venom and Eddie accidentally leaving behind a drop of symbiote matter back in the MCU universe. But surely it will continue to build upon the burgeoning friendship between Brock and Venom as they try to get along while saving the world from evil. According to Tom Hardy, fans won't have to wait very much longer to find out more details about the film, as he's just announced that the film is in pre-production.
Tom Hardy says Venom 3 is gearing up
In an Instagram post by the actor on February 22, Tom Hardy said, "Whilst working on V3 pre prep...this throwback came up." He added the hashtags #cuttingroomfloor, #byetom and #thankstom, and a waving hand emoji. The post includes a video featuring previously-unseen and unused footage of himself as Brock getting out of a car and walking across a city street. The actor is clearly trying to portray Brock's inner conflict as he tries to cope with sharing his form with Venom while projecting normalcy, but at this stage in their partnership, the simple act of walking down the street is a difficult one for Brock. As such, it appears to be a scene cut from early in the first film.
That's quite a smooth way to announce that "Venom 3" is up and on the way, but now fans can definitely get excited for whatever's lying ahead on the Venom side of the Marvel world — and if any further collisions with the MCU's expanding multiverse are in the near future.