The Ygritte Quote From Game Of Thrones Rose Leslie Refuses To Say To Kit Harington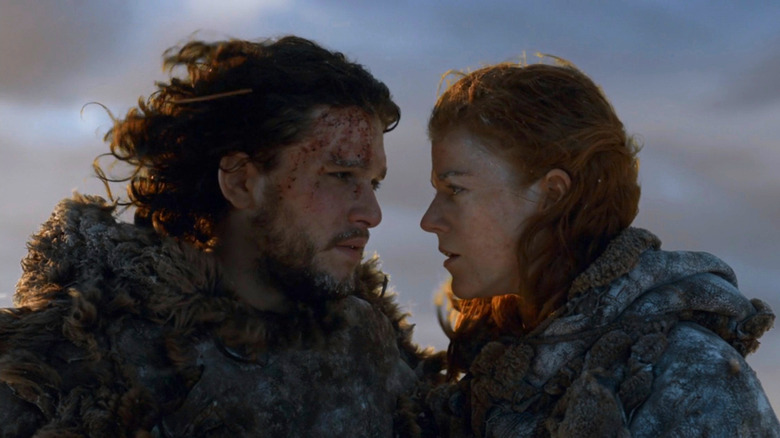 HBO Max
In the early "Game of Thrones" episodes, Jon Snow (Kit Harington) is rather serious and brooding. And who could really blame him? He never feels like an official member of the Stark family, and as a result, feels his best option is to join the brotherhood of the Night's Watch. But things aren't any more cheerful at The Wall.
However, in Season 2, a bright, fiery presence comes into his life: Ygritte (Rose Leslie). In every sense, being romantically involved with her is taboo. Not only is she a Wildling, but men of the Night's Watch must remain celibate. Eventually, Jon gives into temptation, though their fling is short-lived when he returns to his brothers in black. And, of course, Ygritte gets impaled with an arrow by the vengeful young Olly (Brenock O'Connor) during the Wildling invasion of Castle Black in Season 4.
Luckily, the two actors behind Jon and Ygritte are a bit luckier in love than their on-screen personas. According to Harington, he began to fall for Leslie while filming "Game of Thrones" Season 2 in Iceland. He told L'Uomo Vogue, "If you're already attracted to someone, and then they play your love interest in the show, it becomes very easy to fall in love."
The pair announced their 2017 engagement in a sweet, old-fashioned newspaper announcement in The Times, and tied the knot the following year. Most recently, in February 2023, they announced that Leslie is pregnant with their second child. Life seems to be going well for the couple. Part of that is because they try to leave "Game of Thrones" in the past and not quote their respective characters...especially a well-known line of Ygritte.
Rose Leslie will never say 'You know nothing, Jon Snow'
Kit Harington and Rose Leslie may have found love on the set of "Game of Thrones," but the hit HBO series isn't regularly quoted in their household. In fact, Leslie refuses to say Ygritte's most iconic line — "You know nothing, Jon Snow" — to her husband. This is a regular utterance of Ygritte, who often informs Jon of his sheltered life at Winterfell and Castle Black.
Harington said on TODAY, "[S]he already said that and doesn't ever wanna say it to me again." To this, interviewer Keir Simmons joked that, outside of Westeros, an annoyed wife may say this to her husband of several years: "You made the smart move of marrying somebody who'd already said that to you."
Leslie might have retired her most famous line, but she and Harington are also distancing themselves from "Game of Thrones" as a whole. Harington told Sunday Today with Willie Geist, "It happens that we met in the show, and we've always tried not to be defined by that a bit. That's just a job we met on."
Still, this doesn't mean they're not grateful for their time on the show. It is, after all, the thing that brought them together. Following her character's death in Season 4, Leslie even wanted to watch the rest of the series like the rest of the world and be surprised. She revealed on "Late Night with Seth Meyers" that, when Harington read the new scripts on his iPad, she sent him away to the coffee shop. Leslie didn't want his facial reactions giving away any major spoilers.