David Harbour Is Ready For Stranger Things To End (& We Can't Argue With His Reasoning)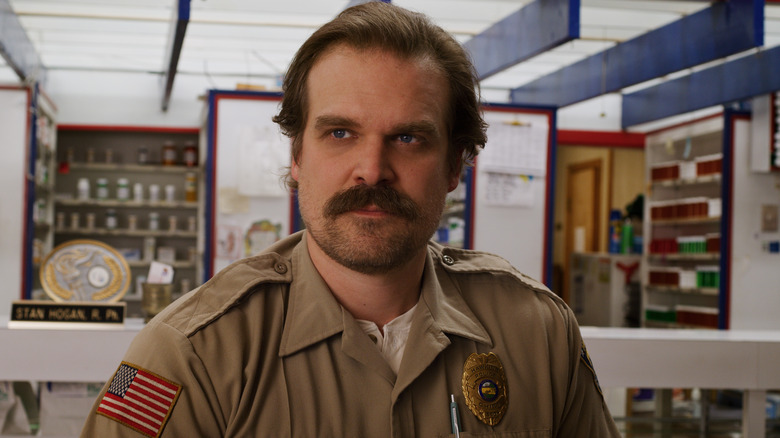 Netflix
It's been a decade since Netflix first started releasing its own original content. Up until that point, the streamer was just a home to other films and TV shows, but the drama series coming out marked a new era where streaming services could provide new avenues for creators to develop projects that wouldn't have a home anywhere else. A lot of shows have come out since that time, but arguably, the most popular and successful of them all is a little show called "Stranger Things."
The show was a monumental hit when it first came out, and fans have stuck with it over the years, despite long stretches in between seasons. Last year brought the fourth season of "Stranger Things," and it was one of the biggest content drops in Netflix's history. Of course, all good things must come to an end, and the Duffer Brothers have announced that the upcoming fifth season will be the show's last. 
Honestly, it's for the best for a show to call it quits before it dips in quality. While fans might be sad to bid the series farewell, even the stars of the show realize it's a good time to pack it in. David Harbour, who plays Jim Hopper on "Stranger Things," has a good explanation for why Season 5 is ideal for ending the series on a high note. 
David Harbour recognizes it's time to try new things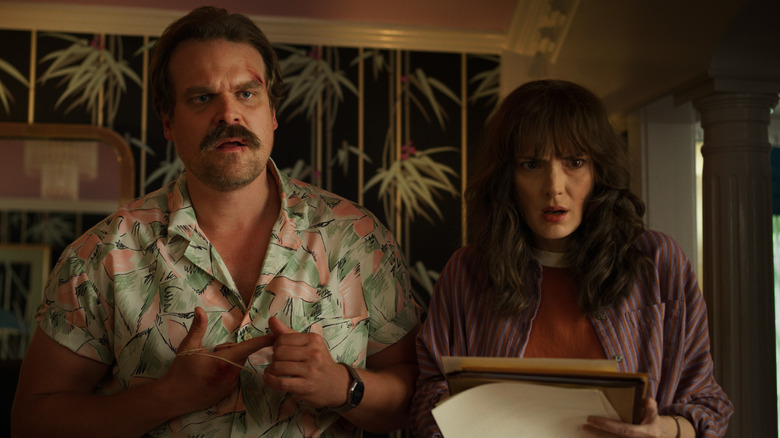 Netflix
David Harbour had numerous credits to his name before "Stranger Things" came around, but it's safe to say the Netflix series shot his career into the stratosphere. Since the show came out, he's gotten a ton of high-profile work, including playing Alexei in "Black Widow," a role he'll reprise in the forthcoming "Thunderbolts" movie for Marvel. He's also played the lead in films like "Hellboy" and "Deadly Night," and it all started with the little Netflix show that could.
Harbour owes a lot to "Stranger Things," but even he knows when it's time to say goodbye. In an interview with Discussing Film, Harbour was asked about his thoughts on the show ending, and he responded, "What's funny is when I started the show, I never ever wanted it to end. That's why I love the show. I think it's a great show, even if I wasn't in it. Now we're almost nine years from filming the first season, and I think it is time for it to end. But it is, of course, very bittersweet. You know, there's a sadness there." 
Everyone affiliated with "Stranger Things" has benefitted in some way. The young stars of the show have gone on to other projects, like Millie Bobby Brown getting her own franchise in the form of "Enola Holmes." But now is the time for the show to end, as Harbour goes on to say, "We've all grown up. It is time for us to leave that nest and try other things and different projects. And to let the Duffer Brothers try different things as well. I mean, those guys are so talented. I want to see what they come up with next. So it is bittersweet, but it's definitely time." "Stranger Things" will get one last hoorah, but the future is bright for the series that meant so much to so many.