The American Pickers Once Found A Woman Who Once Bought 400 Doors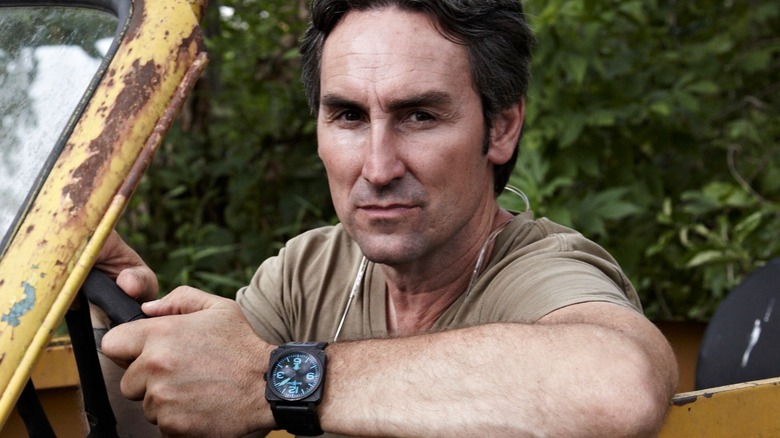 Zachary Maxwell Stertz/History
Spending a day driving around checking out different antique stores is a fun use of some free time, but could you imagine doing that every single day as a job? That's exactly what the folks on "American Pickers" are fortunate enough to do while keeping television viewers entertained and educated. For over a decade, the program has taken audiences across most of the United States as the hosts seek out treasures of all shapes and sizes in the most unexpected places, cracking open their wallets and paying big money for them whenever necessary.
If you're not familiar with "American Pickers," you might be wondering what kinds of items the series showcases. Well, it's fair to say that there's really no limit to what you might see on a given episode. Among the most frequently featured items are cars and car memorabilia, vintage signage, and various display pieces, to name a few broad categories. These items are pretty common, so it would only make sense that collectors across the U.S. have them in their stockpiles. However, others boast more unconventional yet still highly impressive collections.
For example, the "American Pickers" team once met a woman who purchased hundreds of doors once upon a time. Here's what she had to say about this unusual purchase.
Mary couldn't have been happier with her door collection
In the "American Pickers" Season 23 episode "Flea Market Junkie," longtime host Mike Wolfe visits the home of a collector named Mary. While checking out her various items and artifacts strewn about her property, he sifts through a small pile of doors outside. This prompts her to tell him the story of when she traveled out to Maine some years ago to purchase a massive lot of antique doors. By her count, there were approximately 400 of them, which she happily transported all the way back to her home in Louisiana in a large moving truck.
Mary was more than happy to tell her story, and in the episode, Mike shared that this is what he truly values while picking. Getting to hear people from all walks of life talk about their passions is something he loves about his job. He touched on this during an interview with Southeastern Antiquing and Collecting Magazine as well, saying, "I go in, and people have one hundred or one thousand of one thing, and it's the back story that is intriguing to me." He adds that this desire to showcase interesting people and their collections is why he started "American Pickers" in the first place.
"American Pickers" has put all kinds of folks and their collections front-and-center for years, amounting to near-endless hours of entertaining television. It stands to reason people like Mary will continue to make it to the small screen thanks to the show for years to come.