The Last Of Us Proves Why Apocalyptic Found Fatherhood Hooks Us Again And Again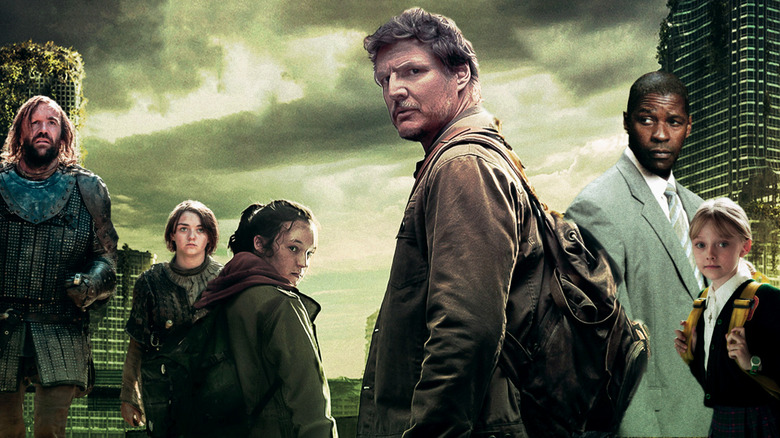 Static Media
Audiences might bemoan common storytelling tropes when they see them on the big or small screen, but let's be honest: certain ones just work. Whether it's a whodunit using secret twins as a plot device or a romantic comedy that turns enemies to lovers, some tropes are just undeniable — and that's okay! Storytelling has been around since humans could communicate, and you don't have to reinvent the wheel to create a compelling narrative.
Take, for example, a trope we'll refer to as "found fatherhood" — meaning when a grizzled, world-weary older guy takes a young kid under his wing, forced to protect them in some sort of dangerous landscape where said kid might not be able to fend for themselves quite so easily. These aforementioned survivalist dudes always seem utterly put-upon by their sudden found fatherhood, and it's easy to see why; if the world is ending in front of you, you may not want to field constant requests for chicken nuggets or a tiny voice asking "are we there yet?" There's a reason that this trope is great to watch on screen, though... and there's a reason why it's the backbone of one of the year's most popular and acclaimed shows.
Where you've seen this exact trope before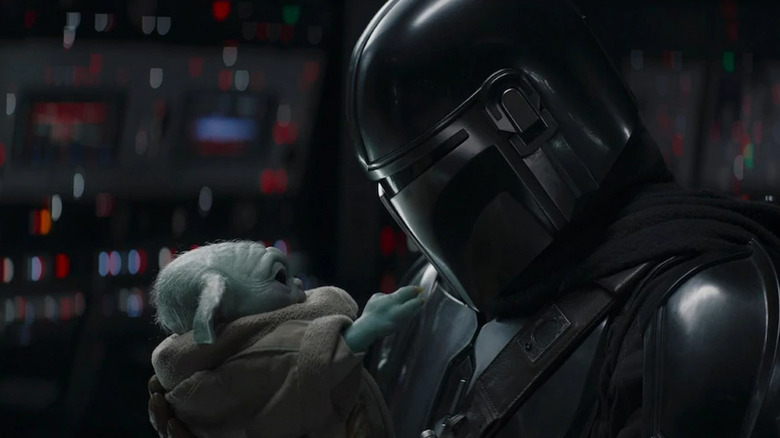 Disney+
If you think about found fatherhood taking place in dire circumstances like an apocalypse for just a couple minutes, you'll realize it's everywhere on both the big and small screen. Take "Man on Fire," where Denzel Washington furiously races to save a young Dakota Fanning when the little lass is kidnapped right under his nose — though this doesn't happen in an apocalypse, exactly, it's definitely a precarious situation at best. Same with Sandor Clegane (Rory McCann), known in Westeros as "The Hound," who ends up shepherding Arya Stark (Maisie Williams) across the continent during the War of the Five Kings, an event that completely disrupted the realm's relative peace preceding it. In "Logan," Hugh Jackman's "final" appearance as Wolverine, the legendary mutant is tasked with looking out for Dafne Keen's younger mutant Laura and getting her to a safe place across the border of the United States and Canada.
This brings us to Pedro Pascal, the king of the depressed daddies. Pascal has appeared in not one, not two, but three depictions of found fatherhood, beginning with 2018's "Prospect." This indie sci-fi film finds Pascal as Ezra, a prospector on a forest moon who ends up fatally wounding a competitor... and getting stuck with his daughter Cee (Sophie Thatcher, "Yellowjackets") as a result. You're probably most familiar with his follow-up father figure role as the titular character in "The Mandalorian," where he's dad of the year to Grogu, the tiny puppet who will always be called Baby Yoda in our hearts. As for the third one, it's probably his most significant turn in this trope yet.
Why reluctant fatherhood is so important in The Last of Us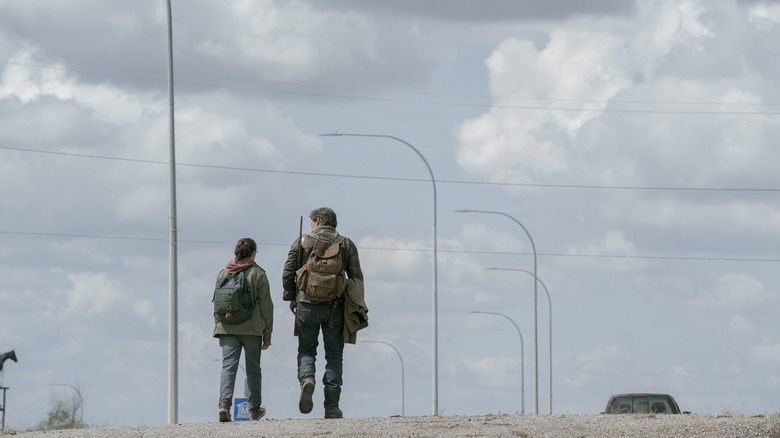 Liane Hentscher/HBO
Paired against fellow "Game of Thrones" alum Bella Ramsey, Pascal plays Joel, the gritty, damaged protagonist of "The Last of Us..." and there's a lot to unpack where Joel is concerned. After losing his daughter Sarah (Nico Parker) during the onset of the viral Cordyceps outbreak, Joel is left with little to live for and ultimately saddled with Ramsey's Ellie, a girl apparently immune to infection whose blood could be the key to solving the worldwide crisis. Despite his repeated attempts to shake Ellie, Joel clearly grows fond of her — and in the show's sixth episode, "Kin," he actively chooses to stick with her rather than leave her in a safe settlement that could provide her with a stable home.
Within the framework of "The Last of Us" — a show where those with loved ones who are still alive will do just about anything to protect them — Joel choosing Ellie outright rather than simply feeling obligated is crucial to the story. This entire narrative doesn't work if the audience doesn't believe that, on some level, Joel gives a hoot about Ellie beyond simply "doing his duty" in some way; the two genuinely bond, and it ties into everything "The Last of Us" is really about. Just like the series showed off in the season's highlight thus far — the third installment "A Long, Long Time" — this show isn't about giant cauliflower-looking zombies or shoot-em-ups. It's about human connection, and because the one that forms between Joel and Ellie isn't required but is actively chosen, it's the key to everything that makes this show succeed on basically every level.