Blue Bloods' Steve Schirripa Feels Like The Dinner Scenes Are A 'Badge Of Honor'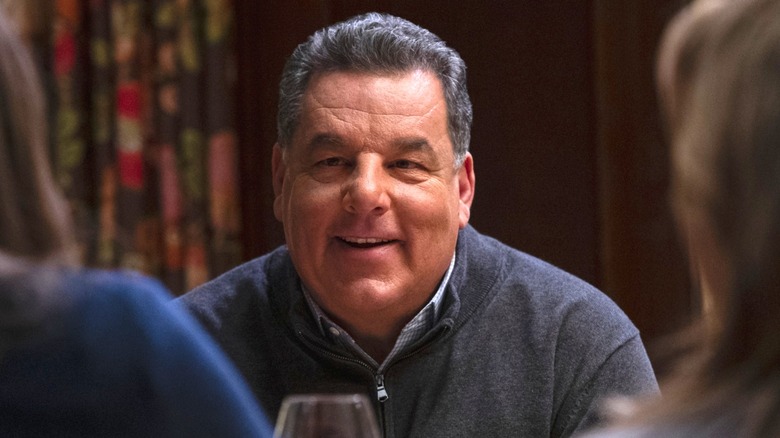 John Paul Filo/CBS
Solving crime one episode at a time. That's the case for many of the crime procedurals currently on the airwaves, and the procedure is a big part of the storyline. It usually starts with the crime, without giving away the criminal's identity. Law enforcement arrives on the scene, finds clues, and solves the case at the end of the episode. While this formula is showcased throughout the CBS drama "Blue Bloods," there is one very important ingredient that makes it different from many of the crime dramas on TV: family dinner.
The Reagan family has been calling New York City home for generations, and generations of the Reagan family have worked tirelessly to protect the citizens of the Big Apple. Henry Reagan (Len Cariou) was once the NYC police commissioner before his son, Frank (Tom Selleck), stepped into the role. 
While Frank continues the legacy passed down by his father, his children have also committed themselves to protecting the city. Jamie (Will Estes) works as a field intelligence sergeant, Erin (Bridget Moynahan) works at the district attorney's office, and Danny (Donnie Wahlberg) is a detective. 
No matter what the day throws their way, they always work to make it home in time for family dinner. Those dinners have become a hallmark of the show, and Steve Schirripa said that he was excited to receive his seat at the table.
Schirripa said he is really proud of his first family dinner scene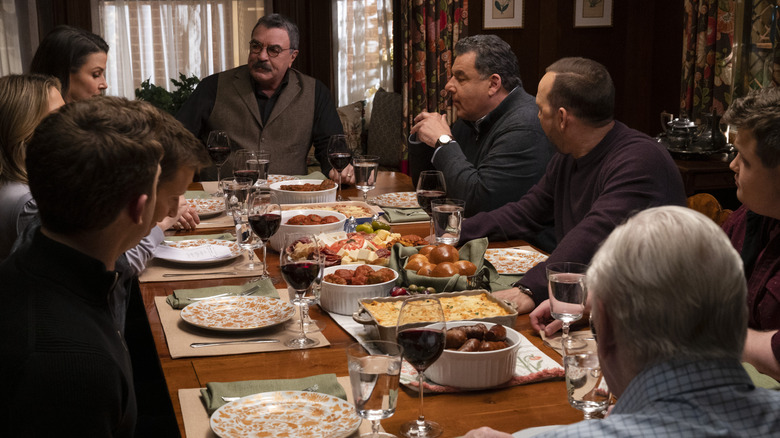 John Paul Filo/CBS
Steve Schirripa first appears on "Blue Bloods" as Anthony Abetemarco in Season 6, Episode 9, "Hold Outs." The retired NYPD detective finds himself working alongside Erin Reagan at the New York County District Attorney's Office. As the show progresses, Anthony becomes a big brother figure to Erin.
While he gets along well with Erin, Anthony does not receive a dinner invite until Season 12, Episode 20, "Silver Linings," when Erin tells her family that she is entering the race for district attorney. Schirripa told PopCulture that he felt honored to receive a seat at the table. 
"I wanted it [the dinner invitation]. I mean, there's not much you could do whether they're going to put you in it or not," Scrhirripa said. "I was very proud of that for real. I'm not just saying that. That was kind of a big deal." The scene shows the family welcoming him at the table and telling him about their ground rules, which include no electronics and keeping their language clean.
While this is a dinner scene, Schirripa told PopCulture that the cast did not eat on camera during his first family meal; however, Donnie Wahlberg told TV Insider that this is usually not the case for his character. 
"Danny probably eats the most because Donnie's the hungriest," Wahlberg said. "Seriously though, Danny is kind of a bull in a china shop. The best way to play that at dinner is to talk a lot with his mouth full."