1923's Brandon Sklenar Didn't Realize The Show Had Different Timelines Until Episode 4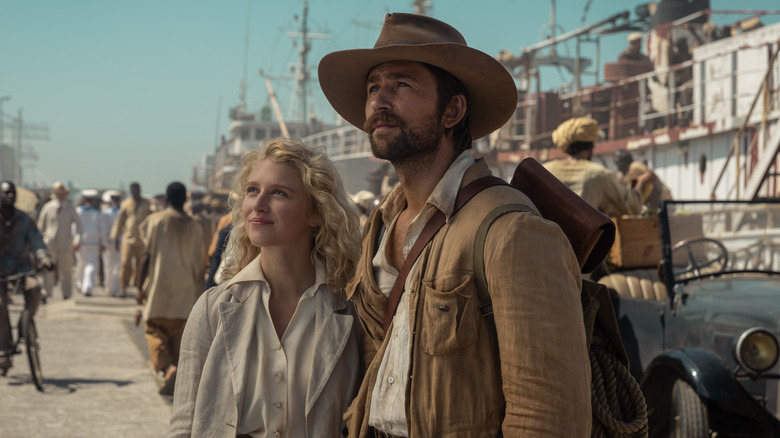 Emerson Miller/Paramount+
Taylor Sheridan brought the "Yellowstone" franchise to new heights with "1923," not only bringing in legendary actors Helen Mirren and Harrison Ford but forgoing a traditional story method in favor of one filled with overlapping timelines.
While on the surface, the spin-off seems like any of Sheridan's other "Yellowstone" projects, telling the story of another generation of Duttons in Montana, it actually goes much deeper than that. The series opens with a disheveled Cara Dutton (Mirren) hunting down and executing a mystery man before letting out a massive scream in the woods. A few episodes later, audiences learn that the opening scene is a glimpse into Cara's future, retaliating against the herders' attack on her family that killed John Dutton Sr. (James Badge Dale) and wounded Jacob (Ford).
However, the different timelines don't stop there, as "1923" also features Africa-based scenes with Brandon Sklenar's Spencer Dutton. Like Cara's revenge-fueled chase, the spin-off leads audiences to believe that Spencer's scenes occur simultaneously with the rest of the show. However, after Spencer receives Cara's letter for help in Episode 4, "1923" reveals that the African scenes occur after the Duttons' deadly shootout.
Sheridan's writing must be good because it surprised even some of the cast. Sklenar, like the audience, didn't realize that "1923" featured different timelines until reading the script for Episode 4.
No one saw the different timeline twist coming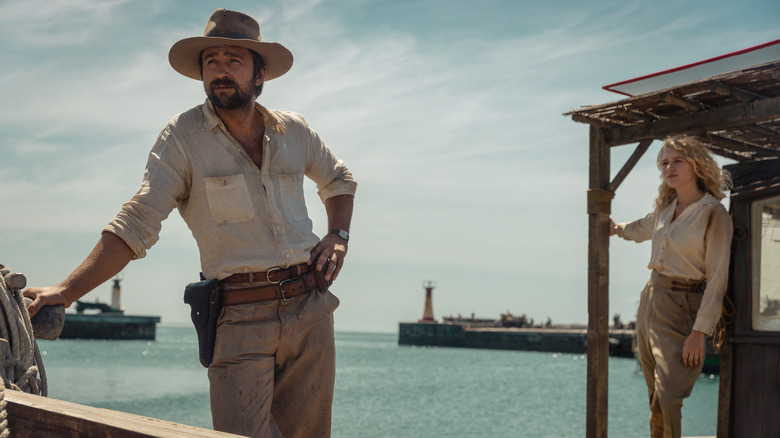 Emerson Miller/Paramount+
During an interview with Collider, "1923" star Brandon Sklendar revealed that none of the cast knew ahead of time that the spin-off would feature multiple timelines. Sklenar said, "I didn't know that until [Episode] 4 was written" when asked how early he learned about Spencer's scenes taking place at a different time. "I can't remember when I got [it]. That was something that everybody was going, 'Oh, we're on different timelines here.' That's interesting. Everybody was taken aback by that."
In the interview, Sklenar also spoke on what it was like filming many of the African scenes on location. "1923" took the actor across Africa for filming, including stops throughout South Africa and Kenya, finishing things up in Europe. In a separate interview with Deadline, Sklenar further elaborated on shooting in the African wilderness, praising Taylor Sheridan's direction for the show. While Paramount could have easily filmed the scenes in a Southern California studio, they elected to make a more authentic show, shooting in Africa with real animals. "If Taylor Sheridan writes it in Africa, you're going to Africa," Sklenar said.
It's safe to say that Sheridan nailed it with the African storyline in "1923." The story and scenery are a welcome change of pace for the "Yellowstone" franchise, which has primarily focused on problems within the borders of Montana. Sheridan's use of different timelines also lends itself to the greater story, showcasing his skills as a writer with the non-traditional method of storytelling.