Why Marlon From The Last Of Us Looks So Familiar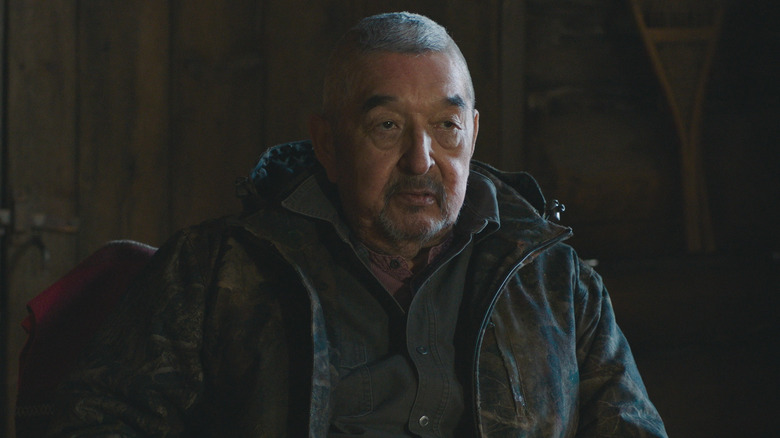 HBO
Of what viewers have seen so far of "The Last of Us," Episode 5 has perhaps the most tragic ending yet. After Joel (Pedro Pascal), Ellie (Bella Ramsey), Henry (Lamar Johnson), and Sam (Keivonn Woodard) emerge from Kansas City's web of underground tunnels, "Endure and Survive" concludes with a terrifying climactic scene that took four weeks to shoot.
Compared to the grotesque chaos of "Endure and Survive," "Kin," the sixth episode of the hit HBO series, is a relatively hushed affair. It's three months after the events of Episode 5, and Joel and Ellie — once again on their own — are in the bright, snowy environs of Wyoming. There, they stumble upon an isolated cabin belonging to Marlon (Graham Greene) and Florence (Elaine Miles), a surly older couple who hope to ride out the outbreak in peace.
Marlon and Florence are scene stealers in their short window of screen-time, and the pair's veteran acting abilities are on full display. Greene, in particular, has over 150 acting credits to his name. Here are some of Greene's most notable roles.
Graham Greene earned an Oscar nomination for Dances with Wolves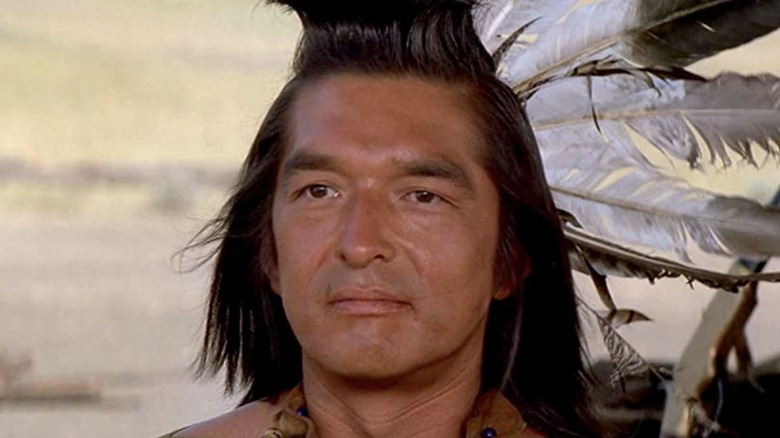 Orion Pictures
A First Nations Canadian member of the Oneida tribe, Graham Greene worked a number of odd jobs, including as a steel worker, before he pivoted to acting in the 1970s. Greene made his television debut in 1979 with "The Great Detective," and he appeared in a number of projects throughout the 1980s, including the films "Running Brave" and "Revolution."
Eventually, Greene rose to fame playing Kicking Bird, a Sioux medicine man, in Kevin Costner's "Dances with Wolves," which some argue revived the Western genre. For his performance, Greene earned an Academy Award nomination for Best Supporting Actor. Greene, who is Oneida, also had to familiarize himself with the Lakota language. 
"It took three months to learn the dialogue," Greene told True West Magazine. "I had no idea what I was saying, and I had to learn it phonetically. I'd be running 10 miles a day with my headphones on, listening to the translations, mumbling away in Lakota, and people were looking at me funny, but I got it down."
Greene investigated a murder with Val Kilmer in Thunderheart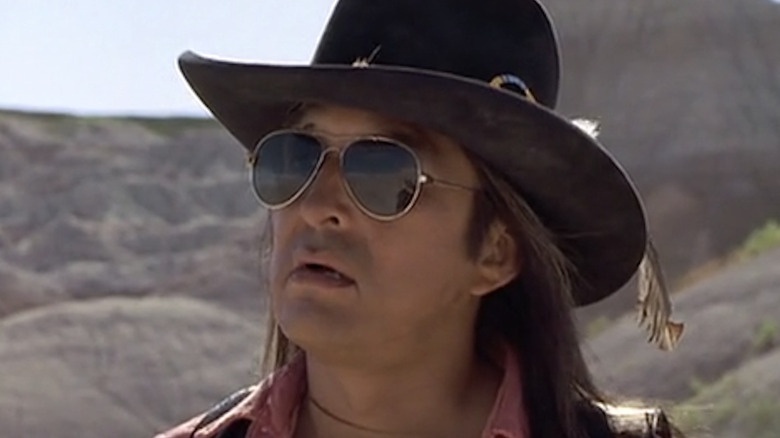 TriStar Pictures
After "Dances with Wolves," Graham Greene would explore a number of Native American-centric stories throughout the 1990s. In five episodes of "Northern Exposure," Greene played a shaman named Leonard Quinhagak, who sparred with Joel Fleischman's (Rob Morrow) more mainstream approach to medicine. He also took on the roles of Mewasin in "Magic Hour: Lost in the Barrens," Sitting Bull in "Heritage Minutes," Arthur in "Clearcut," and Ishi in "The Last of His Tribe." Eventually, he would find himself acting alongside a "Top Gun" icon.
In 1992, Greene starred in the neo-Western film "Thunderheart," directed by Michael Apted and written by John Dusci. Here, Greene portrays Walter Crow Horse, a grizzled tribal cop. Though he's wary of government intervention on his South Dakota reservation, he nonetheless partners with FBI Agent Ray Levoi (Val Kilmer) to solve the murder of a tribal council member. 
He schemed with Mel Gibson in Maverick
Graham Greene was a prolific performer in the 1990s, and his scene-stealing performances occurred opposite some of the biggest stars of the decade. He played a New York City cop in "Die Hard with a Vengeance," acting alongside Bruce Willis and Samuel L. Jackson, and in 1995, he acted on the other side of the law as a swindler with Mel Gibson and Jodie Foster in the period Western "Maverick." The free-wheeling banter between Greene's Joseph and Gibson's con-artist Maverick is a highlight of the film. 
"[Director] Richard Donner came up to me and Mel and said, 'What are these?' and I said, 'They're our scripts,'" Greene said on David Peck Live. "He said, 'Give me those,' and he threw them over his shoulders and said, 'Now go act.'" The joy in those improvisations is evident upon watching the scenes between Gibson and Greene.
Greene played Arlen Bitterbuck in The Green Mile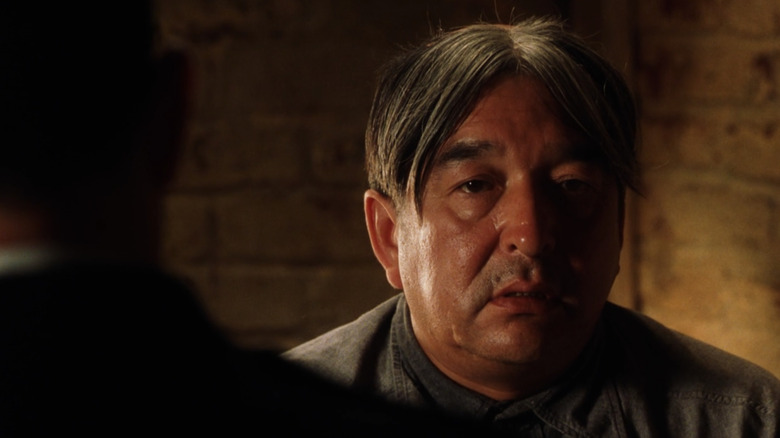 Warner Bros. Pictures
One thing Graham Greene prides himself in is how diverse his roles are. As discussed in an interview with Salon in 2021, he's played judges, lawyers, doctors, cops, detectives, and gods.
"I tend to move along in my career and take roles that are unique and different," Graham Greene said. "The diversity of roles is what I like to play." 
In 1999, the veteran character actor delivered yet another diverse performance as the inmate Arlen Bitterbuck in "The Green Mile." Frank Darabont's fantasy-drama stars Tom Hanks as a prison guard working on death row. As a quiet, introspective murderer sentenced to death, Greene gives one of the film's most poignant soliloquies just before his character's graphic electrocution.
In the years following "The Green Mile," Greene would continue seeking out interesting characters no matter the scale of the production, whether it was in independent projects like 2005's "Transamerica" or huge blockbusters like 2009's "The Twilight Saga: New Moon."
Greene tapped into his dark side in Longmire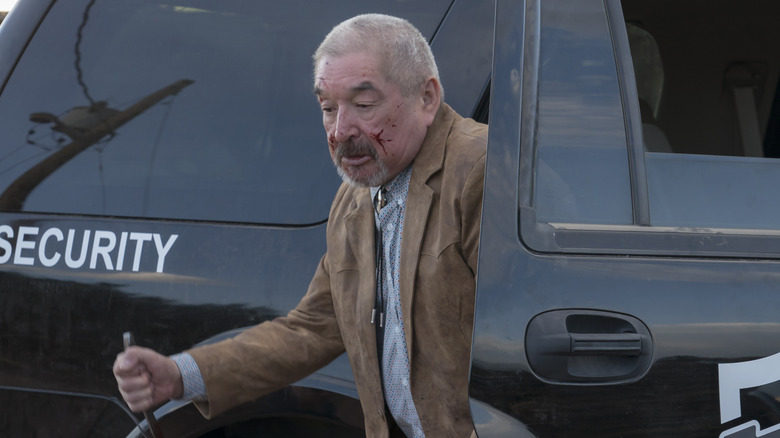 Ursula Coyote/Netflix
In addition to Graham Greene's robust film career, he has been a regular presence on television over the last few decades, making single-episode appearances in roles as varied as David Wauneka on "L.A. Law," Chief James Clearwater on "Numb3rs," and Thomas Topaz on "Riverdale." More recently, Greene acted in an episode of "1883" as Spotted Eagle, reuniting him with show runner Taylor Sheridan, with whom Greene had previously collaborated with on the 2017 thriller "Wind River," where he portrayed Ben, a grieving father.
Greene has also taken on a number of recurring TV roles, including stints in "Defiance" as Rafe McCawley and Season 3 of "Goliath" as Little Crow. Eventually, he would take on the role of Malachi Strand in "Longmire." This time, he portrays a villainous character through the sixth and final season. In total, he was in 12 episodes on "Longmire."