Paul Rudd's Impractical Jokers Segment Had Fans Rolling With Laughter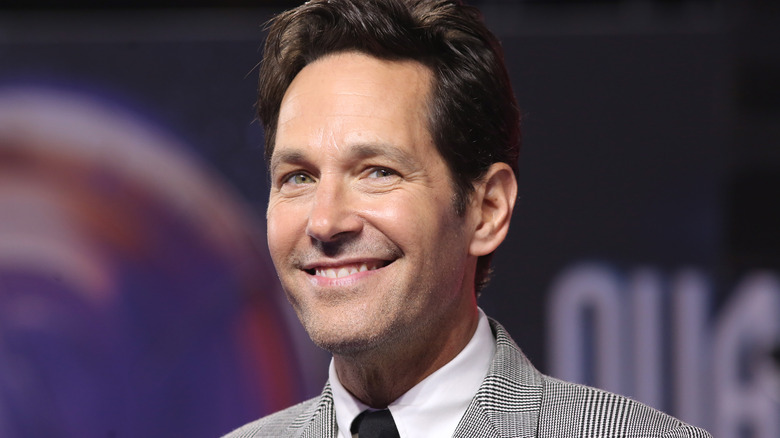 Lia Toby/Getty Images
"Impractical Jokers" went through a massive change-up recently. For years, the show comprised of four friends who would go out into the world and play practical jokes on one another, often using unsuspecting everyday people as their pawns. Of course, the jokes were always at the expense of the jokers, but during Season 9, Joe Gatto decided to leave to spend more time with his family. The show has carried on without him, with the remaining three jokers bringing on a cavalcade of celebrity guests to fill in that fourth spot. 
For the February 9 episode, the gang had Poison singer Bret Michaels on the show to have some fun. He played a pivotal role in the final punishment, where Murr sends notes to a couple of guys at a restaurant, in the process trying to recruit them to become Hollister models. Partway through the punishment, actor Paul Rudd appears out of nowhere among the rest of the jokers and Michaels to tell Murr to say increasingly bizarre things to the two guys. And the result is utter hilarity. 
Paul Rudd adds to the chaos
It doesn't really make sense for Paul Rudd to show up on "Impractical Jokers" when Bret Michaels is the actual host. It doesn't add up until you realize Rudd had a massive Marvel movie coming out down the pipeline, and he has to promote it any way he can. And Rudd proves he's one of the funniest guys in Hollywood when he tells Murr to go over to the guys' table and actually talk with them as opposed to just sending notes. He gets off plenty of zingers throughout the segment, especially when they have Murr turn his attention to a couple who clearly want nothing to do with him. 
Underneath the YouTube video were numerous comments of people being delighted to see Paul Rudd pop up in a random "Impractical Jokers" episode. One user wrote, "I'd be down for Paul Rudd randomly popping up just to wreck the entire bit with chaos in future episodes." Another user would've been ecstatic at the prospect of being on the opposing end of a Rudd zinger, saying, "If Paul Rudd and [Bret] Michaels pranked me like this I would either die of excitement or embarrassment."
Rudd feels right at home amongst the jokers, and hopefully, there's plenty more of the actor in the show's future.