What Song Plays At The End Of The Last Of Us Episode 6 (& Who Sings It)?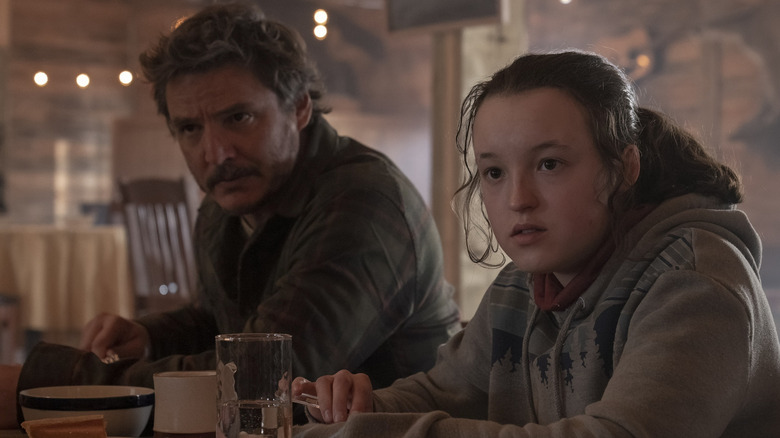 Liane Hentscher/HBO
Contains spoilers for "The Last of Us" Episode 6, titled "Kin."
Joel (Pedro Pascal) and Ellie (Bella Ramsey) are continuing their trek through a post-apocalyptic America, with the latest episode of the hit HBO series taking them through the serene state of Wyoming. After a daunting and emotionally heavy Episode 5, "Kin" started off relatively slow, only to end with a devastating blow. In the sixth episode of the video game adaptation, Joel is mortally wounded as he and his companion try to escape from the local university. While Ellie is a capable medic and friend, helping Joel escape on horse, her companion's wounds are far too severe for her to handle.
He ultimately falls off the horse, unconscious, with Ellie trying her darnedest to wake him up. As Ellie makes an emotional plea for her friend to come to, an emotional, stripped-back rendition of Depeche Mode's "Never Let Me Down Again" plays in the background. The song, which plays as Episode 6 of "The Last of Us" end, is a cover by Jessica Mazin, daughter of series co-creator Craig Mazin. The series architect confirmed the news on the official "The Last of Us" podcast. To make the rendition as effective as possible, Mazin asked his daughter to echo Ellie's POV, so it could be about "a daughter mourning the loss of her father ..." 
Following the episode's release, Jessica Mazin confirmed on Twitter that her moody rendition of the 80s track will be a part of the show's official soundtrack. 
Audiences have heard Never Let Me Down Again before
Audiences might remember that Episode 1, titled "When You're Lost in the Darkness," also ended with Depeche Mode's "Never Let Me Down Again." The song played as Joel, Ellie, and Tess (Anna Torv) escaped the Boston Quarantine Zone, starting their journey towards the Fireflies. The song plays via Joel's radio in his apartment. The debut episode establishes that, should an 80s song play over the radio, it means that there's bad news. In "Kin," it's clear from Joel's wounds that things are pretty rough for the duo. Now, more than ever, the lyrics of the grooving 80s track speak to Ellie and Joel's growing relationship.
"I'm taking a ride with my best friend," are the first words in the song, directly speaking to Ellie's POV. "I hope he never lets me down again/He knows where he's taking me/Taking me where I want to be," the song continues. As Ellie try to wake Joel up, she says she doesn't know where to go, ultimately lost without his guidance and direction.
In the official "The Last of Us" podcast, co-creator Craig Mazin opened up about why it was important to have a cover of the Depeche Mode song play as the pivotal episode wrapped up. "I had this idea that, at the end of this episode, when Ellie is looking down at Joel, and this is the person — she was taking a ride with him, and he has let her down, even though it's 'never let me down again.' This is how it comes around," Mazin said. "I wanted to re-present that song, but in this point of view of just sadness and loss."