Gilmore Girls Star Liz Torres Cherishes Filming All The Christmas Episodes
The WB series "Gilmore Girls" tells the story of beloved Stars Hollow resident Lorelai Gilmore (Lauren Graham) as she raises her daughter and best friend, Rory (Alexis Bledel). Lorelai, raised in a privileged household, adores the idyllic town with its quaint small businesses, quirky traditions, and charming community events. This is especially true during the colder months when its buildings and trees are shimmering with Christmas lights. The Connecticut native also has a special place in her heart for snow and looks forward to its first fall. For these reasons, several episodes of "Gilmore Girls" show the inn owner and her fellow townspeople bundled up in their coats as they prepare for, or participate in, one of Star Hollow's winter festivities.
While speaking to Starry Constellation Magazine in December 2016, "Gilmore Girls" star Liz Torres, who portrayed vivacious dance instructor Patricia "Miss Patty" LaCosta, revealed she shares Lorelai's appreciation for winters in Stars Hollow.
Liz Torres enjoyed filming snowy scenes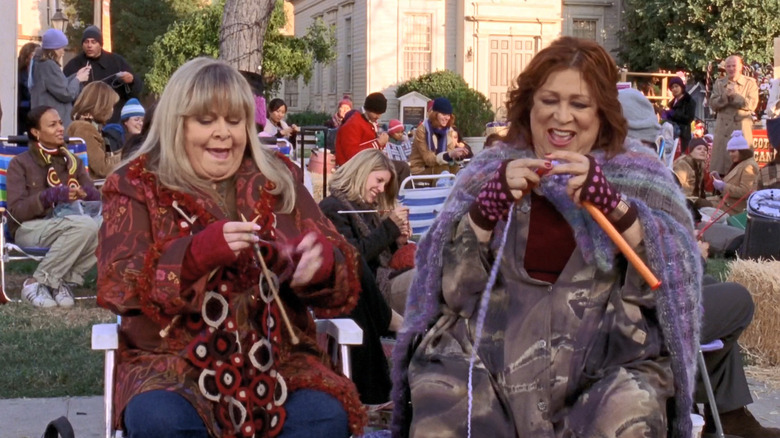 Warner Bros. Television Distribution
During the Starry Constellation Magazine interview, Torres, who appeared in the show's seven seasons and its sequel "Gilmore Girls: A Year in the Life," shared that she had a particular fondness for "Gilmore Girls" episodes that used Connecticut winters as a backdrop. She explained she found the snow-flocked sets delightful as filming for the series took place in sunny California. "I'm a sucker for Christmas and when they made it snow in Burbank, California it was so awesome! I didn't want to leave the set," shared Torres. "I just wanted to play in the fake snow. It was so wonderful. I loved the Christmas shows! They were my favorites."
In the Starry Constellation Magazine interview, the actress also shared that she enjoyed other aspects of filming "Gilmore Girls." She noted that she became friendly with Sally Struthers — who played Miss Patty's friend, Babette Dell — when they were co-stars on the 1970s sitcom "All in The Family." Torres revealed that she and the "9 to 5" actress went through a period where they did not spend time together before the original "Gilmore Girls" series began shooting in 2000. She shared that she was pleased to have the opportunity to work with Struthers again during the production of "Gilmore Girls."
"[A]s soon as she walked on the set it was like we picked up right where we had left off. I think we finished the sentence we started thirty years ago," shared Torres. She also noted that she appreciated Miss Patty and Babette's dialogue in the family drama.