Evangeline Lilly Once Swerved Hugh Jackman's Invitation To Join The X-Men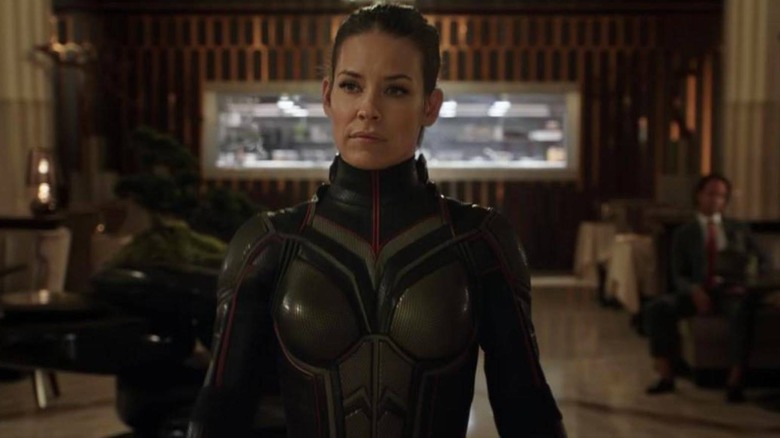 Marvel Studios/Disney
Evangeline Lilly is no stranger to mega franchises. She broke into the mainstream with a prime role on the hit TV series, "Lost." It helped launch a lucrative film career as she then went on to play Tauriel in two of "The Hobbit" movies. A year after "The Battle of the Five Armies" came out, she joined arguably the biggest pop culture juggernaut currently in existence, playing Hope van Dyne in the Marvel Cinematic Universe's "Ant-Man."
It's been a good role for her as she's reprised it in "Ant-Man and the Wasp," "Avengers: Endgame," and "Ant-Man and the Wasp: Quantumania." One would assume she was waiting around for the perfect opportunity to join a superhero franchise, but she was incredibly avoidant of signing up for any superhero project for a while. Lilly recently appeared on the "Happy Sad Confused" podcast to discuss her career in the lead-up to the release of "Quantumania." She revealed that if she wanted, she could've joined Fox's "X-Men" franchise long before Marvel Studios came calling.
Evangeline Lilly wasn't interested in superhero movies back then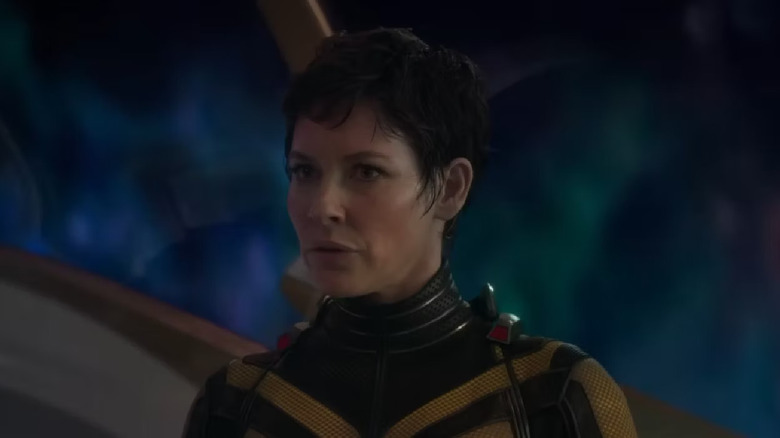 Marvel Studios/Disney
As Evangeline Lilly related, she was pretty hard to reach back in the day. So when she was working on "Real Steel" with Hugh Jackman, who's pretty much the face of the "X-Men" franchise, the team used him to get to her. She stated, "Hugh Jackman was like, 'Hey, so the X-Men guys are asking me if I would approach you because they know that you won't talk to anybody and won't do anything, and you're not reading scripts, and no one can reach you. So they knew I was working with you and just were interested to know if it would ever interest you to maybe do an X-Men thing.' And I was like, 'No. No, it doesn't interest me. I'm not interested.'"
It's unclear what "X-Men" movie or role they had in mind for Lilly, but the actress didn't want to hear them out either way. Looking back on it, Lilly continued, "I was like, 'I feel like such a d***' because I'm talking to an X-Man! The X-Man and I'm telling him, 'No, that doesn't appeal,' like what? I felt so rude!" She went on to say the reason she wasn't interested was because she just wasn't into superhero movies at the time. That naturally changed, seeing how she would eventually play Wasp in the MCU, but even when Marvel Studios knocked on her door, she was apprehensive. 
Again, when a Marvel role came along, she told her management she wasn't into superhero movies, but they convinced her to actually check out the MCU and see if she would reassess. After she checked it out, she was more on board with the idea, and the rest is Marvel history. Evangeline Lilly plays Hope van Dyne, a.k.a. Wasp, in "Quantumania," which comes out in theaters on February 17.